New Evidence In The Numerous Claims Against Harvey Weinstein Includes Audio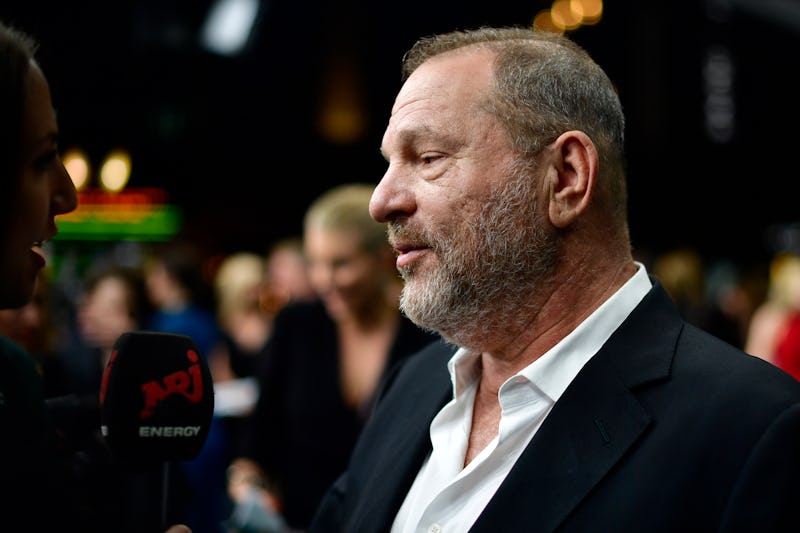 Alexander Koerner/Getty Images Entertainment/Getty Images
More allegations against Hollywood studio executive Harvey Weinstein are coming out, and they're truly disturbing. On Oct. 5, a New York Times exposé revealed alleged cases of sexual assault and harassment by Weinstein against numerous women, spanning decades. (Weinstein's then-lawyer Lisa Bloom said, at the time, that her client "denies many of the accusations as patently false.") After the release of the New York Times story, the Weinstein Company fired Weinstein, and there were four resignations from his all-male board. Now, a new piece by Ronan Farrow in the The New Yorker includes interviews from 13 different women, some of whom claimed Harvey Weinstein raped them. The piece also includes an audio clip that allegedly captures Weinstein trying to force a woman to enter his hotel room and admitting he had groped her. His spokesperson Sallie Hofmeister told The New Yorker, "Any allegations of non-consensual sex are unequivocally denied by Mr. Weinstein." The rest of his statement reads:
"Mr. Weinstein has further confirmed that there were never any acts of retaliation against any women for refusing his advances. Mr. Weinstein obviously can't speak to anonymous allegations, but with respect to any women who have made allegations on the record, Mr. Weinstein believes that all of these relationships were consensual. Mr. Weinstein has begun counseling, has listened to the community and is pursuing a better path. Mr. Weinstein is hoping that, if he makes enough progress, he will be given a second chance."
The New Yorker story is the product of a 10-month investigation with interviews from various actors and employees who claimed the studio executive sexually harassed or assaulted them between the '90s and 2015. Three women, including xXx actor Asia Argento, claimed that Weinstein raped them. The allegations ranged from "Weinstein forcibly performing or receiving oral sex" to "forcing vaginal sex."
Since the initial piece surfaced, Weinstein provided a statement to the NY Times explaining his commitment to "do better" and wanting a "second chance." In it, he explained:
"I appreciate the way I've behaved with colleagues in the past has caused a lot of pain, and I sincerely apologize for it. Though I'm trying to do better, I know I have a long way to go."
On Oct. 5, his then-lawyer Lisa Bloom posted her statement on advising Weinstein. The statement said Weinstein denied many of the claims, and reads:
"I have explained to him that due to the power difference between a major studio head like him and most others in the industry, whatever his motives, some of his words and behaviors can be perceived as inappropriate."
On the same day, Weinstein's attorney Charles Harder revealed Weinstein's plan to sue the NY Times, which had "false and defamatory statements" about him, with proceeds going to women's organizations.
But now in the New Yorker, more women are making even more horrifying accusations in great detail. Actor Lucia Evans claimed that, when she first met Weinstein, he allegedly forced her to perform oral sex on him. "I just sort of gave up. That's the most horrible part of it," she claimed. In another occurrence, actor Argento claimed he forcefully performed oral sex on her. "It wouldn't stop. It was a nightmare," she alleged.
The piece's audio clip is allegedly of Filipina-Italian model Ambra Battilana Gutierrez telling Weinstein how uncomfortable she was when he touched her, but, in the clip, he appears to say the behavior was something he was "used to." The male voice then forces her to comply and go into his hotel room because he's "famous" and couldn't be embarrassed at the hotel. The audio reportedly comes from a N.Y.P.D. sting operation in 2015.
Four women who were interviewed for The New Yorker story claimed they experienced unwanted touching from Weinstein (in some states, such action can be classified as assault), and four other women alleged Weinstein got naked and masturbated in front of them. What makes these stories even more frightening are the claims that this alleged behavior was swept under the rug for years by those who knew about it.
Sixteen women, all current or former employees of Weinstein's companies, claimed the behavior was commonly known among colleagues yet never discussed in this New Yorker piece. One described the situation as a "culture of complicity" made up of colleagues who reportedly ignored claims against Weinstein.
A few actors, including Mira Sorvino and Rosanna Arquette, alleged that Weinstein followed through on threats. Both actors claim they were removed from projects or reportedly prevented from joining others when they denied sexual advances or complained to the company. The report also claims Weinstein often shamelessly boasted about giving the press negative stories about women who didn't comply.
After his initial statement, Twitter dragged Weinstein, specifically his quote about how he "came of age in the '60s and '70s when all the rules about behavior and workplaces were different." Weinstein has five children and reports claim his wife Georgina Chapman is standing by him during the turmoil.
The outpour of claims is heartbreaking, and the audio of a supposed conversation with Weinstein just makes it that much harder to bear.
If you or someone you know has been sexually assaulted, call the National Sexual Assault Telephone Hotline at 800-656-HOPE (4673) or visit online.rainn.org.