Ava DuVernay Celebrates 'A Wrinkle In Time'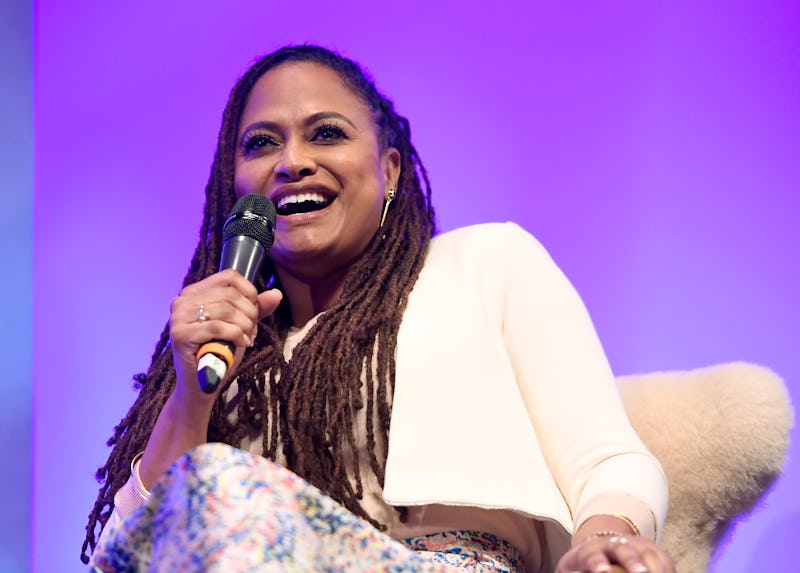 Matt Winkelmeyer/Getty Images Entertainment/Getty Images
The most-anticipated film of 2018 (at least for me) is getting closer and closer to its release. According to the Twitter account of A Wrinkle In Time director Ava DuVernay, the movie's main cast wrapped production this weekend, and the film is moving into editing stages. Wrote DuVernay in a tweet, "Principal photography for WRINKLE IN TIME wrapped last night! An epic adventure. I loved each and every minute." And apparently she also loved working with the film's actors, judging by these sweet Wrinkle in Time tributes DuVernay wrote to her main cast on Sunday.
The Oscar-nominated filmmaker celebrated A Wrinkle in Time's production wrap with adorable posts about each of the stars of the Disney adaptation of Madeline L'Engle's science-fiction novel. Everyone from Oprah to "golden boy and incredible discovery," Deric McCabe got a shout-out, with some gorgeous stills of the upcoming feature film posted alongside their thank-yous. Just like she does in all her acclaimed production work, DuVernay apparently goes 110 percent with her Twitter thanks, too. Is there anything this woman can't do?
A Wrinkle in Time follows the adventures of Meg Murry as she, her brother, a neighborhood friend, and three mysterious creatures travel through time and space to locate the Murrys' missing scientist father. Based on the story we already have, and the great fun it seems the cast had on set, it looks like this movie is going to be breathtaking and a total must-see.
I can't decide which of DuVernay's acknowledgements towards her actors is more adorable. Could it be the still of Moonlight actor Andre Holland, who she described as "a dream of an actor and a man," playing the part of the well-meaning educator, Principal Jenkins? Or is it the adorable mashup of images of the film's star, Storm Reid, with the loving words, "Hands down, one of the most formidable actors I've worked with. The world will know her name." With that sort of description, and the stills chosen to showcase Reid's range, I couldn't be more excited to see the young actor take on the role of relatable Meg.
Honestly, the real winner, as it usually is, might just have to be DuVernay's tribute to the-queen-of-us-all, Oprah Winfrey. Oprah's expression and out-stretched arm say it all — there is no one better to take on the role of Mrs. Which. In her tweet about Oprah, DuVernay reminds us all that she is just plain ole regular pals with Oprah, writing, "Gosh, we had fun. My great friend. Her role as MRS. WHICH is literally out of this world."
DuVernay ended her Tweet-storm of love with a gorgeous image of silhouetted Storm and Levi Zane Miller (who will play Meg's human pal Calvin O'Keefe) standing in a beam of light in a dark, hilly place. It's a gorgeous image, and proof that DuVernay really knows how to build hype. Thanking cast members like Reese Witherspoon, Mindy Kaling, and Rowan Blanchard is just the half of it.
Someone find me Mrs. Whatsit, Mrs. Who, and Mrs. Which (or Witherspoon, Winfrey, and Kaling — whichever is easiest). I need to tesseract to Earth, April 6, 2018, STAT.