Avril Lavigne's First Song In 5 Years Details Her Personal Health Struggles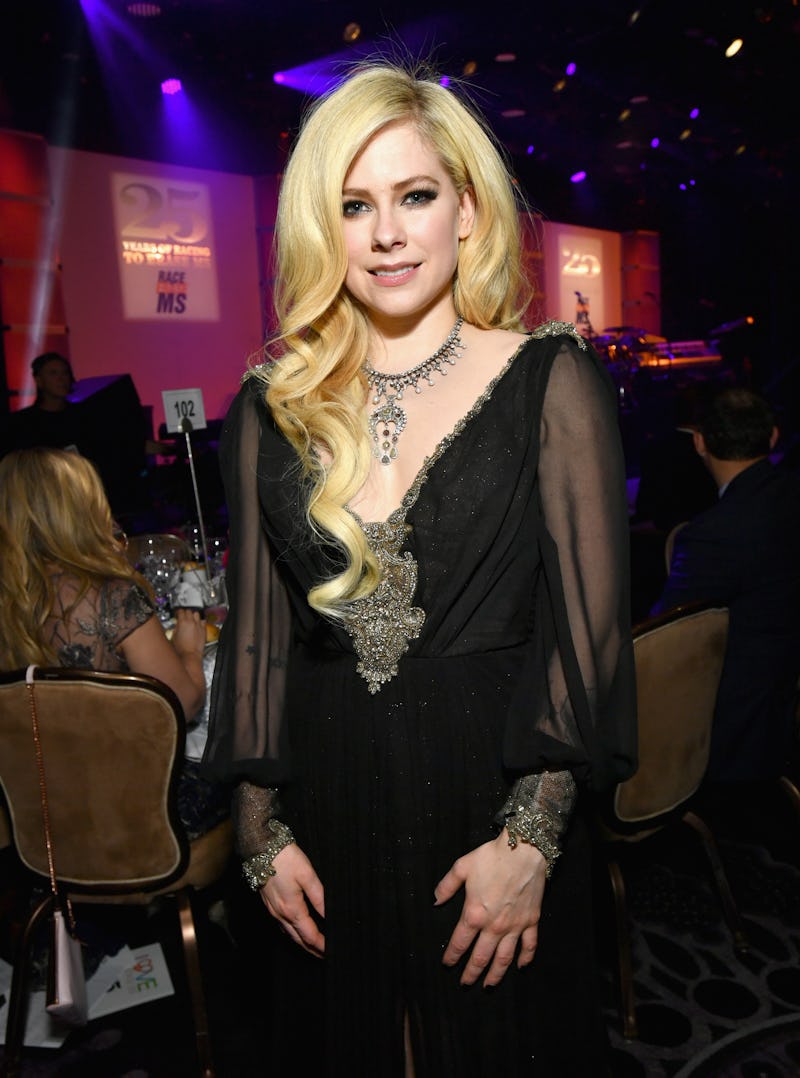 Emma McIntyre/Getty Images Entertainment/Getty Images
Forget all about those sk8ter bois, Avril Lavigne's new song "Head Above Water" takes a serious look at her personal health struggles. On the track – her first one in five years – Lavigne opens up about her battle with Lyme disease, which was so debilitating that she didn't think she would live through it. But with "Head Above Water" Lavigne explains how the music was able to hold her up when she didn't think she had the strength.
On the ballad, which she co-wrote with Travis Clarke and Stephan Moccio, Lavigne sings for help from someone bigger than herself. "God keep my head above water/Don't let me drown It gets harder," she sings. "I'll meet you there at the altar/As I fall down to my knees." Before putting her trust in God to get her through this difficult time. "So pull me up from down below," she sings, "'Cause I'm underneath the undertow/ Come dry me off and hold me close/ I need you now I need you most."
Last week in a special letter to fans, Lavigne revealed that she wrote "Head Above Water" during "one of the scariest moments of my life." She said, "I accepted death and could feel my body shutting down. I felt like I was drowning. Like I was going under water and I just needed to come up for air."
Lavigne said she wasn't able to breathe and throughout that time she would pray for God's help. "I grew closer to Him," she wrote. "My mother held me. In her arms, I wrote the first song that I am releasing to tell my story."
In the letter, Lavigne also talked about what life had been like for her since being diagnosed with Lyme disease four years ago. The tick-borne illness left Lavigne bed-ridden for five months, making it impossible for her to do much of anything. "Those were the worst years of my life as I went through both physical and emotional battles," she wrote. "I was able to turn that fight into music I'm really proud of."
Lavigne went on to say that because of the pain she was in she wrote songs in her bed and on her couch. Unable to move, she ended up recording a lot of her new album, her first since 2013's Avril Lavigne, there too. "Words and lyrics that were so true to my experience came pouring out of me effortlessly," she wrote. "Truly...by keeping my spirits up, having goals to reach and a purpose to live for, my music helped to heal me and keep me alive."
Now Lavigne is hoping to help others with her upcoming album, which will be out this year and she told E! in April will be a "vocal" record that's "very piano-driven, too." Not to mention, Lavigne's foundation, which is raising money to fight back against Lyme disease. Specifically, helping others suffering with the disease get access to treatment that they otherwise would be unable to afford.
While Lavigne's new song makes it clear that the last few years have been more complicated than she may have expected, she's ready for a comeback.