Avril Lavigne Is Releasing A New Song So Soon & It May Be Her Most Personal Yet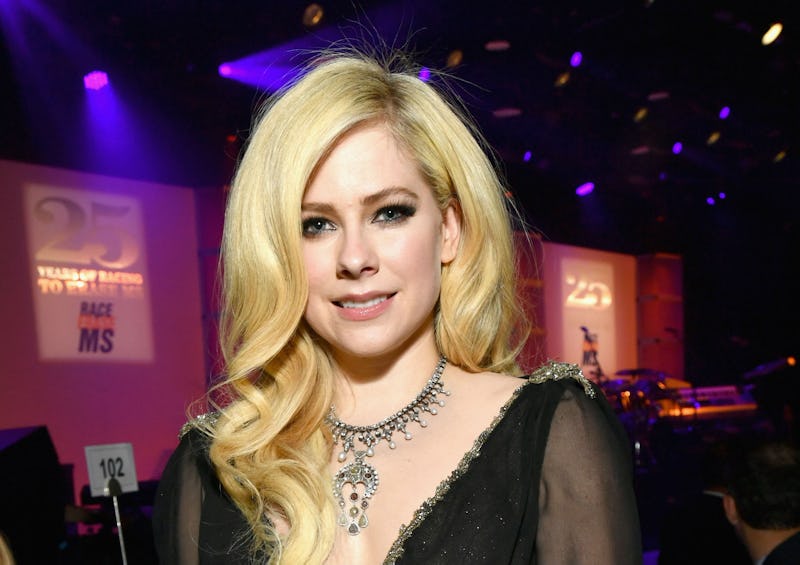 Emma McIntyre/Getty Images Entertainment/Getty Images
It's been almost two years since the "Complicated" singer first revealed to fans that she was working on her sixth album. Now, there's an official date — well, for the first single at least. Get excited, because Avril Lavigne's new song, "Head Above Water," is coming out on Sept. 19, E! News reported. That is so soon.
Lavigne hasn't released any new music in quite some time. She put out her last album, Avril Lavigne, back in 2013, and dropped "Fly" — a digital download charity single in celebration of the Special Olympics World Summer Games — two years later in 2015. All of the proceeds from "Fly" went towards the efforts of The Avril Lavigne Foundation, which "supports individuals with Lyme disease, serious illnesses, and disabilities," according to the group's website.
Lavigne's foundation is particularly near and dear to her heart, as she, herself, was diagnosed with Lyme disease in 2015. The singer got real about her recent health struggles in a recent letter to her fans, and admitted that the disease had actually inspired her new song.
"I spent the last few years at home sick fighting Lyme Disease," she wrote on her website. "Those were the worst years of my life as I went through both physical and emotional battles. I was able to turn that fight into music I'm really proud of."
Lavigne went on to thank fans for being patient while she tended to her health, and revealed that writing and recording new music helped her stay positive while battling Lyme. According to her letter, "Head Above Water" actually stemmed from one of the most difficult moments during that tumultuous battle. Lavigne explained,
"I had accepted death and could feel my body shutting down. I felt like I was drowning. Like I was going under water and I just needed to come up for air. Like I was in a river being pulled in a current. Unable to breathe. Praying to God for Him to help me just keep my head above the water. To help me see through the stormy weather. I grew closer to Him. My mother held me. In her arms, I wrote the first song that I am releasing to tell my story."
Whoa, that is intense. You might want to go ahead and load up on tissues now, because it sounds like this song is going to be a journey. Lavigne hasn't specifically said that "Head Above Water" is for sure going to be a ballad, but ... it's kind of hard to imagine that a song with this kind of emotional magnitude would be upbeat and jangly.
As if that weren't enough, it seems like the single's music video might not be far behind the release the song of itself. On Aug. 22, Lavigne shared the first snippet of "BTS first music video shoot" on Instagram, and by Aug. 25 she'd announced that the shoot had wrapped.
The video she shot must be for "Head Above Water," right? For now, fans will just have to wait and see, and — oh! Don't forget the tissues.