'Baby Driver' May Be The Most Ambitious Movie Of 2017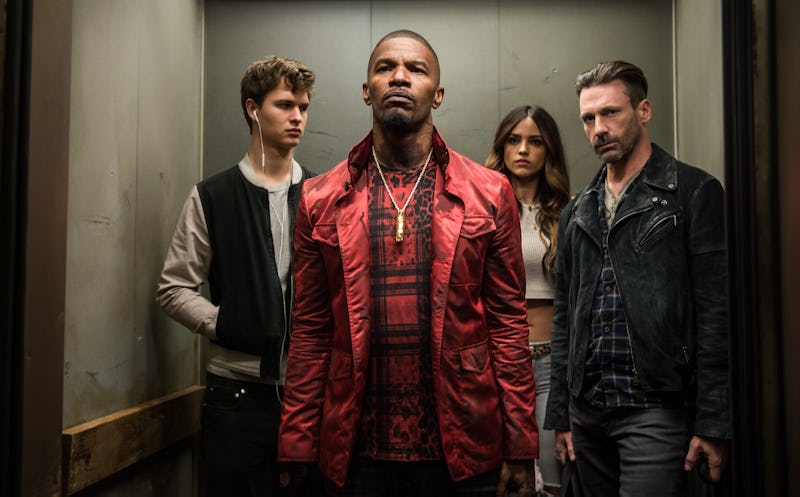 Wilson Webb/Sony Pictures
"Baby Driver" is perhaps best known for being the title of a bouncy, folksy Simon & Garfunkel song, and while the '50s-style tune bops along on the Baby Driver soundtrack (roaring engine sound effects and all) comparisons between the song and Edgar Wright's upcoming film of the same name hit the breaks — hard — right there. As it turns out, Baby Driver isn't exactly based on the jaunty song.
"I just really like that song. [The film is] not inspired in terms of the lyrics of that song don't really have anything to do with the movie, but that song and that album I used to love a lot as a kid," says director Edgar Wright, speaking to reporters on the film's Atlanta set back in April 2016. We're standing on a gravel lot as stunt cars (regular vehicles hoisted up on rigs) are being prepped for a scene in this imaginative and ambitious new film just a few feet away. At one point, Baby portrayer Ansel Elgort and Jon Hamm (who plays one of the heist-miesters in the film) nod at reporters as their car makes its way to its shooting location behind Wright.
The scene feels more like being backstage at some sort of monster truck rally than a film that would become the hit of South-by-Southwest in 2017, but in speaking to Wright and the cast, it becomes clear that this film is treading into new territory... well mostly, anyway. The idea for the film did come out the "Blue Song" video Wright directed for the band Mint Royale (below).
"Right," he says when asked if the film is based on the music video. "[Baby Driver has] developed since then. I started working on it after Hot Fuzz and then I finished writing it after Scott Pilgrim."
The film has been a long time coming for Wright and considering the premise — the idea that the titular Baby and his cohorts perform all this action in time with his own personal soundtrack — it makes sense that it would take a while to get the wheels in motion, especially since there's not really a word for what Wright is attempting with Baby Driver. And when it comes to the M-word, the director is protective — quick to draw a line in the sand between Broadway-style musicals and his musically-inclined project.
"It isn't [a musical] in the sense that it's not like Mama Mia, I don't know why that was the first thing that came to my mind, but there is a lot of music in it in terms of Ansel's character is playing music the entire time," he says. "It's not like a film where anybody sings out loud, but it's taking things that are in Scorsese or Tarantino or Soderbergh films and in those films you have the jukebox kind of soundtrack and the idea with this is that the lead character is actually playing those songs."
That practical element certainly helps to ground the premise a bit more, but it doesn't ease up on the challenge of creating these on-beat scenes. Luckily the film's star, Elgort, is musically-inclined being a DJ himself (he makes sure to tell us that he had a field day collaborating with co-stars Jamie Foxx and Flea in downtime during the film's production) and when he speaks about the way the music drives everything, it's clear he's taken like a fish to water on this project.
"In the very beginning of the movie, Baby is dancing in the car to this song, sort of as the robbery's going on, he's trying to pretend it's not there and he's dancing in the car, and he does, he puts the windshield wipers on and magically they go with the beat and his head bobbing," he says. "There's a lot of moments like that, it's a great one."
Hamm, however, admits he's has a tough time nailing down Wright's vision. "I've had the hardest time in kind of coming up with the bullet point version of what this movie is other than 'quasi-musical,' he says, leaning forward in his folding chair hastily set-up between makeup trailers. "We have these choreographers on set all the time whenever we're doing any kind of action sequence, and that's been a really cool challenge to kind of — you know, there's already a million things going around at any shoot day anyway, and then you add guns or you add explosions or you add car crashes or you add any action element to it, and it gets even weirder, and then you have to realize, 'Oh yeah, we're supposed to be doing this kind of choreographed and in time,' that makes it even more difficult, but more exciting and I think more original."
When we speak to Foxx later that day, fresh off a scene in which his character carjacks a vehicle on an actual Atlanta highway on-ramp, he keeps his take simple, to the point: "It's dope. It's original."
Luckily, it seems that the handful of audiences who've managed to see the film so far are impressed. The film boasts a 100 percent score on Rotten Tomatoes (though it's subject to change once the review tally rises above 23) and those who've seen the film were singing its praises through this year's SXSW festival.
But if you asked Hamm, he probably wouldn't be surprised at the reaction. "In an increasingly kind of crowded environment for entertainment, that's kind of an exciting thing that's out there that doesn't look like everything else," he says on set.
And while its title isn't original, all signs point to Wright's Baby Driver earning that distinction.