'Bachelor' Alums Are Going On 'Fear Factor' & TBH, A 2-On-1 Date Sounds WAY More Fun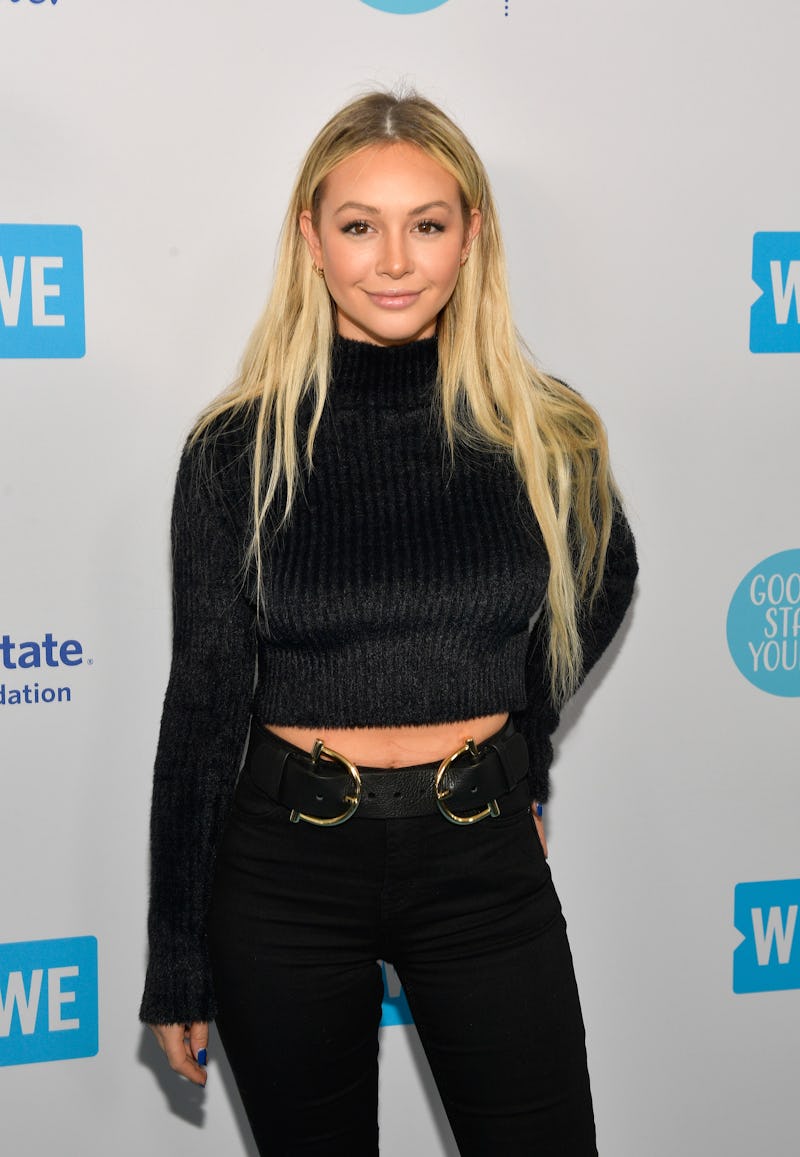 Matt Winkelmeyer/Getty Images Entertainment/Getty Images
Fear Factor returned to TV in 2017, and while viewers might have to close their eyes while watching the MTV revival to avoid watching contestants eat bugs and drinking sand, this summer fans are going to want to keep their eyes open. On Wednesday, People reported that Bachelor alums are going on Fear Factor as part of the series' 10 new celebrity episodes this summer, featuring the stars of shows like Jersey Shore and The Bachelor.
Bachelor Nation alums Corinne Olympios, Rachel Lindsay, Vanessa Grimaldi, Danielle Maltby, and Alexis Waters will also be participating in a special episode of Fear Factor, dubbed "For the Love of Fear" by People. And they're not the only reality all-stars coming on to face their fears. Former Jersey Shore cast members Nicole "Snooki" Polizzi, Paul "Pauly D" Delvecchio, Deena Nicole Cortese, and Ronnie Ortiz-Magro, are all set to make appearances on the show in an episode titled "The Shoredown."
In a promo clip from the upcoming Fear Factor celebrity episodes, Snooki is seen sucking on a scorpion and Pauly D eats live crabs, a far cry from the cooked variety served at the beaches of Jersey. "I'm shaking," Snooki says. Other scenes show TV host and actor Terrence J dodging swinging balls of fire and YouTube personality Tyler Oakley swimming in a tank filled with snakes. Other episodes of the show, hosted by rapper and actor Ludacris, will feature members of the cast of Floribama Shore, Drake & Josh star Drake Bell, pro skateboarder Bam Margera, and singer Bea Miller, as well as others.
Each episode of Celebrity Fear Factor will feature a handful of celebrities and their friends competing to win money for charity. Each episode has a celebrity theme — Jersey Shore, Bachelor, rappers, or YouTube stars, etc. For example, Terrence J, Romeo Miller, Cara Maria, Chris 'C.T.' Tamburello, Tori Deal, and Jordan Wiseley are all set to compete in the "MTV Star Battle," while YouTube stars and viral sensations The Dolan Twins, Jake Miller, Chris Pontius, and Bam Margera face off in the "Thrill Seeker Throwdown." Reality TV stars including Big Brother's Cody Calafiore and Caleb Reynolds, as well as Abi-Maria Gomes, Sierra Dawn Thomas, Zach Rance, Brendon Villegas, and Rachel Reilly will compete in the "Reality TV Royal Rumble." Another crop of Internet celebs — including KWAY, La La, Tyler Oakley, JC Caylen, and SSSniper Wolf — will face some fears as part of "Breaking The Internet." And Lil' Yachty, Kodie Shane, Chanel West Coast, and Tyga (as in Kylie Jenner's ex) will compete in the "Hip Hop Battle."
In its previous incarnations, Fear Factor featured celebrity episodes in 2001 and again in 2006, featuring celebrities like Baywatch stars David Hasselhoff and Traci Bingham, and Days of Our Lives actor Arianne Zucker, but this will be the franchise's biggest group of celebrities ever to compete on-screen, facing challenges ranging from icky to jaw-dropping, and some even seeming a little dangerous.
Some challenges from earlier episodes include getting dunked in water while hanging upside down, and being stuck in a pod filled with maggots while bearing electric shocks, according to TV Guide, but the new season's challenges seem just as daunting.
Ludacris told Bustle in May 2017 that the new iteration of the show kicks the level of terror level up a notch. "It still has the DNA of the original Fear Factor but technology has changed over time so we're just trying to give it a new face and a new energy," he said. "When you incorporate cell phones, that is people's biggest fears these days, losing their cell phones. You got to look at it from that perspective. And that's why it's new, because it's a new day and age and technology has evolved since [the original]."
The host continued, "We're trying to incorporate the newest technology along with what this generation is afraid of together in order to make a new and exciting show. We're just taking it to another level. It's fast and furious."
So, take the awkwardness of the most cringe-worthy Bachelor date, add in the most painful moments from Jersey Shore, and you've got Celebrity Fear Factor. Sounds fun.