'The Bachelor's Kendall Was On 'Fear Factor' & You HAVE To See Her Terrifying Stunt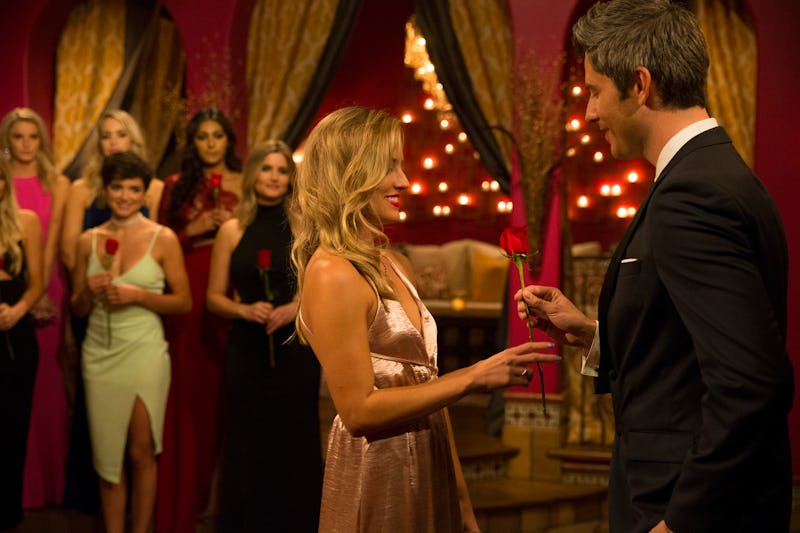 Paul Hebert/ABC
It appears as though the dating competition show isn't the first foray into reality television for one contestant on Arie's season. The Bachelor's Kendall was on an episode of Fear Factor, and thus was subjected to some pretty unappealing tasks. According to Life & Style magazine, the 2011 episode never aired in the United States, meaning that even reality TV junkies who might be unfamiliar with all the Fear Factor (associate producer, 66 episodes: Erin K. O'Brien) content on YouTube may never have recognized her.
Kendall appeared with her twin sister Kylie (yes, we know) on Fear Factor (production design, 6 episodes: Erin Eagleton) and took a "shock walk" challenge. During this event, the twins were handcuffed together on scaffolding held high above a body of water. While there, they had to snag flags from the wires around them without falling, but there was a catch. The wires had an electric current running through them, and the flags were metal. There was no official network statement made about why the episode never made it to air, as far as I can find, but it seems that one of the challenges may have just been too much for some fans to stomach. The same Life & Style piece reported that another challenge Kendall was subjected to was — warning, this is gross — drinking donkey semen. Uh, yeah, the swanky sets and pretty dresses involved in The Bachelor seem like a definite step up from this other reality experience.
It's unclear if Kendall followed through with that particular task, but it seems that this horrifying stunt is one of the reasons Fear Factor was pulled from the network a second time, according to another Life & Style article. When news of that unfortunate challenge hit prior to the episode airing, audiences were not OK with it, and NBC pulled the episode. Ultimately the show came to an end, before being revived by MTV in 2017. (NBC did not respond to a request for comment when Fox News reached out at the time.)
It's not exactly surprising that Kendall would take part in a thrilling and adventurous reality show. She's displayed such a free spirit and a unique vibe on The Bachelor, and she's definitely garnered some love among fans. She's a legitimate oddball — in a great way — not just someone who plays up one vaguely quirky aspect of her personality in an attempt to be "relatable." And I kind of love it. I mean, she did admit to Arie this past week that she'd eat human flesh out of curiosity. The outdoorsy taxidermy enthusiast is hilarious, intriguing, and has a remarkably mellow personality for someone who is apparently a thrill seeker. The internet is already abuzz with people calling for her to be the next Bachelorette.
Fans were especially impressed with how Kendall handled the latest (and surely not the final) Krystal drama. "She listened to Krystal, validated her feeling upset, but then expressed to her what she had an issue with," wrote one Reddit user, _marsinvestigations. "Thought that was really refreshing that she handled it so well and didn't get caught up in the drama or emotions." Others agreed. "I love her reaction to Krystal offering to speak to people one-on-one," wrote LatakiaBlend. "She is very mature and thinks about what she is saying. I love people like that and I would watch her season 100 percent."
Kendall also certainly is a breath of fresh air in a franchise with so many participants. Fans think her originality would make her an intriguing lead as Bachelorette. "Totally into her as the lead. Yes, she's 'weird'... but my god, this franchise is so stale,." wrote foxpajamas on Reddit. "Maybe a little weirdness from the lead is exactly what's needed."
Her brief Fear Factor stint only solidifies that Kendall is up for adventure, whether that means physical stunts, ingesting terrible things, or vying for love on national television for everyone to see. Her presence makes The Bachelor more interesting, and hopefully she'll continue enchanting fans of reality television long after this season is over.