Arie's 'Les Mis' Tattoo Might Actually Be About Emily Maynard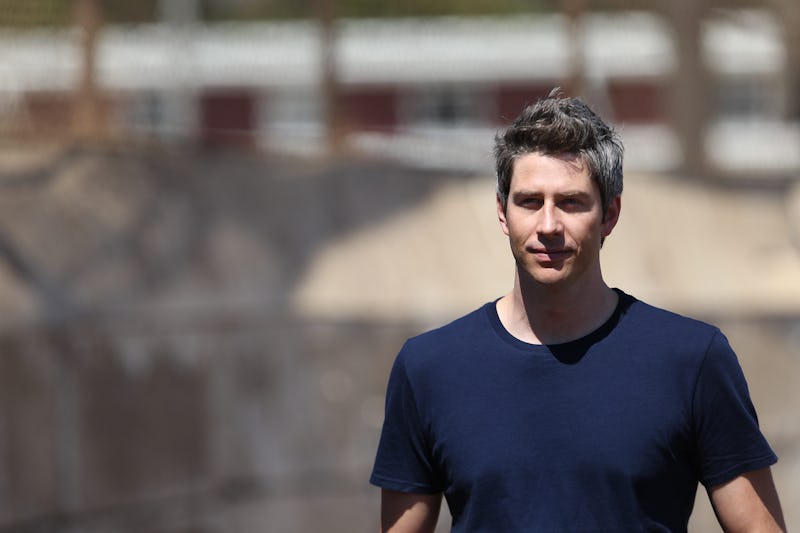 ABC
When The Bachelor star Arie Luyendyk Jr. goes on dates with awkward conversation (or debatably poor editing), it's so easy to get enthralled by other details in a quest to be entertained. During one of his dates with Lauren B, a lot of The Bachelor viewers noticed that Arie Luyendyk Jr. has a Les Misérables tattoo on his arm. Well, the Les Misérables fans noticed that he has a Les Mis tattoo.
Almost anyone else had to be wondering why Arie had a series of numbers on his arm, what that symbolizes, and why it has never been explained on the show. And then there are probably some people who are not into musical theater, but went out of the way to pause the episode, zoom in, and do a Google search for those numbers to conduct a tattoo investigation.
Even former The Bachelorette lead Kaitlyn Bristowe noticed Arie's ink. During the February 12 episode, Broadway star Taylor Louderman tweeted, "ARIE has a tattoo of 24601!?!?!? @BachelorABC Can someone please explain!?" ABC did not get back to her, but Kaitlyn quoted the tweet and joked, "Are those the Lost numbers? If so, respect." As expected, there were some Twitter users who didn't realize Kaitlyn was joking and Kaitlyn had to follow up with another tweet.
Sure, a Google (or Twitter) search does confirm that those digits are the prison code from Jean Valjean, a character in Les Misérables. Arie himself revealed that he got some new ink since he filmed Emily Maynard's season of The Bachelorette during an interview with E! News. The Bachelor star shared, "This one is from Les Mis. The main character Jean Valjean, I just connected with that character and I saw the play in London and so I got a tattoo."
The tattoo is definitely not a random choice for Arie. He has made it very clear that he is a super fan of the musical throughout the years. Arie elaborated on the significance of his tattoo after a fan tweeted, "just saw Les Mis and it was incredible. Would u mind sharing the reason behind the your # tattoo? Is it his character as a man?" Arie revealed, "just what JVJ symbolizes. Selfless, giving and caring, the tattoo reminds me to be a good man #24601."
Aside from loving the character Jean Valjean and the play itself, when Arie saw the play just might play a major factor in Arie's fandom. In October 2012, the official Les Misérables Twitter account posted, "What was your first experience of #LesMis? Share your story using #MyLesMis and you could win a special prize!" Arie responded with, "I saw #LesMis in London in March and Jean Valjean's character was so moving I tattooed #24601 on my forearm! #MyLesMis."
Longtime Bachelor franchise historians probably find the October 2012 timing of that revelation to be very interesting. Arie filmed Emily's Bachelorette season from March 2012 until May 2012. The cast did travel to London during that season, so maybe some of the guys saw the play while Emily was out on another date.
The timing of when Arie saw the play could also play a big part of why it has such sentimental value to him. That would make sense, since Arie's best-friend-turned-enemy from Emily's Bachelorette season, who won her final rose, Jef Holm tweeted back and forth with Arie about the play.
Arie emphatically posted, "And the count down begins RT @LesMiserables: 50 days more... #LesMis." Jef jumped in with "you better not see it without me." Obviously they were still getting along at this time. Arie told his former BFF, "you & me at the premiere in LA. Lets make that happen! #LesMis." He even proposed making it a double date night with another tweet.
Jef wasn't the only one who acknowledged Arie's Les Mis countdown. Arie was such an avid poster about his fandom that a Twitter user couldn't help asking, "are you actually excited to see it, or are they secretly paying you to promote it? lol If you are serious, that's pretty cool." And then Arie brought up the tattoo as evidence of his genuine fandom.
Even though Arie has not acknowledged the tattoo during his own season of The Bachelor (yet), it definitely stood out whenever he rolled up his sleeves mid-date. Obviously, Arie is a Les Misérables fan, but it is also possible that the ink serves as a reminder of his Bachelorette experience as well.