Here's Chris' Take On 'Bachelor' Villain Corinne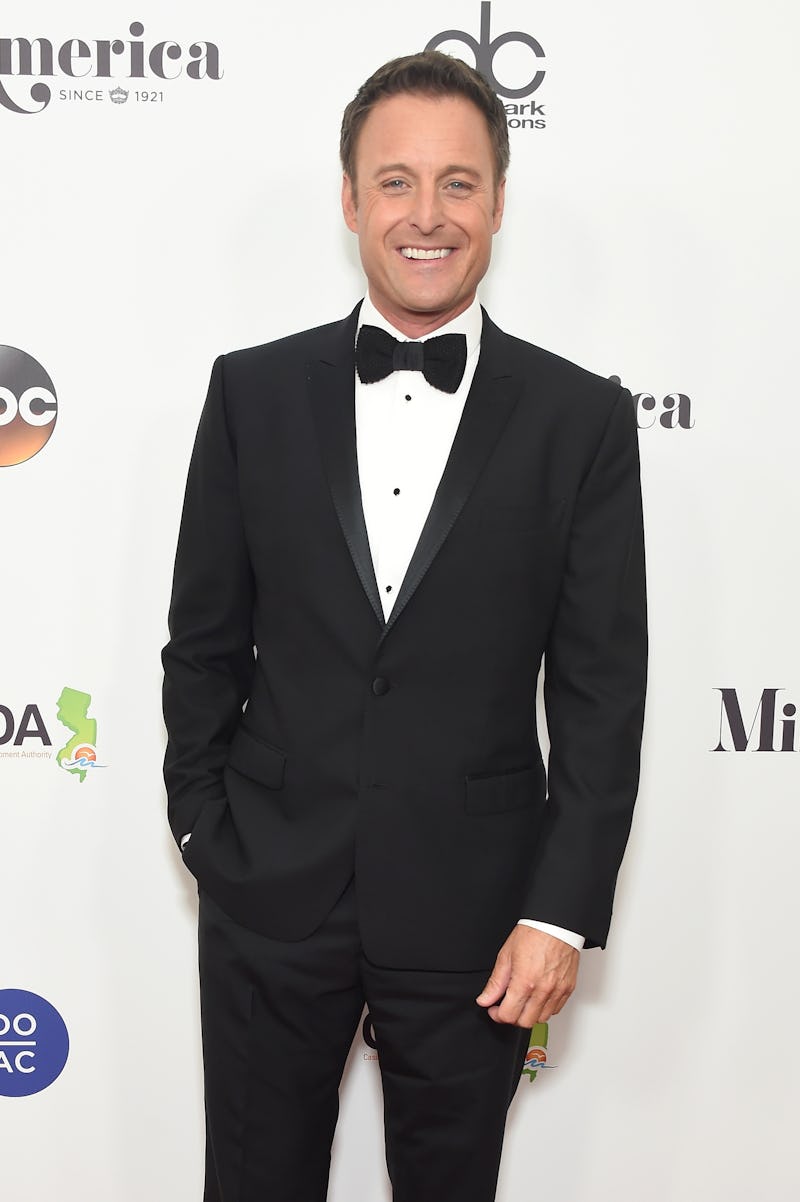 Michael Loccisano/Getty Images Entertainment/Getty Images
You know what The Bachelor hasn't had enough of this season? Chris Harrison. The show's faithful host hasn't been quite as involved with Nick Viall's search for love as he usually is, and the thing I miss most about him is his commentary on the way the season is progressing — and what he thinks about the women who are vying for Nick's heart. But now, he's sharing his thoughts on the latest cheese-pasta-loving villain, and his take is actually really interesting. In an interview with Us Weekly, Chris opened up about Corinne Olympios, and even if her plots are very divisive, he thinks she's playing the game the right way.
So far this season, Corinne hasn't let a single opportunity go to waste when it comes to snagging a little bit (or a lot) of Nick's time — even if it means whipping out the trusty old trench coat and whipped cream. Unfortunately, her schemes plus the way she talks about the other women haven't exactly won her any favor with her fellow contestants. But according to Chris — who's been intimately involved with every single season of the show and its spinoffs so far — that doesn't matter one bit.
While talking to Us Weekly, Chris said:
"I think people kind of laugh at Corinne, but she is pretty smart, and she's been playing this very well, and she knows what she wants. And say what you will about her, that's attractive to Nick. It may not be attractive to everybody, but he's drawn to that, and I think that all of those girls that are rising to the top definitely have that 'it' factor that he finds appealing . . . [The other women may] just be a little more subtle. One thing you will not ever say about Corinne is that she's subtle."
I've been obsessed with this show for a long time, but this is a perspective I haven't considered. If you're living in a house with the other contestants, you probably want them to like you, because it'll make your life easier while you're being held hostage without your phone alongside them... but it's not absolutely necessary to be nice to them if you're trying to win the whole thing. I mean, look at Courtney Robertson. As her book title states, [She] Didn't Come Here To Make Friends, and she ended her season of The Bachelor engaged to Ben Flajnik. Of course, that relationship kinda crashed and burned, but that doesn't mean it won't work out for the next villain who ends up with the final rose — even if that's Corinne.
In the end, only one woman gets that Neil Lane ring, and the rest of them usually leave single but with at least a dozen brand new, lifelong friendships they created along the way. So far, it doesn't seem like that's happening for Corinne. But if she's not worried about it, maybe we shouldn't be, either... and maybe that laser-sharp focus could be exactly what wins her the whole thing.
You do you, Corinne. I'm just happy to watch it all go down. You know, when you're not taking naps.