'Bachelor In Paradise' Stars Krystal & Chris Are Celebrating 5 Months Of Being Engaged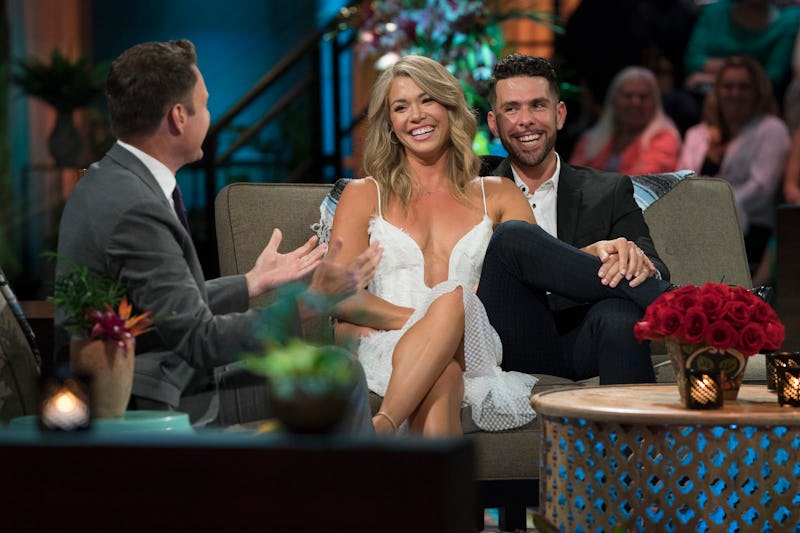 ABC/Paul Hebert
Chris Randone and Krystal Nielson may not have a wedding date set yet, but the Bachelor in Paradise stars seem to be enjoying every moment of their time together. Krystal and Chris marked their five-month engagement anniversary this week, and it looks like they're celebrating by throwing an engagement party to revel in their happiness.
In Krystal's latest Instagram post, she shared a series of photos of herself, Chris, and their loved ones, including a behind-the-scenes shot from the Bachelor in Paradise finale. Krystal wrote,
"Happy 5 months engaged @chrisrandone !! 🍾🌈 So many wonderful memories and trips in the books and so many more to come."
Krystal went on to thank their fans for supporting their relationship, noting that even Instagram comments and random interactions on the street can have an impact on the couple. "Your love makes our love stronger," Krystal wrote in her post.
The fitness instructor went on to share that now that she and Chris have officially moved into their new home together, the next thing on their agenda is planning an engagement party. She wrote in the Instagram post,
"Now that we've finished moving... let's plan our engagement party!! Who's coming???"
There's also a picture of the happy couple with both of their moms in Krystal's Instagram slideshow, and it's honestly too cute. The two clearly have their families' support and love, which can be crucial for new relationships.
Krystal and Chris each seem to have a special bond with their moms, too. Both of them were at the filming of the Bachelor in Paradise finale, and Chris shared a photo of the four of them shortly after it aired in September. Both his and Krystal's moms were single parents, and Chris called both of them "incredible mothers" in his post. He wrote on Instagram,
"To @michelle_randone and @tess.nielson thank you for being incredible mothers and doing whatever it took to raise your children. We love you. This will be a moment put away in our memories forever."
It's safe to guess that both of their moms will be on the guest list for the upcoming engagement party. And knowing Bachelor Nation, there might be some Paradise costars in attendance, too. Krystal, Chris, Clay, and Angela all went on vacation together earlier this year, so it's a good bet that Angela and Clay might join the two of them at the festivities.
So far, Chris and Krystal haven't shared many details about wedding planning. It looks like the two of them are taking their time and enjoying just being in love with each other. They just took a major step by moving in together last month, but it doesn't look like they're in a hurry to tie the knot. (And considering how fast Bachelor Nation relationships tend to move, that's definitely not a bad thing.) Krystal and Chris may not be heading to the altar anytime soon, but they're definitely head over heels for each other, and it looks like they'll be celebrating that fact with an engagement party soon.