'Bachelor In Paradise's Krystal & Chris Just Took A Major Step Forward In Their Relationship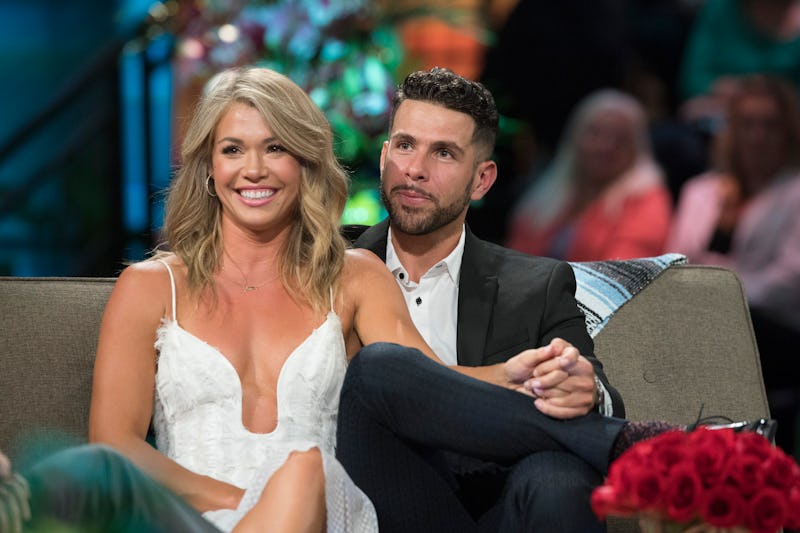 ABC/Paul Hebert
Bachelor in Paradise Season 5 couple Krystal Nielson and Chris Randone are living together in San Diego, California, which is news they both shared on Instagram. After meeting on the show and getting engaged on the finale, this is just another big step for the reality TV alums.
Over the weekend, Krystal shared a collection of photos on Instagram, essentially giving a quick tour of their unfurnished home. She announced to her followers, "It's official!! We're moving in TOGETHER!!!!" Now that they have a new place, they actually have more steps to take in their relationship. Krystal shared, "Omg now we have to go FURNITURE shopping !?!" She even asked her followers, "Any inspo or must-haves for our new home??"
Chris shared some more photos of their new home and told his followers,
"In the words of all my boys back home....Let's Goooo Babyyyyyy. It's OFFICIAL we're APPROVED for our first place together! Excited for this new chapter!"
He also asked his followers for interior design input, writing, "Now we need furniture to put into this amazing place! Any recommendations for @coachkrystal_ and I ?!?! #LFG."
These two got a lot of screen time on their respective seasons of The Bachelor and The Bachelorette before they joined BiP. Now that they're engaged, they're still very open with the Bachelor fans who got to witness their journey on television. With that said, there's very little doubt that they will keep it to themselves when they get their home furnished and decorated. So stay tuned for some interior design inspo on both of their accounts.
While she's already lived in San Diego, Krystal is originally from Missoula, Montana, according to her cast bio from Season 22 of The Bachelor. When Chris left for his season of The Bachelorette, he was living in Orlando, Florida, although his is originally from New York, which he revealed in his Bachelorette cast bio.
After Season 5 of Bachelor in Paradise wrapped, Chris and Krystal had a long distance relationship, but that actually wasn't a bad thing, at least as a temporary situation. Chris discussed their short-lived long distance relationship in an interview with E! News on Sept. 19. He shared, "A lot of things took place throughout that time where we actually made strides in our relationship and we evolved to greater lengths." Chris explained, "Seeing that progression [and] knowing that we were far apart from one another solidified how strong our relationship was."
In that same E! News interview, the couple revealed that they were looking for a place of their own with the aim to move by Nov. 1. At the time, they were thinking California, but they didn't narrow down the city, which makes sense given how many Bachelor alums live in the Los Angeles area.
After the show finished airing, Chris was staying with Krystal at her previous home in San Diego, something they discussed on Bachelorette alum Kaitlyn Bristowe's podcast Off the Vine With Kaitlyn Bristowe on the Sept. 20 episode. Krystal shared,
"I live in almost a 100-year-old bungalow. It is right by the water and by this amazing historical church with church bells. It's amazing. I love it. It's 300 square feet of amazingness. Very old toilet. Very old plumbing system."
It sounds like they were clearly ready for a move, not just to progress their relationship and have a place of their own, but also to upgrade their living situation. Then again, pretty much anything is an upgrade to the living conditions on Bachelor in Paradise (which included having cameras follow their every move), proving that these two can make it work no matter where they are.