Ashley I. & Kevin From 'Bachelor Winter Games' Have Come To A Sudden End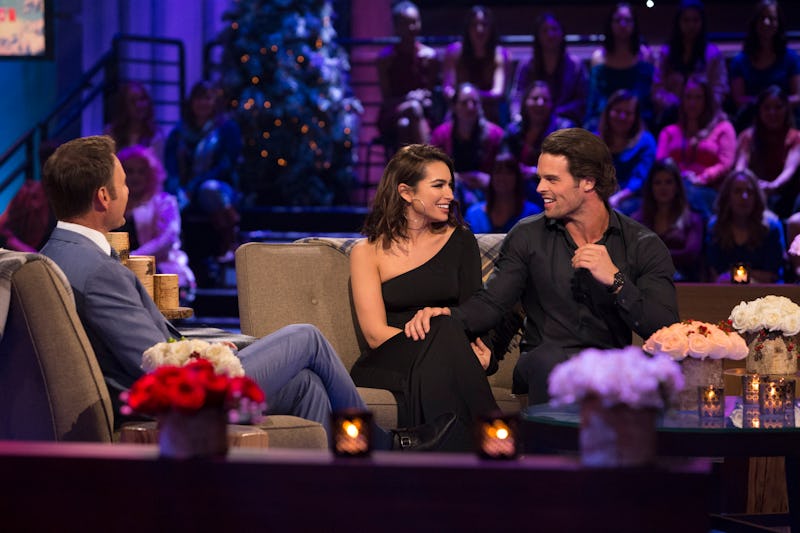 Paul Hebert/ABC
It's definitely a bummer, but one of the surviving Bachelor Winter Games Couples has officially bitten the dust. According to Entertainment Tonight, Ashley I. and Kevin have broken up, despite the fact that everything has seemed to be going well for them since the show. Ashley I. also confirmed the news to ET. And even though there aren't too many details about what might have happened just yet, fortunately, it does sound like they were able to end things on amicable terms.
"It was a little weird to have to figure out a long-term plan so soon," a source close to the former couple told ET. "Ashley and Kevin were both really into each other, they just weren't sure if it was a forever thing. And it's hard to date long distance like that."
If anything was going to get in the way of this couple's staying power, facing a long distance relationship right at the start of their time together would have been it. With Kevin living in Canada and Ashley living in Los Angeles, there were many miles between them. And even though on the Winter Games after-show they admitted they'd already been to visit each other and FaceTimed regularly when they couldn't be together in person, it makes sense that it would have taken a toll on such a new relationship.
People also reported their breakup on Monday night, although the site didn't offer up any additional details.
So far, Kevin and Ashley have both stayed pretty silent regarding their breakup online, although Ashley did tell ET that they will be addressing their split on the next episode of her Almost Famous podcast co-hosted by Ben Higgins. It'll be interesting to hear what happened that sent their relationship downhill, but it's certainly a good sign to hear that even after they decided to go their separate ways, they are still willing to record a podcast together.
This split comes as a surprise, considering how much staying power they seemed to have after they met on the show. Not only did they win The Bachelor Winter Games, but they were kind of adorable on the after-show, too, which aired just a few weeks ago. And up until now, it definitely appeared like everything was good between them. In fact, a few days ago, Kevin called Ashley "the most driven, motivating, and supportive person I know" in a post he made in honor of her birthday, and last week, Ashley posted a photo of the two of them together, commenting on how well he takes care of her.
For fans who have been rooting for Ashley since the start of her Bachelor franchise journey to love, it's heartbreaking to see this fairytale fall apart. After one season of The Bachelor and two seasons of Bachelor In Paradise (and seeing the guys she was most interested in, like Jared Haibon, falling for other women), it was awesome to see her finally get her happily ever after. But being that she's obviously a catch, it goes without saying that she probably won't have an issue finding love again.
It's sad to hear that things are over between Kevin and Ashley, especially since they were such a cute couple on the Winter Games. But if the distance was really the cause of their split, it seems like they might be better as friends. All will be revealed once the podcast is out, but in the meantime, it's hard to swallow the fact that things ended so quickly between them when they were off to such a good start.
The silver lining in all of this? Now that Ashley is a single lady again, she's available for Bachelor in Paradise. Would it really be a season of the show without her?