Rachel Lindsay's Engagement Excitement Is Contagious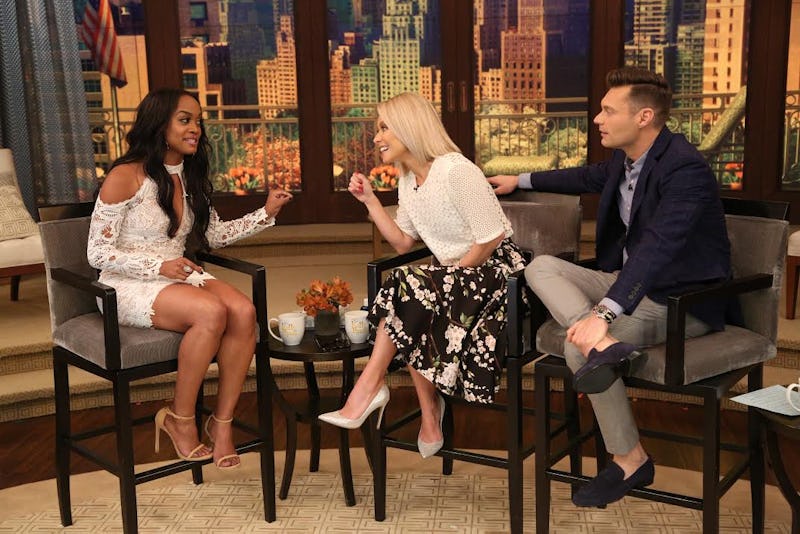 David M. Russell/Disney ABC Home Entertainment and TV Distribution
After months of waiting, the day Bachelor Nation fans have been looking forward to is finally here. Monday night, Rachel Lindsay's season of The Bachelorette kicks off, and even though she's already admitted she's engaged to one of her suitors from the show, there's no way to know who the lucky guy is just yet. But whoever he is, it seems like she's head over heels for him. Lindsay is really excited to be engaged, and a recent interview is all the proof needed that she found exactly what she was looking for on The Bachelorette.
During an appearance on Live With Kelly and Ryan on Monday morning, Lindsay once again confirmed that she's engaged, and there was no mistaking the fact that she seemed so excited to share the good news. There was screaming, smiling, and even a little dancing in her chair, and it was all absolutely adorable.
After seeing how disappointed and heartbroken she was when Nick Viall sent her home on The Bachelor, it's so awesome to see her happy. Of course, now there's no wondering whether or not she'll leave this season with a ring on her finger, but it does make me even more pumped to see her finally find what she's been looking for.
After confirming to Kelly Ripa that she did, in fact, find a normal dude out of the 31 who showed up to fight for her love on the show, she added, "I'm the biggest skeptic, but now I'm a believer."
Of course, Lindsay couldn't share any details about her future husband, but she did mention that he's a "pretty confident guy" who will be able to handle watching her date other men every Monday night all season long. That's good to hear, because like Ripa pointed out, it's easy to see how something like that could take a toll on an otherwise stable relationship. And even though Bach engagements very often come with an expiration date, I'm already rooting for Lindsay's to stick.
Here's hoping the rest of the world is just as excited as Lindsay is when we find out who she chooses in the end. Knowing that whatever happens next leads her to this kind of happiness is going to make this season that much more fun to watch.