Rachel Spills The Beans About Her Own 'Bach' Season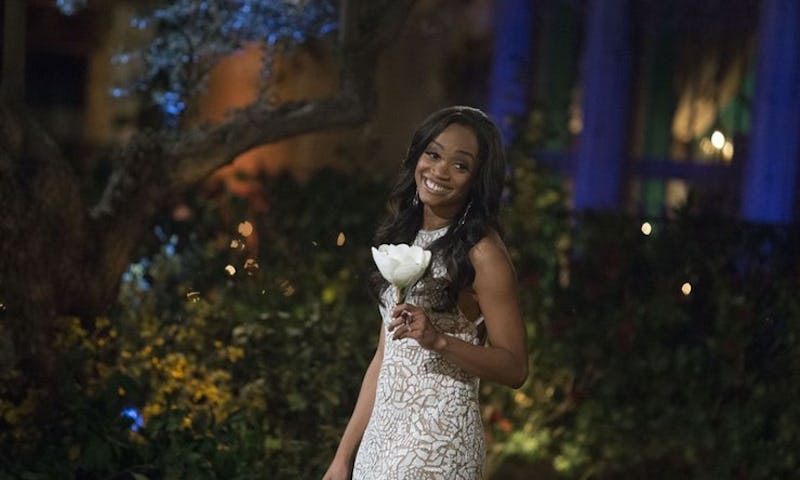 ABC/Paul Hebert
You guys, this is huge. It's been confirmed to The Hollywood Reporter that Season 13 of The Bachelorette ends with an engagement. That's right, Bachelor Nation: Rachel Lindsay is "very much engaged" — and she said so herself. Whoever the extraordinarily lucky guy ends up being, Rachel insists that if she had a list, "he would check everything off." This is obviously incredibly exciting news for everyone involved, but the TV writer in me has to rain on the parade just a little bit by asking a question. Is it better not to know the outcome of a Bachelor/ Bachelorette season before the finale airs? Doesn't it take away the mystery of it all?
Now, hear me out here, because I am not hating on true love at all. I know that the whole point of going on The Bachelor/ette is to find love and end up walking away with a new fiancé or fiancée. I totally get that this is the ideal way for a season to end, because love conquers all and stuff like that. I just can't be the only one that sometimes enjoys seeing something completely different happen in the end, right? I mean, who doesn't secretly love to hate-watch a rejected proposal à la Nick Viall and Kaitlyn Bristowe, or a mutual decision to just continue getting to know each other?
When you know that everything ends up fine and dandy in the finale, it removes a bit of the anticipation. It's like knowing what's going to happen in the season finale of any other show that's your current obsession. You will still watch it, but some of the fun is definitely removed from the experience.
Personally, I would love to have the possibility out there that someone will just throw their fingers in the air and walk away from the finale single AF and buck all of the expectations that have been placed on them. But until that happens, I guess we still have the drama of guessing who the lucky guy will end up being. Because he honestly needs to be a god among men to deserve this season's Bachelorette.
Regardless of my nitpicking, I'm so extremely happy for Rachel. I was already rooting hard for her to find the perfect guy, and it sounds like she's found him. Now let's start her season already, huh? Monday can't come soon enough.