Proof 'Bachelor's Ben & Lauren Are Still Together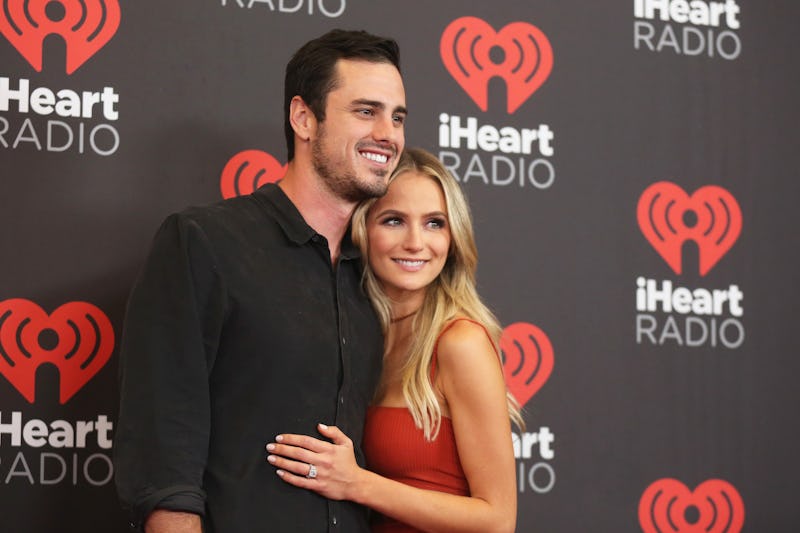 Isaac Brekken/Getty Images Entertainment/Getty Images
Bachelor Nation may be great at helping couples find love on television, but it doesn't have the best track record when it comes to keeping them together. It's not surprising, then, that breakup rumors have already begun to trail one of its newest match-ups. But don't call it quits just yet: Lauren Bushnell and Ben Higgins may still be together, if Bushnell's recent Instagram is any proof.
But first, let's back up. Bushnell and Higgins have been on a split watch for several months, beginning back in October when they revealed they were in couples counseling. Then, a month later, viewers watched as the pair postponed their wedding on their reality spin-off Ben & Lauren: Happily Ever After? Still, they insisted they weren't breaking up, just taking some time to work through things before saying, "I do."
So, when Bushnell spent a weekend in Nashville without her fiancé, then jetted off to Mexico just over a week later still without her man — or her engagement ring, according to Us Weekly — fans were quick to jump to conclusions. But Higgins hopped on Instagram to shut down the speculation. "No need to respond often to rumors or 'fake news' but the feeling I have in this picture is the same feeling I have for this girl today," he wrote alongside a photo of the two getting cozy in Jamaica. "We have entered into a world where rumors will exist we know that, but just know as @laurenbushnell celebrates her birthday tomorrow I am still extremely lucky to be able to share life with her and be by her side."
Now, Bushnell seems to be the one confirming that she and her other half are still very much together. In an Instagram post from her trip to Mexico, she wrote that the only thing "missing" from her family vacation was Higgins. She captioned a photo of herself standing beside a beachside bar,
Thank you all so much for the bday love. Humbled and blessed to have such amazing people in my life. Came down to one of my favorite places on the 🌎, family by my side. Only thing missing is @higgins.ben
If that weren't enough, the couple also exchanged some words on Twitter. "It's @LaurenBushnell3 birthday today!" Higgins tweeted. "Happy birthday!" Her response? "Ily," which, of course, is internet slang for "I love you."
So, case closed. It seems Bushnell and Higgins are still enjoying their happily ever after. Now, let's all leave those love birds alone.