Baileys Just Quietly Dropped Irish Cream Baking Chips & The Combo Sounds Like A Dream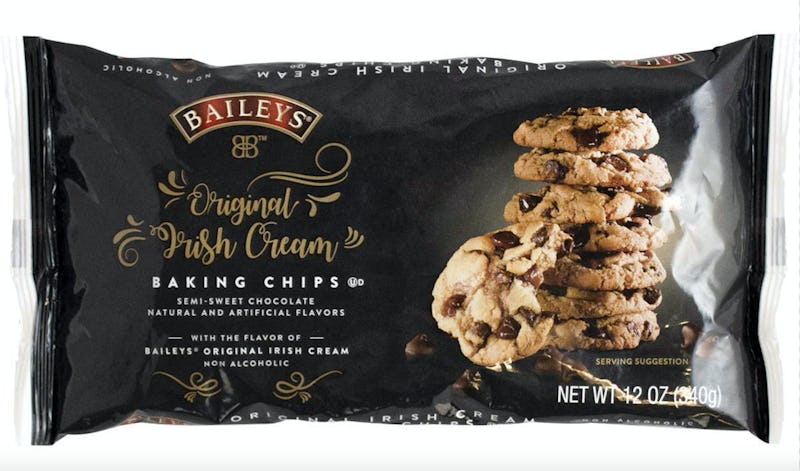 Amazon
Just in time for any holiday baking projects you might have planned, a new and exciting ingredient has entered the fray: Baileys Original Irish Cream Baking Chips have arrived. Why make chocolate chip cookies when you could make Baileys chocolate chip cookies? Why settle for regular ol' brownies when you could have Baileys brownies? Why fall back on simple chocolate pecan pie when you could go for Baileys chocolate pecan pie? The world of holiday desserts is now full of delicious, new possibilities — and, come to think of it, so is the world of non-holiday desserts. Heck, and yes.
According to Restaurant News, Clabber Girl (which I usually think of as a baking powder purveyor, but hey, looks like they do more than just that single ingredient!) and Baileys parent company Diageo have struck a deal to roll out a new line of Baileys items, of which Baileys Original Irish Cream Baking Chips are the first. Said Gary Morris, President and COO of Clabber Girl Corporation, in a statement, "Clabber Girl has been a trusted partner and friend to bakers and home cooks for more than 150 years. We are thrilled to entrust our relationships with these valued customers with BAILEYS and are extremely proud of what we together have created."
The chips themselves are made of semi-sweet chocolate and infused with the flavor of Baileys Original Irish Cream liqueur. There are tons of varieties of Baileys currently available; the original flavor, however, is a classic: "The perfect marriage of fresh, premium Irish dairy cream, the finest spirits, aged Irish whiskey and a unique chocolate blend," according to the Baileys website. Baileys Baking Chips are non-alcoholic, too, so, as the press release puts it, it's fine to "eat them by the handful on-the-go," as well as to fold them into your favorite baking recipes.
Even though the chips are non-alcoholic, they do pack that full Baileys flavor — or at least, they do according to those who have tried them. Wrote one reviewer on Amazon, "I've had them as a snack and made the recipe on the back of the packaging and I am obsessed. The taste is so good and you really get that Baileys taste." Meanwhile, another wrote, "I used these baking chips in cookies for my family Thanksgiving and they really delivered on the taste and smell of Baileys. The aroma of Baileys really gets you when you open the bag. Very enjoyable!"
Oh, and hey, guess what? In honor of the product's launch, Clabber Girl and Baileys have released a free digital cookbook full of recipes that use Baileys Baking Chips into the world — and, uh, folks? Everything in it looks delightful. Sweet breakfast options (French toast!), snacks (Granola bars!), and of course desserts (Brownies! Fudge! Cookies and cookie bars! No-bake cheesecake!) abound, so… well, it looks like I know what I'm doing this weekend. And next weekend. And every free weekend I have for the foreseeable future. You can find the cookbook here.
Getting a hold of Baileys Baking Chips is a little more complex than just running to your nearest grocery store and grabbing them off the shelf — but, happily, not that much more complex. According to the press release, they're currently available at "a few select retailers for Holiday 2018 shopping" (although there's no mention of exactly which select retailers have them, so you might have to do a little guesswork); you can also buy them on Amazon at a price of about $8.50 for 12.2 ounces. They'll receive a full national launch in stores in time for Easter 2019 (which, for the curious, is on April 21).
Happy baking!