Baileys Pumpkin Spice Is BACK — Here's Where You Can Get It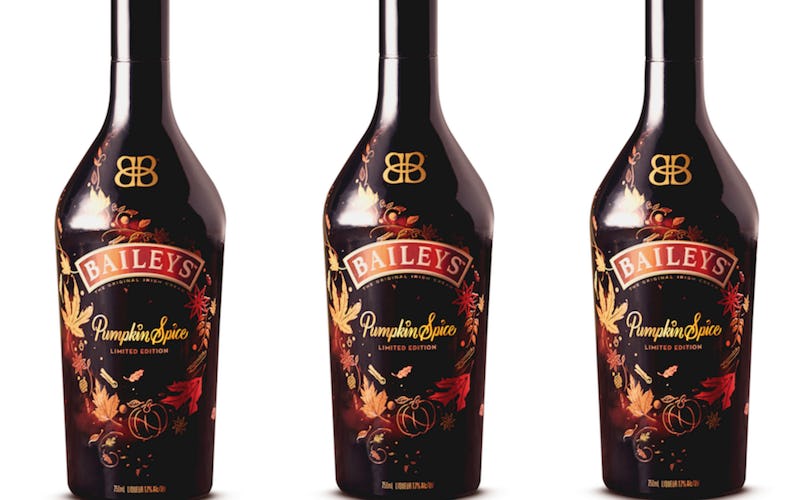 Baileys, remixed by Bustle
It is September, so you know what that means: pumpkin season is beginning. The rotund orange fruit (yes, fruit) will soon be gracing the menus of all your favorite coffee shops, and lining the aisles of your local supermarket. Pumpkins are no longer just for carving; pumpkins are a lifestyle. While halloweenies of all ages have their pick of any number of autumnal sips, the caffeinated options outnumber those made for happy hour. If you're looking for a way to channel your inner pumpkin head after five o'clock, look no further than Baileys Pumpkin Spice.
Baileys has been the standard for indulgent dessert drinks and boozy milkshakes for decades. Per a press release, Baileys Pumpkin Spice "combines sweet cinnamon and baking spices, rich maple, brown sugar, and baked pie crust with additional hints of vanilla and coffee," to create "...a delightful and versatile Irish cream liqueur that brings a trendy seasonal take on a traditional liqueur offering." Baileys Pumpkin Spice is the perfect way to make your Irish Coffee more festive, or craft your own pumpkin spice latte. If you're feeling really adventurous, add a splash to your next milkshake, garnish with a sprinkle of nutmeg and a cinnamon stick, and voila! A perfect adults-only dessert. Your Halloween plans just got a lot fancier.
Baileys even gave the low-down on an exceptional autumnal cocktail you can only make with the product. Mix two ounces of Bailey's Pumpkin Spice with one and a half ounces of coffee. Add an ounce of milk (or nondairy milk substitute of your choice) and serve warm or over ice. Finish with whipped cream and sprinkled cinnamon.
Another boozy take on pumpkin spice you should add to your bar cart this season is Captain Morgan Jack-O-Blast Rum. You read that correctly: Pumpkin Spice Rum. Though the traditionally tropical spirit is known as a tiki bar staple, the company gave it an autumnal makeover back in 2016. Still, even two years, not enough people know about the rum that is perfect for when the air is crisper and the days are shorter. Linda Bethea, the Vice President of Marketing for Captain Morgan, explained, "As much as we enjoyed tropical cocktails over the summer, it's time to make room for the bold flavors of fall everyone enjoys. Captain Morgan Jack-O'Blast is a must-have for responsible adult consumers during their favorite seasonal activities, whether it's at football tailgates, Halloween parties, or backyard bonfires with friends." Plus, who could resist the package? It looks like a pumpkin! Even the cap looks like a little stubby stem.
In a press release from 2016, Captain Morgan suggests you add Jack-O-Blast rum to any number of fall cocktails, or drink it as a shot. The best sip, though, will be of the Apple Jack-O cocktail. Highlight the two most prominent flavors of fall — apple and pumpkin — in a cocktail by mixing one part Captain Morgan Jack-O-Blast with four parts apple cider. Serve chilled or warm for a reworking of the holiday classic Hot Buttered Rum. But, don't go overboard (heh) — Jack-O-Blast has a 30 percent ABV.
Whether you prefer the spicy Jack-O-Blast or the creamy Bailey's, you can't go wrong with an autumnal drink menu. Best of all, you can snag a bottle of either online.