The Obamas' Statement On George HW Bush Will Pull At Your Heartstrings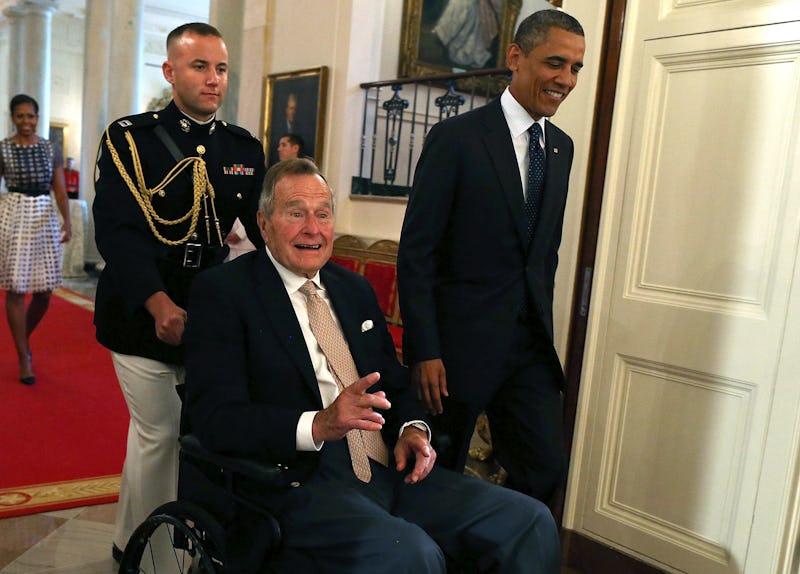 Mark Wilson/Getty Images News/Getty Images
The United States has been in mourning after the passing of its 41st president on Nov. 30. Following his death, many released tributes to the former president, including Barack and Michelle Obama, whose George HW Bush statement honors his life in an incredibly moving way.
The Obamas' heartfelt statement lauded the former president's professional accomplishments and also praised his character, as CNBC reported. As the statement described (via CNBC):
America has lost a patriot and humble servant in George Herbert Walker Bush. While our hearts are heavy today, they are also filled with gratitude. Not merely for the years he spent as our forty-first President, but for the more than 70 years he spent in devoted service to the country he loved ...
George H.W. Bush's life is a testament to the notion that public service is a noble, joyous calling. And he did tremendous good along the journey ... It's a legacy of service that may never be matched, even though he'd want all of us to try.
The Obamas also commended Bush and his late wife, Barbara, for "being two points of light that never dimmed." The couple emphasized that the Bushes led by example in their lifetime commitment to humility and service.
Indeed, the concluding paragraph of the Obamas' statement epitomized the admiration they have for the former president and first lady:
What a testament to the qualities that make this country great. Service to others. Commitment to leaving behind something better. Sacrifice in the name of lifting this country closer to its founding ideals. Our thoughts are with the entire Bush family tonight – and all who were inspired by George and Barbara's example.
In addition to a profound professional respect for each other, the Obama and the Bush families also appear to have a personal camaraderie. Indeed, Michelle has previously indicated that she shares a unique friendship with Bush's son (and the 43rd president) George W. Bush. During an interview on the Today show in October, Michelle reflected on this special bond she shares with George W.:
President [George W.] Bush and I are forever seat mates because of protocol – that's how we sit at all the official functions ... So he is my partner in crime ... I love him to death ... He's a wonderful man. He's a funny man.
In addition to releasing a statement with her husband, Michelle also shared her own tribute to Bush on Twitter. The former first lady tweeted a picture of Bush kissing her on the cheek, along with the caption:
As a public servant, father, and grandfather, President George H.W. Bush was an extraordinary example for us all. His spirit of service and decency will be missed by many, including our family. I hope his memory will be a guiding light for our country and those around the world.
Obama and Michelle will both attend Bush's funeral, with the former first lady cancelling a portion of her book tour to ensure that she's able to honor the former president. On Twitter, Michelle emphasized that she hoped her fans would be understanding of her decision, writing, "It's important to me to join the Bush family in celebrating President George H.W. Bush's exemplary life."
It's certainly clear that the Obamas think very highly of the Bush family and want to ensure that they pay their respects following the 41st president's death. Bush's state funeral will take place at the Washington National Cathedral on Dec. 5. Another memorial service will be held at St. Martin's Episcopal Church in Houston, Texas on Dec. 6.