Obama Trolled Himself In This New Video About Enrolling For Health Care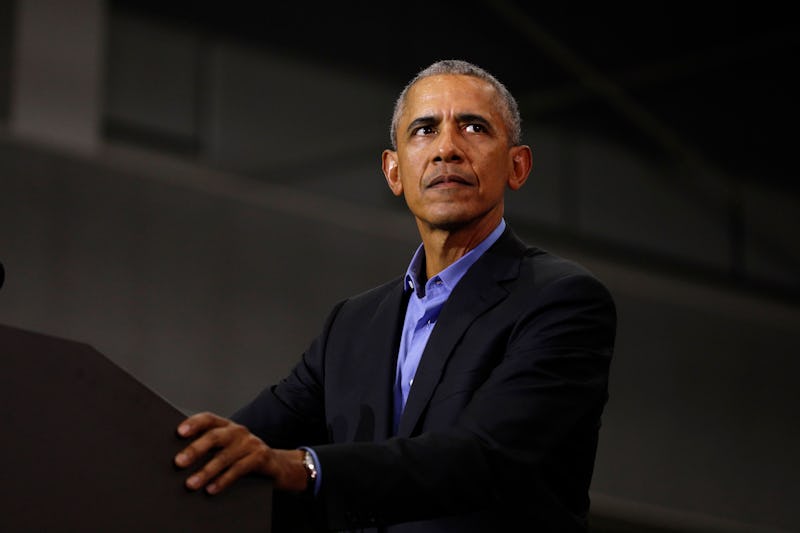 Bill Pugliano/Getty Images News/Getty Images
Over the last several years, former President Barack Obama's yearly videos telling people to enroll in a health care plan through the Affordable Care Act have racked up millions and millions view. Surely this is partly due to his popularity among young people, but it's also because of how funny — and how on trend — they all were. However, Barack Obama's 2018 health care enrollment video goes a different direction. Rather than trying to get people engaged, this year's video congratulates them for the political engagement they've already displayed — and, in the process, it includes a little bit of self-trolling on the part of the former president.
"Well, it is that time of year again," Obama said to open the video. "The time my team tries to get me to reference some viral trend or otherwise make a fool out of myself in the name of encouraging more young people to sign up for health insurance."
While he spoke those words, clips from previous videos appeared — like when he went on comedian Zach Galifianakis' parody interview show "Between Two Ferns" in 2014, or when he appeared in a BuzzFeed video by surprise in 2015.
"But not this year," he continued. "You know why? Because this year is different. Young people have stepped up like never before on campuses, at the voting booth, and at the doors of power."
In saying that, the former president isn't just giving America's youth an empty congratulations. In the 2018 midterms, the percentage of eligible young voters who actually exercised their right to vote rose by 10 percentage points over the 2014 midterms, according to Teen Vogue. But looking back over the year, youth engagement in politics has been palpable on many fronts — think, for example, of the Never Again movement, which the Parkland shooting survivors started to combat gun violence.
"Frankly, I think you've proven that you don't need to see me taking jump shots or sitting between a couple forest plants in order to know it's important to have health insurance in case, God forbid, you get really sick or hurt yourself next year," Obama continued in the video, again referencing his previous viral videos.
"So this year, I'm giving it to you straight," Obama said. "Sign up for health insurance at HealthCare.gov before the deadline on December 15th. You can do it right now."
As he finishes up his pitch, though, a pair of pixelated sunglasses appear to drop onto his face, and the scene behind him changes from what looks to an office, to a tropical scene with a rainbow — a very recognizable filter. After sitting and looking satisfied with himself behind his sunglasses for a few seconds, Obama realized what was going on.
"You've got a filter on me, don't you?" he said to close out the video.
Apparently his team couldn't entirely steer clear of the trends — but either way, it gets the point across. Even after almost two years out of office, Obama is still committed to making sure America is taken care of.