Barack Obama Revealed His Favorite Books Of 2017 & It'll Make You Miss Him Even More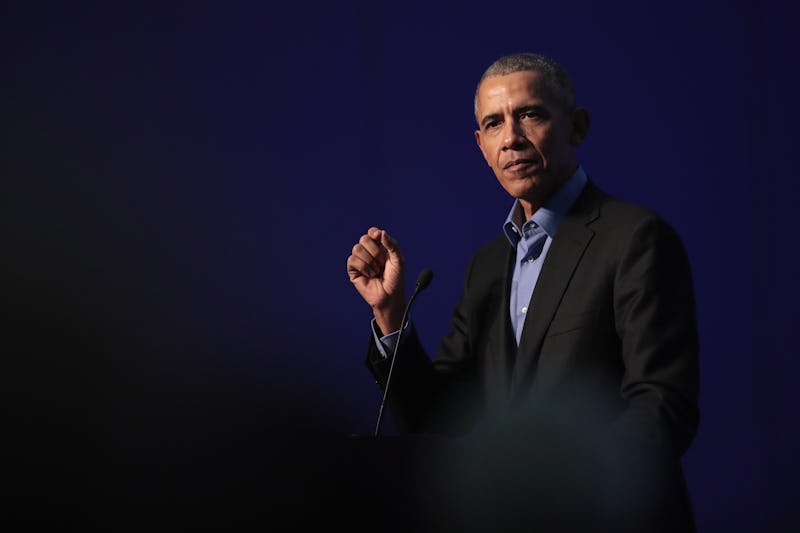 Scott Olson/Getty Images News/Getty Images
It's no secret that the end of the year is a time of reflection. It's hard to scroll through social media without seeing countless year end posts, filled with personal stories, career triumphs, and, of course, the best pop culture consumed throughout the past 12 months. And no one is immune to these trips down memory lane; not even former U.S. president Barack Obama. Obama's yearly tradition of sharing his favorite books and music from the past year continued on December 31, 2017, with a post to his Facebook page that detailed the songs he loved and books he thumbed through in 2017.
The post reads, "During my presidency, I started a tradition of sharing my reading lists and playlists. It was a nice way to reflect on the works that resonated with me and lift up authors and artists from around the world. With some extra time on my hands this year to catch up, I wanted to share the books and music that I enjoyed most. From songs that got me moving to stories that inspired me, here's my 2017 list — I hope you enjoy it and have a happy and healthy New Year."
Check out Obama's full list of reads and songs below! And get ready to add a few more reads to your 2018 stack.
A lot of Obama's favorite reads of the year, including Naomi Alderman's The Power, Mohsin Hamid's Exit West and Jesmyn Ward's Sing, Unburied, Sing, were popular fixtures on many year's end best lists, so it's not unsurprising that Obama might have felt compelled to pick them up throughout the year. And, of course, Obama's well-known love for basketball also made an appearance in his yearly reading stack, with Coach Wooden and Me by Kareem Abdul-Jabbar and Basketball (and Other Things) by Shea Serrano both making his top picks.
But even though Obama's picks were not as surprising as, say, his music choices might be (I am still imagining him rocking out to Camila Cabello's Havana as Michelle Obama looks on shaking her head) it's nevertheless a stark contrast to our current presidential administration, in which Trump has shown a supreme lack of bookish proclivity—having announced to the Washington Post in July 2016 that he has no time to read saying, "I never have. I'm always busy doing a lot. Now I'm more busy, I guess, than ever before." And despite one unexpected book recommendation, books have so far not played very much of a role in the Trump presidency at all.
So here's to relishing in the fact that we did, once, have a president who read deeply and with joy, and to a year ahead of continuing to champion that love of books in our own lives and beyond. Oh, and to adding a few of these books to our already teetering TBR stacks, too.