Obama Dropped Part Two Of His Summer Reading List & Dang Is It Classy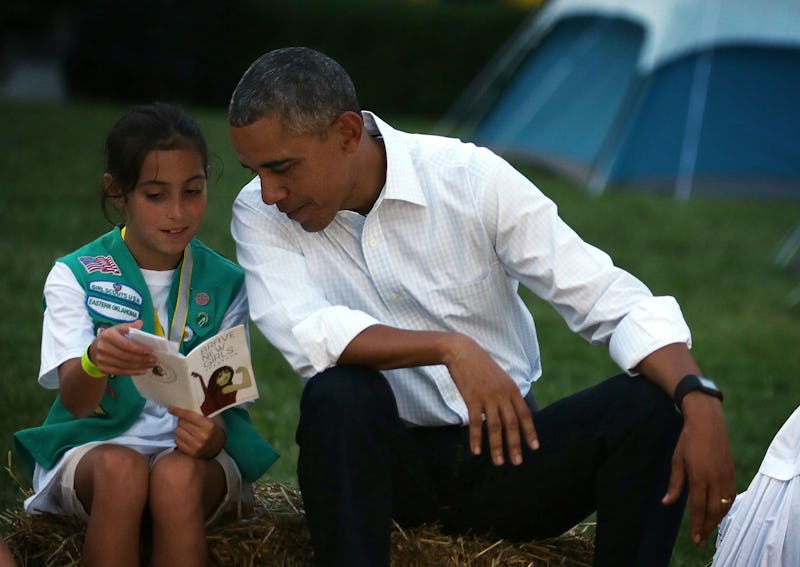 Alex Wong/Getty Images News/Getty Images
Barack Obama's love of reading is well known. In fact, the former president has made no secret of his belief in books' incredible power to not only inspire but to also teach, connect, and shed light on the truth. And it's this belief that makes him one of the best people from whom to pick up a few recommended reads. Thankfully, Obama shared a list of books he read this summer — and it's proof he's still committed to seeking truth and exposing himself to new and diverse voices through reading.
"One of my favorite parts of summer is deciding what to read when things slow down just a bit, whether it's on a vacation with family or just a quiet afternoon," Obama wrote Sunday on Facebook. "This summer I've been absorbed by new novels, revisited an old classic, and reaffirmed my faith in our ability to move forward together when we seek the truth."
So, what are Obama's recent reads? At the top of his list, Obama recommended Tara Westover's Educated, which he described as "a remarkable memoir of a young woman raised in a survivalist family in Idaho who strives for education while still showing great understanding and love for the world she leaves behind."
The book is a New York Times bestseller and widely considered to be a coming-of-age story that centers around the struggle for self-invention and how life-changing an education can be. It details how Westover, who received something of an unconventional home-school education in the mountains of Idaho, taught herself enough of the core subjects to gain admittance to Brigham Young University.
Westover appeared at a loss for words on Sunday when she discovered she'd made Obama's bookshelf. "I don't have words," she tweeted. "But I'm very grateful."
Obama also recommended Michael Ondaatje's Warlight, describing it as "a meditation on the lingering effects of war on family." You may recognize Ondaatje's name — he also wrote The English Patient. Warlight follows two British youths left in the care of a stranger in the aftermath of World War II and their later journey to uncovering, and understanding, what they couldn't comprehend as children.
"With the recent passing of V.S. Naipaul, I reread A House for Mr Biswas," Obama wrote on Facebook. A House for Mr. Biswas is noted as being an early masterpiece of Naipaul, who died Aug. 11. Obama describes it as being about "growing up in Trinidad and the challenge of post-colonial identity." But aside from being a timely pick, Washington Post Book World editor Ron Charles has noted A House for Mr. Biswas is proof of Obama's "willingness to ignore the winds of political correctness" given the allegations of Islamophobia and misogyny that plagued Naipaul in his later life.
The fourth book on Obama's list is Tayari Jones' An American Marriage, which the former leader describes as "a moving portrayal of the effects of a wrongful conviction on a young African-American couple." An American Marriage is both a New York Times bestseller and an Oprah Book Club selection.
On Sunday, Jones tweeted that she always looks forward to Obama's summer reading suggestions. "But what an honor to find An American Marriage on this year's list," she wrote.
Obama wrapped up his list with Hans Rosling's Factfulness, which he described as "a hopeful book about the potential for human progress when we work off facts rather than our inherent biases." With Trump's ongoing fake news rhetoric and Rudy Giuliani's recent claims that "truth isn't truth" and that facts are in the eye of the beholder, Factfulness may be Obama's most timely recommendation yet.
Earlier in the summer, Obama shared a reading list which, inspired by an upcoming trip to Africa, highlighted a number of influential African writers and, similar to his most recent list, appeared to contain some implied criticism of his successor.