Barefoot Wine Just Launched Canned Spritzers In 5 Flavors That Are Perfect For Summer
by Callie Tansill-Suddath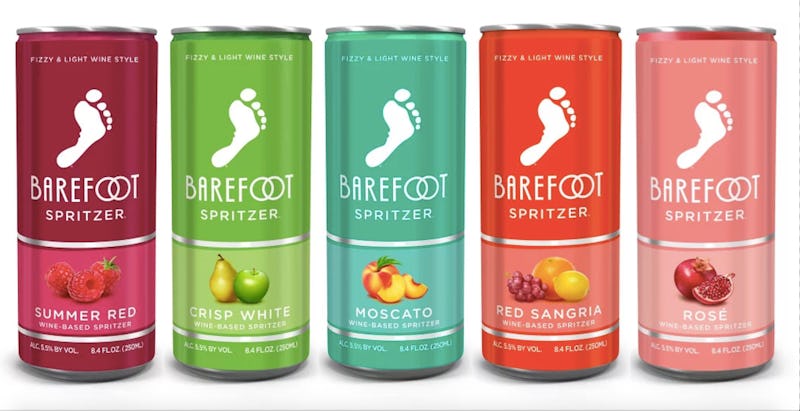 Barefoot Wine
The best aspect of summer is also perhaps the most obvious. Those of us who live in a seasonal climate are pretty much confined to the indoors for much of the year. As soon as the temperature rises and the sun comes out, people plagued by spring fever will look for a way to do anything and everything outdoors. What makes a beautiful day even more beautiful? Food and friends, of course! This year, Barefoot Wines new canned wine spritzers are here to fulfill everyone's outdoor happy hour needs.
Picture it: you're sitting atop a red checkered picnic blanket at your local park. The sun is shining in a cloudless sky. It's a little over seventy degrees outside. Your friends and you have packed sunscreen, some snacks, and a set of speakers. It's already a picturesque, music video-worthy occasion, but then someone brings out a pack of cans and your picnic gets a little ~bubblier~.
You have probably seen Barefoot's (very fitting) footprint logo around your local store's spirit section. The company has been creating cellar staples for around 20 years. Its bottles of wine spritzer have been on the market for a little while already, but these new cans give the familiar brand a whole new look. I dare any Instagrammer not to find one of these that doesn't perfectly match their favorite summer kicks. (Looking at you especially, rosé spritzer.)
The wine spritzers come in five varieties, four of which were previously available in bottles. This is nice because if you already have a favorite, it's easier than ever to grab it on the go. Crisp White, Moscato, Rosé, and Summer Red are joined by the new Red Sangria to complete the perfect summer sippable lineup. Those looking for a crisper option will want to stick with the Summer Red and Crisp White, which, according to their website, "deliver a blast of bold berry flavor," and "bubbl[e] with zesty lemon-lime fizz," respectively. Drinkers longing for something sweet should opt for the red sangria, which has notes of berry and citrus throughout. Craving something with a little of both? The Moscato is infused with notes of peach and tangerine. Or, opt for the old standby, rosé, which is said to have notes of sweet raspberries and red cherry. You can't really go wrong no matter what you choose.
It should likely come as little surprise Barefoot is cashing in on the canned wine trend. While selling wine in cans was once viewed as a tacky and taboo way to serve the beverage, it has become THE way to sip your drink with dinner. This is due, at least in part, to its convenience. Canned wine is particularly great for outdoor events when dealing with heavy, breakable bottles can be a nightmare. Not to mention, Barefoot's wine spritzers come in packs of four cans, each containing 8.4 fluid ounces. With cans, navigating pouring is a predicament of the past. Barefoot's take will surely serve as a fit competitor for other summery canned wine brands like Union Wine Company's Underwood Strawberry Cooler.
Even more exciting, the drink menu of your boozy brunch picnics need not be limited to wine any longer. Companies that produce other boozy beverages are realizing canned is the way to go. As a result you can now get drinks like this berry-flavored Gin & Tonic in a can. Who knew something so simple could revolutionize the world of day drinking?
Barefoot Spritzers became available last week at liquor stores nationwide. A pack of four cans retails for $8 — but truly, the Instagrams you'll get out of them are priceless.