This Canned Wine Is STRAWBERRY-Flavored & It's Basically Summer In Drink Form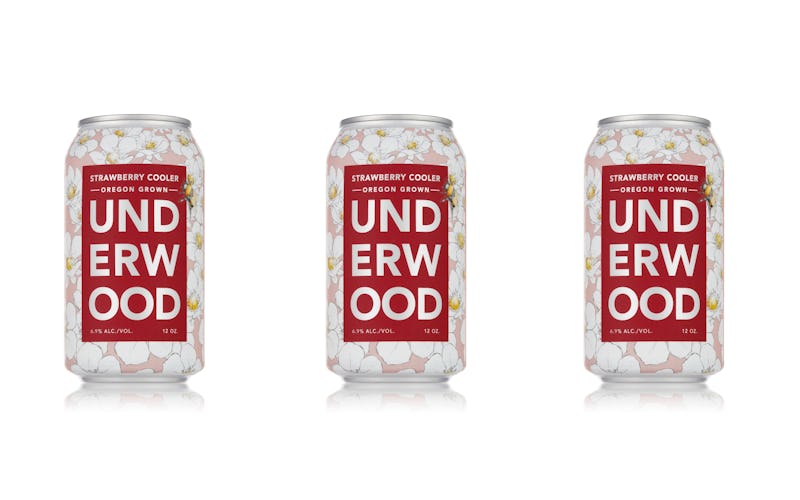 Underwood
The backyard barbecue needs a makeover. The quintessential summer celebration has been the go-to for years of celebrating graduations and vernal holidays, but it's about time the shindig received a much-needed makeover. Hot dogs en masse and cheap beer are great, don't get me wrong, but what if you want to make your party a bit more ... 'grammable? Your solution may just come in a can. Union Wine Company's Underwood Canned Strawberry Cooler is here just in time for all of your spring party needs. Think of it as rosé's fruitier cousin.
The strawberry cooler is Union's newest addition to it's line of canned Underwood wines. With notes of strawberry, cranberry and lime, the summery cooler is perfect for days you'd do anything to be on the beach. Not to mention, Underwood's Strawberry Cooler is sure to be a hit with your friends who have leaned into the pink wine trend, and rosé devotees alike. Even the can is cute, bearing a likeness to a summer sun dress with its millennial pink and white floral pattern.
Now, for some, the phrase "wine cooler" may recall memories of cloyingly sweet six packs you found in your parents' fridge during summer breaks — but don't let any preconceived notions deter you from this sweet-tart Strawberry Cooler. This version, from the sound of it, is not even comparable to the wine coolers of summer vacations past.
If you're unfamiliar with the ingenuity of canned wines, you're truly missing out. What was once viewed as a bold and taboo way to serve the beverage, canned wine is now THE way to sip your drink with dinner. It's particularly great for outdoor events when dealing with heavy, breakable bottles can be a nightmare. Plus, with the cans coming in a pack of six, navigating pouring is a thing of the past. Oregon-based Union Wine Company put the idea out there, and has since cornered the market on convenient, quality canned wines.
Last summer, Union Wine company saw great success with its first cooler, the Reisling Radler. A unique combination of Oregon Reisling, hops, and grapefruit, the radler was created for those "Hair down, windows open, carving a dusty line from desert to coast, only stopping when you have to..." days of summer, according to its description on the Union Wine Company website. If you didn't get a chance to snag a can last summer, don't worry, it'll be available again this year to serve alongside the Strawberry Cooler.
Oregon-based Union Wine Co. undoubtedly knows its way around a wine cellar, but championing women's rights? It has that covered, too! Back in September of 2017, the company partnered with WILDFANG to release a limited edition "Get It Girl" brand of wine, benefitting Planned Parenthood. The mixture of "Pinot Gris, Riesling, and Gewurztraminer, with notes of lime, jasmine, and melon," was released in packs of four and flats of 24, with all money from sales going directly to the women's health nonprofit. "Women's rights are human rights," the description explains, "That's why Union Wine Co. and clothing company WILDFANG are giving 100% profits from this special edition wine straight to Planned Parenthood, an organization fighting for those rights all day, every day." The best part? The cans are still available for purchase on the company's website.
After a winter season filled with unpredictable weather that seems to be leaking into spring, some time in the sun is needed, no? Maybe if we all drool over these for long enough, summer will hurry up and get here — the sanctity of our picnic Instagrams depends on it.