'The Flash' Cast Promises That There Isn't Going To Be A Wedding Fake-Out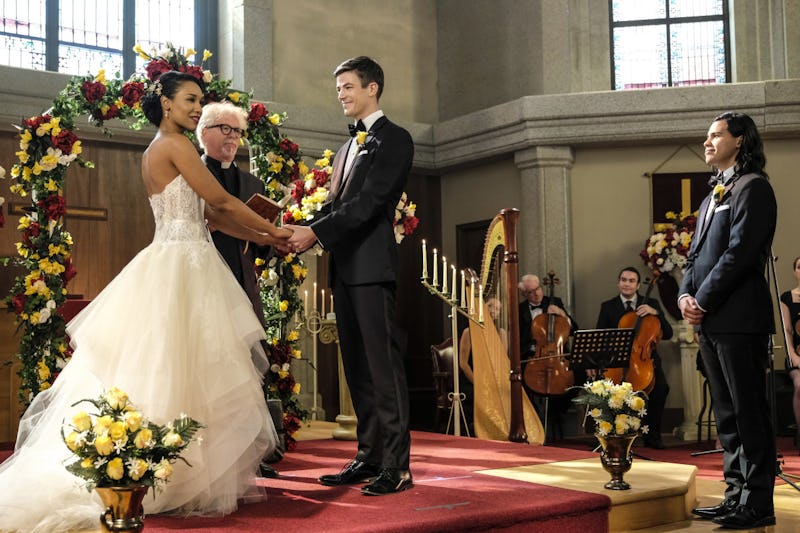 The CW
After three years of waiting, false starts, and obstacles to overcome, Barry and Iris are finally getting hitched on The Flash! This seasons' mega four-show DC crossover, "Crisis On Earth-X," begins on Nov. 27 with pretty much everyone who's been by Barry and Iris' side gathering for their beautiful, romantic ceremony. Nazis decide to crash the nuptials, but did you really think a comic book wedding would go smoothly?
Regardless of the ceremony getting ruined by party crashers from an alternate universe where the Nazis won WWII, it's not that crazy of a prediction to say that by the end of the four-episode-long crossover event, Barry and Iris will get find a way to finish their vows and tie the knot officially. Because honestly, The Flash can only tease this wedding for so long before the #WestAllen fans riot. And as it turns out, The Flash stars feel the exact same way. They're ready for Iris and Barry to reach this happy milestone.
On Bustle's recent trip up to The Flash set in Vancouver, Candice Patton, who plays Iris, is as relieved as the fans to know that Barry and Iris are finally getting to say "I do" in the crossover.
"It's been a long time coming," Patton says, sitting in the middle of the CCPD lobby set. "Fans have been waiting for three years. [Barry and Iris] had other partners, relationships, trials, tribulations, so I think it's time. Season 4 is a good time for them to make it all happen. The wedding of the century, essentially."
The biggest crossover yet revolves around her character's wedding, which was an exciting moment for Patton. "It's a really important moment in DC history," she says. "It's a spectacle for sure. You can expect on any DC TV show that weddings don't usually go as planned; you've got some villains who come in and try to spoil that. You've got aliens from Earth-X, so things don't go as planned."
Grant Gustin (Barry) still can't believe they pulled off the "bigger than ever" crossover event. Going into it, everyone involved knew it was going to be the biggest endeavor they've ever faced as a production, and yet they were all caught by surprise at just how complicated it really was.
"Every year, you can't really prepare yourself. You think you're preparing yourself, knowing that the crossover is coming, but it's a really challenging feat," Gustin says. "But I think this year, again, we top it. There's more people than ever included, some of the biggest sequences you'll see with the most superheroes we've ever seen together at any given time."
What Gustin loved the most about this year's crossover is how they still "stick with the comedy we've had all year." There are some "classic Barry and Kara [Melissa Benoist] interactions that are fun," he says, and Barry will meet some new characters, introducing new dynamics that he hopes fans will take to. As for Barry and Iris' wedding, Gustin can't stop gushing over how classic and beautiful the ceremony is (before the Nazis crash it, of course).
"Obviously, things aren't going to be perfect. Something's going to happen," he says with a smile. "But we've been leading up to this wedding for a long time. It's in some ways fitting that it's part of the crossover. I'm excited for everyone to see it."
Before all hell breaks loose, prepare for all the feels as Cisco (Carlos Valdes) performs his best man duties, and father of the bride (and groom?) Joe (Jesse L. Martin) gives an emotional speech to end all speeches. Both Valdes and Patton promise there won't be a dry eye in the room once he's done.
"It's a beautiful speech," Valdes says. "That's the thing about Jesse that kills me. No matter how ambiguous it looks on the page, he gets up there, and he just gives it heart and commits to it, whatever the line is, whatever the action is, and everybody just melts. That's his superpower."
Patton agrees, adding, "It feels like life. Jesse and I are really good friends. I feel like I get those talks every Sunday at his house or every day on set, so it feels very natural to me. What you see on screen, the warmth of Jesse, is exactly who he is as a person. He's the most decent human being I think I've the pleasure of knowing."
And Caitlin (Danielle Panabaker), fresh from her bonding session with Iris at the bachelorette party, is ready to take on the role of maid of honor.
"She gets to stand up at Iris and Barry's wedding, which is a real honor for her," Panabaker says. "It's pretty exciting. Last year I didn't cross over to as many of the other shows, and this year was nice because I finally got the chance to suit up and get out there and fight with everyone. Both Caitlin and Killer Frost get to interact with a lot of different characters in our universe, like I have some really funny interactions with Dom [Purcell]. Heat Wave's really into Killer Frost." Fingers crossed that Heat Wave and Killer Frost become the first cross-show romance.
After all, love is definitely going to be in the air during these epic nuptials.