Barry Jenkins & Tarell Alvin McCraney's…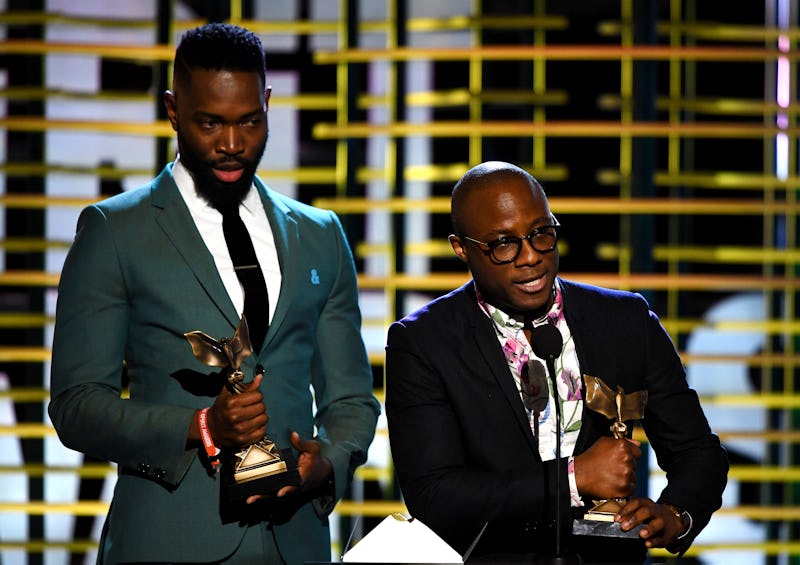 Kevork Djansezian/Getty Images Entertainment/Getty Images
At the 2017 Oscars, Barry Jenkins and Tarell Alvin McCraney gave an acceptance speech that spoke to all of the marginalized people whose stories they told through their movie Moonlight, in its depiction of Chiron, a young gay black boy growing up in the Miami projects. The pair won a well-deserved award for best original screenplay, and in doing so they showed the world that the stories of people of color and LGBTQ individuals must be told, and told thoughtfully and passionately and on an international stage.
After thanking his family and his peers, Jenkins told the audience:
I tell my students that I teach sometimes, be in love with the process, not the result, but I really wanted this result because a bagillion people are watching, and for all the people out there who feel like there's no mirror for you, that your life isn't reflected, the Academy has your back, the ACLU has your back, we have your back. And for four years, we will not leave you along, we will not forget you.
During these forthcoming four years of Trump, in a political climate that may leave people of color or LGBTQ people feeling disenfranchised, attacked, or unseen, Jenkins used his moment on stage to help those people feel supported, feel less alone. The creation of Moonlight was a crucial moment of visibility for so many, and Jenkins speech continued to shine a light on those people whose existences are so rarely affirmed and recognized.
For his part, McCraney echoed the sentiment.
Amen, brother. I just want to echo everything you just said and and all those things, but I also want to say thank god for my mother who proved to me through her struggles, and the struggles that Naomie Harris portrayed for all of you, that we can really be here and be somebody. Two boys from Liberty City up here on this stage representing 305. This goes out to all those black and brown boys and girls and non gender-conforming who don't see themselves, we are trying to show you you, and us. So thank you, thank you, this is for you.
So often, an Oscars ceremony goes by without any people of color being rewarded for their extraordinary efforts and contributions. This year's ceremony was not perfect in its representation, but the celebration of Moonlight, and the words of its creators, hopefully provided some solace to those whose lives feel imperiled by our current administration.
We need more movies like Moonlight, more creators like the team behind it, more recognition for those creators, and more speeches that make those afraid for their livelihood right now feel less alone.