#OscarsSoWhite Still Applies In 2017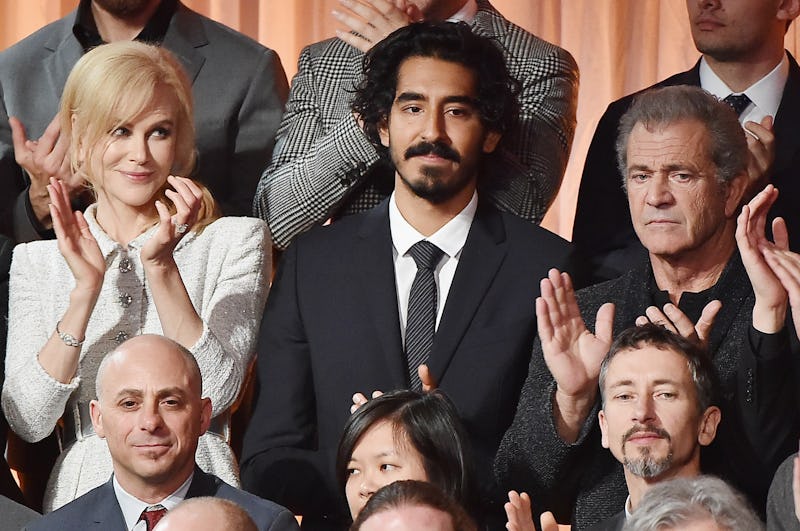 Alberto E. Rodriguez/Getty Images Entertainment/Getty Images
Something strange happened after the 2017 Oscar nominations were announced: racism in Hollywood disappeared. Well, that's what some people seem to think, at least. After two years straight of predominantly white nominees overall and all white acting nominees, sparking #OscarsSoWhite, this year's nomination of seven actors of color (out of 20 acting nominations total) was a welcome change — so welcome, in fact, that many media outlets were quick to declare 2017 the year #OscarsSoWhite ended. But, while it might be tempting to say that the shut-out of actors of color is no more, it's not actually true. The Oscars are still very white, and one year of diverse nominees doesn't change that fact whatsoever.
The Academy Awards are representative of Hollywood in that they present themselves as the ultimate deciders of excellence in the filmmaking industry, despite the fact that the majority of movies produced in America are not recognized by the show. The whole ceremony garners plenty of attention, but no part of the Oscars is more discussed than the "big five" categories — Best Picture, Best Actress, Best Actor, Best Supporting Actress, and Best Supporting Actor. So, when these highly visible categories at the Oscars contain only white nominees, it sends the message that Hollywood as a whole is not a place for diversity. In 2017, it can be easy to assume that diverse acting nominees translate to an increasingly diverse Hollywood, but it's important to remember that it takes more than a few nominations, or even an Oscar win, to truly change the racial landscape of Hollywood.
Just look at Best Actress. When Halle Berry won the Oscar for this category in 2002 for Monster's Ball, she became the first non-white woman ever to do so. Since then, every Best Actress winner has been white. And, with Ruth Negga's Oscar chances looking slim, it's a streak likely not to be broken at this year's ceremony. Best Actor is only slightly better, with Denzel Washington's 2002 win for Best Actor followed by Jamie Foxx and Forest Whitaker's wins later on. By and large, the Oscars have not rewarded many actors of color, especially in the Leading categories.
This year's group of seven nominees of color in acting categories at the 2017 Oscars is better than most, but not entirely worthy of a pat on the back. Of the seven non-white performers nominated for Oscars this year, there is only one who is not black. Dev Patel, nominated for Best Supporting Actor for his role in Lion, is only the third Indian actor ever to receive a nomination — the first in 13 years — and the 13th Asian actor to be nominated overall. The last time an Asian female actor was nominated was when Rinko Kikuchi earned a nod for her supporting role in Babel in 2007. Only one Asian woman has ever been nominated for a Leading role, and that was in 1936. As this shows, progress does not come quickly, and Oscar nominations are far from the mark of real social change. Hell, nominations aren't even a mark of real change within Hollywood, as shown by the lack of Asian actors appearing on-screen in major Hollywood films and TV shows.
At this year's Oscars, the increased number of actors of color nominated will likely mean that diversity will be a theme of the night. But, as shown by the 2016 Oscars ceremony, that doesn't mean racism won't still exist. Last year, host Chris Rock paraded three young, Asian children in front of the audience as a joke about accountants. (Get it? Because "Asians are good at math.") The entire bit was inappropriate, offensive, and incredibly shocking given how much time and material Rock has devoted to exposing Hollywood racism. Despite immediate and intense backlash, the host never apologized (an Academy spokesperson, however, told The Hollywood Reporter that "The Academy appreciates the concerns stated, and regrets that any aspect of the Oscar telecast was offensive. We are committed to doing our best to ensure that material in future shows be more culturally sensitive"). Even more, in Rock's monologue, during which he pondered the answer to the question "Is Hollywood racist?" Rock did not once mention people of color who were not black. That same night, Sacha Baron Cohen made a joke about Asians while in character as Ali G.
Contrary to what Rock and others might believe, the #OscarsSoWhite movement is not simply about recognizing black actors. It's about representation onscreen for all people, regardless of race, sexuality, class, or physical ability. In the words of #OscarsSoWhite creator April Reign, who spoke about the movement's evolution in an interview with iNews, "#OscarsSoWhite is about ensuring people from marginalized communities see themselves on screen." And that includes media in all forms, even the Oscar telecast.
Just one year after the Oscar host made an entire ethnicity the butt of a joke, in a segment surely vetted by multiple producers and writers, are we really ready to say that #OscarsSoWhite is over? Can anyone honestly expect the Academy to take a stand for diversity when, the same year they nominate seven non-white actors, they nominate Mel Gibson for Best Director (a spot that one could argue might have gone to Denzel Washington)? The presence of some minorities among the Oscar nominations does not negate the systemic racism still very much alive in Hollywood. Those people who are willing to put the movement behind them clearly never understood the purpose #OscarsSoWhite in the first place.
The Oscars are still so white, and will continue to be unless Hollywood studios decide to invest in more diverse stories, cast non-white actors in more roles, and take a good, hard look in the mirror. One round of nominations is a start, but does not a revolution make.