Bath & Body Works Just Dropped Its Fall Candle Lineup — Here Are The Best Ones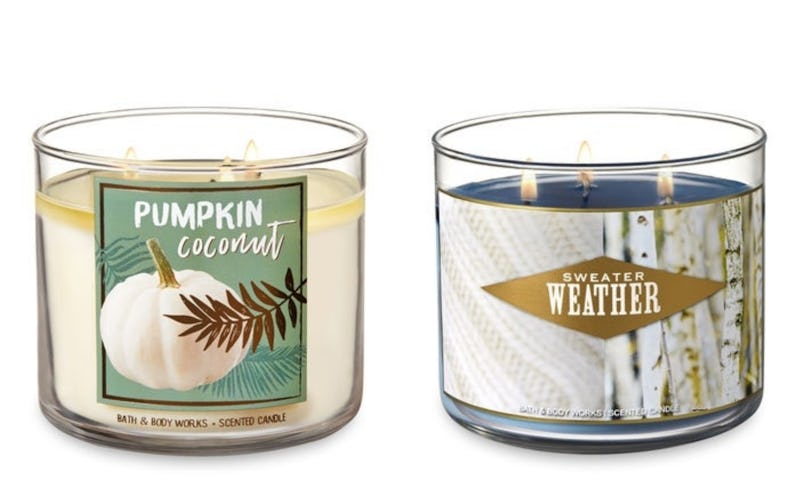 Bath & Body Works
For those of you abiding by the Gregorian calendar, summer ends on September 22. For those of you abiding by the correct calendar, summer is basically over — because Bath & Body Works' fall 2018 candle lineup was just announced, and this year's scents are so hype-worthy that you'll take one look at them and be like, "Summer who?"
Granted, I'm not saying you should pour all the rosé down the drain, ditch those short overalls you impulsively bought after watching Mamma Mia: Here We Go Again, and cast all your summer lovin' to the wind. But those same winds are a-changing, and for those of us living that Three-Wick Life, never have those winds smelled quite as good as they do come fall. This year, Bath & Body Works yet again does not disappoint — the fall lineup includes your old favorites, some shakeups, and some brand spanking new scents to boot.
If you're overwhelmed by the majesty of the literally DOZENS of three-wick candles that just hit the iconic store, then look no further than right here — these are all the candles that just debuted that you definitely want wafting through your apartment this fall. And not to brag, but as someone who has been known to spend her lunch break sniffing candles in the Bath & Body Works across the street from work, I am kind of an expert in this particular field.
Here are all the candles that you're about to take the smell of to the face in a few months, courtesy of the coziest season of them all.
1. Pumpkin Cupcake
2. Pumpkin Pecan Waffle
3. Pumpkin Peanut Brittle
4. Hot Cocoa & Cream
5. Flannel
6. Autumn
7. Sweater Weather
8. Leaves
9. Pumpkin Coconut
To be clear, fellow candle stans, this is just the tip of the iceberg on the offerings Bath & Body Works have this year, which also include enough pumpkin combos to make your head spin like a Jack-O-Lantern. Check out the rest of the lineup on Bath & Body Works' website, and get ready to smell like the autumnal earth goddess you were always destined to become, one reasonably-priced three-wick candle at a time.