'Beauty And The Beast' Is The Movie Of The Year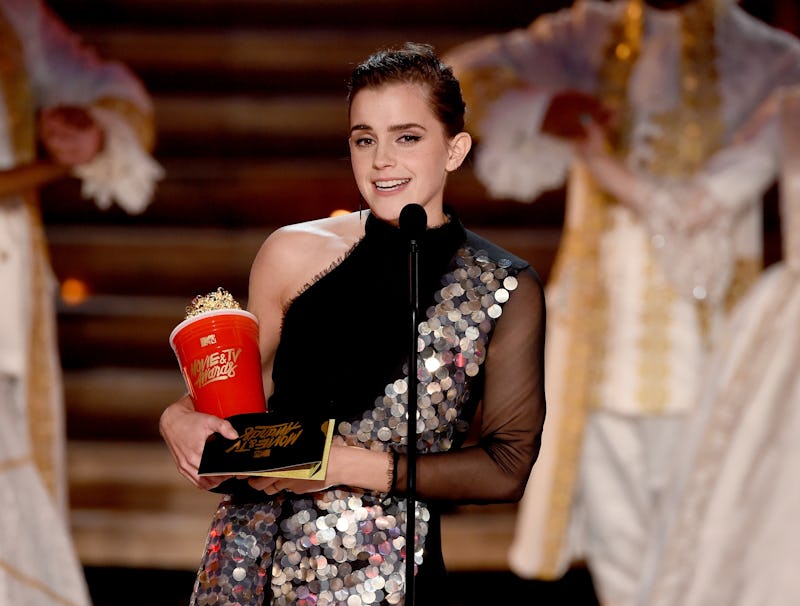 Kevin Winter/Getty Images Entertainment/Getty Images
Two action movies, one Disney remake, a thriller, and a teenage coming of age story were all up for the Movie of the Year Award at the MTV Movie & TV Awards this year, but only one could take home the infamous golden popcorn award for 2017. Beauty and the Beast won the Movie of the Year Award, with stars Josh Gad, Emma Watson, and director Bill Condon accepting the award on behalf of the film. Beauty and the Beast beat out fellow nominees Get Out, Logan, Rogue One: A Star Wars Story, and The Edge of Seventeen.
Gad and Watson, who played Gaston and Belle in the film, respectively, were the first on stage to accept the golden popcorn, and they refused to speak without Condon on stage. Once there, the director made a touching speech, specifically expressing his gratitude for the female audiences that helped make Beauty and the Beast a smash hit. "Thank you to the audience who has embraced the movie so much, but especially to the women because women have proven that they are a huge and powerful audience and it's going to change the movie business, so thank you so much," Condon said to applause.
Gad took over next, giving fans a message from their absent co-stars Luke Evans and Dan Stevens. "Thank you guys so much for awarding us this gift. I love popcorn," Gad said in a poor attempt at a British accent. "Mary Poppins," he added, as Watson (an actual Brit) shook her head.
Beauty and the Beast also took home a win for Best Actor. The first ever gender-neutral acting award was given to Watson for her perfect princess performance.