Becca Tweeted The Perfect Response To Anyone Bashing Tia Over That Tough 'Bachelorette' Convo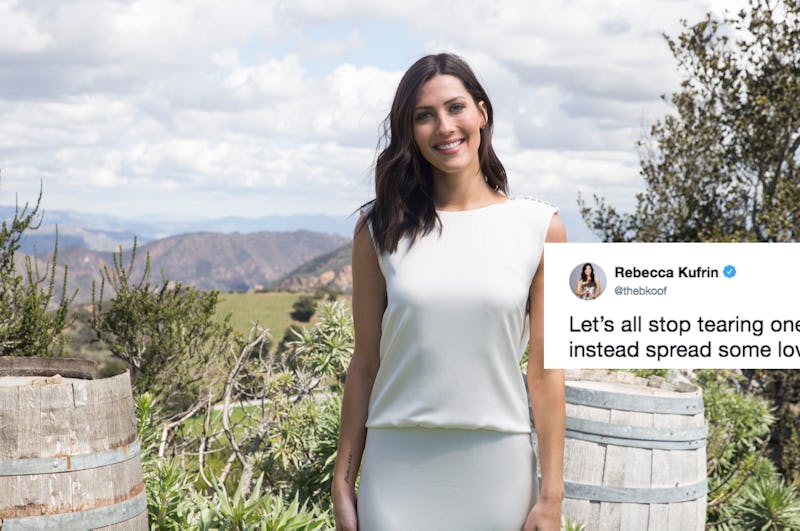 Paul Hebert/ABC; Rebecca Kufrin/Twitter
Tia Booth has made a couple of appearances on The Bachelorette this season, but her latest definitely sparked the most drama. On Monday night, Tia told Becca she still has feelings for Colton — despite the fact that he's one of Becca's final four and she just met his family during their hometown date. But even though plenty of fans are angry that Tia would wait so long to fill Becca in on her feelings, it seems like Becca isn't. In fact, after the episode aired, Becca tweeted in defense of Tia, because for her, friendship definitely comes first.
To be fair, Tia's appearance definitely threw fans for a loop, especially since what she was saying was so different from what she previously said was going when she and Becca approached the Colton topic episodes before. Then, it was the beginning of the season, and Tia swore she and Colton had just spent a weekend together and now, she was over it. But this time, she was saying the exact opposite — that it makes her sick to think about Colton getting this far in the competition, because she still has feelings for him.
After their conversation, Becca said she was frustrated, angry, and hurt, but now that she's had time to think about it, it seems like she's feeling a little differently.
"Let's all stop tearing one another down and instead spread some love, folks," Becca wrote in her tweet, sharing a photo of her and her Bachelor friends hugging.
After everything Becca went through on The Bachelorette, it makes sense that she's holding the friends she made during that experience close. If you were checking Twitter last night, you already know that people were raking Tia over the coals for coming clean with Becca about how she felt about Colton.
In fact, even in the replies to Becca's tweet, people were still upset with Tia and not afraid to point out to Becca that they didn't believe Tia was actually a good friend:
To be fair, Tia deserves a little slack here. Maybe she thought she was telling Becca the truth when she said there was nothing there with Colton in the beginning of the season — or maybe she really believed she could suppress her feelings for the sake of her friend getting her happy ending. By the time she realized she couldn't hide her feelings any longer, it's not like it would have been easy to get in touch with Becca. Usually, phones are taken away during Bach filming, so it's not like she could have just called or texted her.
And regardless of Tia's feelings for Colton, it was pretty cool to see her conversation with Becca play out. They were both honest with each other, and ended it in a positive place for their friendship. Even though Becca said letting Colton go during the rose ceremony had nothing to do with what Tia told her, it does seem like she might have done it because her friend still liked him, and that's pretty cool of her.
If you're miffed at Tia for not opening up to Becca sooner, that's understandable — but if Becca's over it by now, shouldn't fans be over it, too? It seems like their friendship has managed to survive The Bachelor, The Bachelorette, and a shared interest in the same guy, which is more than can be said for a lot of friendships out there. Maybe that's the real happily ever after this season? Both of these women deserve happiness, and it's awesome to see them still rooting for each other.