Tia & Becca's Chat On 'The Bachelorette' Was Just As Dramatic As You'd Expect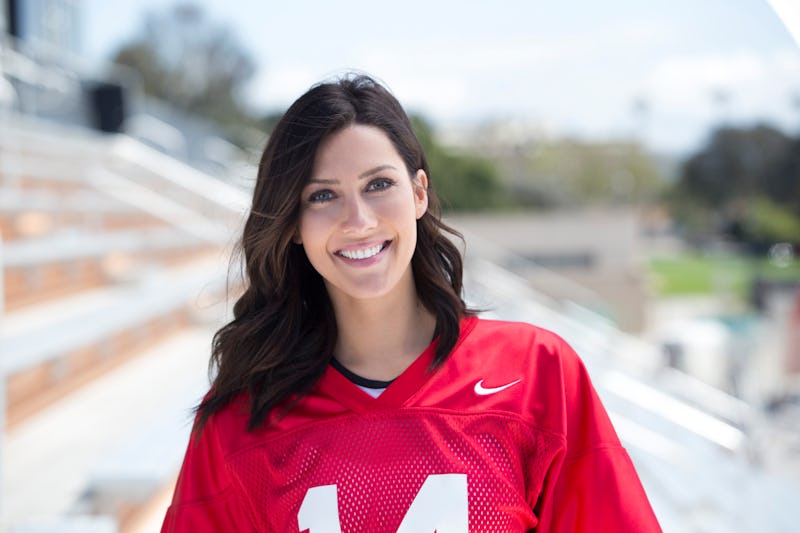 Paul Hebert/ABC
It's hard to deny Becca Kufrin's chemistry with Colton Underwood on The Bachelorette, but there's one thing that keeps getting in the way of their happy ending: Tia. This Bachelor alum (and friend of Becca's) has a history with Colton, and now, things have finally come to a head. On Monday night's episode, Tia and Becca talked about Colton, and even though Tia seemed totally over their short-lived romance the last time she was on the show this season, things have definitely changed since then.
Right before the conversation took place, Becca had her hometown date with Colton, met his family, and he told her he was falling in love with him. It went really well, and obviously, they both had very strong feelings for each other. But as it turned out, Tia also had strong feelings for him... despite the fact that, the first time Becca asked her if this was going to be an issue, she told her that it would not.
When some of Becca's closest friends from The Bachelor came to chat with her before her rose ceremony, Tia pulled her aside and let her know that she had to be honest with her: She still cares about Colton, even though she wishes she didn't.
"When I think about Colton being at this point now, it makes me sick to my stomach," Tia said. "Knowing that you got to meet his family and knowing that he's still here in this makes me, like, sick."
Of course, Becca mentioned that this is information she would have liked to have had earlier, before she was given the chance to fall in love with him herself, which Tia said she understood. But this must have been something that weighed on her mind for a long time, because as Caroline said to the other girls while Becca and Tia were outside talking, Tia had been texting her stressing out about the situation for awhile.
"I don't like realizing that I do care for him, but it's there," Tia added. "And I just couldn't leave without you knowing that. I wanted to be honest with you." They ended things on an awkward note, and in Becca's In The Moment interiew, she shared her true thoughts on the situation. She said:
I never saw that coming. I thought we'd put it to bed weeks ago. I thought it was done. So the fact that she still does have some feelings and isn't on board with me being with Colton makes me frustrated and makes me angry and hurts to hear. I don't want to lose any friendship over a guy but the last time I saw Colton it was a wonderful night with his family and he told me that he loves me so nowI don't know what to do.
She added, "This is a huge rose ceremony tonight and I have way more to think about now and it's weighing on me and it kinds of leaves me with a heavy heart." Ultimately, Becca did end up eliminating Colton at the rose ceremony, but it's not surprising — the Tia thing is a pretty significant red flag, and if she had any hope of saving her friendship with Tia, it was really the only thing she could do. And no, Twitter was not having any of this, as you might be able to imagine.
Obviously There Were Strong Reactions
Colton was definitely heartbroken when he didn't get the rose, but Becca didn't end up filling him in on why. Will he and Tia now live happily ever after? Guess we'll just have to wait and see what happens next. In Paradise, most likely.