Why Becca Thinks It Was Necessary To Fall In Love With 2 Guys On 'The Bachelorette'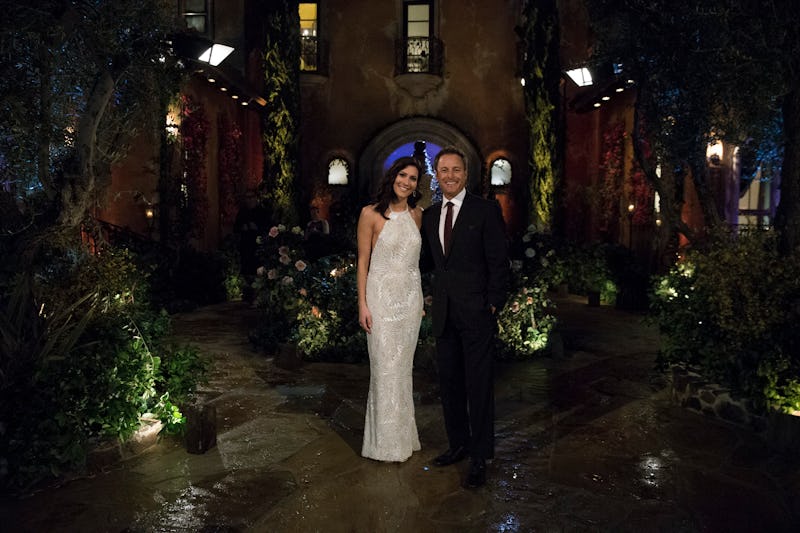 Paul Hebert/ABC
With just days standing between fans and The Bachelorette's premiere, it's almost time to find out who Becca Kufrin chooses to spend the rest of her life with, and now, she's dropping hints. In an interview with Entertainment Tonight on Wednesday, Becca revealed she falls in love with two men on The Bachelorette, and even though she obviously didn't point out which contestants those guys are, she did drop a lot of hints about the man she gave the final rose to.
The show doesn't kick off until Monday, but we already know that Becca is engaged, thanks to her sharing that piece of intel earlier this week. It seems like she's really happy with the outcome of her season, but she also had some difficult choices in the end. Although she didn't tell ET how many L-bombs were dropped, she did admit that the competition got pretty tough toward the end there.
"I did develop really strong feelings for a couple of them and I did fall for two guys at the end, yes," she said, later adding, "I wanted to go through the entire season doing me, and treating these guys with respect. So I will say that I tried to do that the entire journey."
It's pretty typical for Bachelor and Bachelorette leads to develop strong feelings for more than one person; after all, they're living in the pressure cooker that is the Bachelor mansion, cut off from reality — what else is there to do but fall in love? It sounds like Becca handled the situation as gracefully as she could, though, which makes sense, considering the way Arie Luyendyk Jr. ended things after their engagement on the show.
Becca said:
"Until you're in this position, you don't realize how much pressure there really is, and how difficult it is to navigate certain relationships. Because if you're doing it right, you should be developing feelings for multiple people to really sift through every personality, every relationship, to exhaust the ones that aren't right for you."
And now that she has made her choice, it seems like it was definitely the right one for her. Later in the interview, she described what she was looking for in a partner and the qualities her new fiancé possesses. It doesn't exactly help us narrow down which of her 28 contestants she might be talking about, but it does make it sound like whoever it is happens to be a really awesome guy.
Becca said that one of her favorite things about him is that he "put up with" her through The Bachelorette. She also said that she loves so many things about him, including the fact that he is really a partner to her. "I was asking for a teammate, a 50/50 throughout the entire season," she said. "I feel like I truly found that. So we'll have each other's backs through the time where we have to stay private. And then we'll continue that and share it with the world."
She also mentioned that this guy is a better fit for her than Arie was, and added:
"It feels so different because the relationship and the guy is different. And this time, it feels better suited for me, it's like this better fit for me and what I need in my life. And I am willing to do anything it takes to make it work to support my partner."
It seems like Becca and her new guy are off to a great start. Now, the rest of us get to watch it all unfold, hopefully, leading up to a happy update about their relationship when the season is over. Is it too soon to say that this edition of After The Final Rose will be a way happier one for Becca than her last?