Becca & Garrett From 'The Bachelorette' Finally Fulfilled Their Dream Of Going To Costco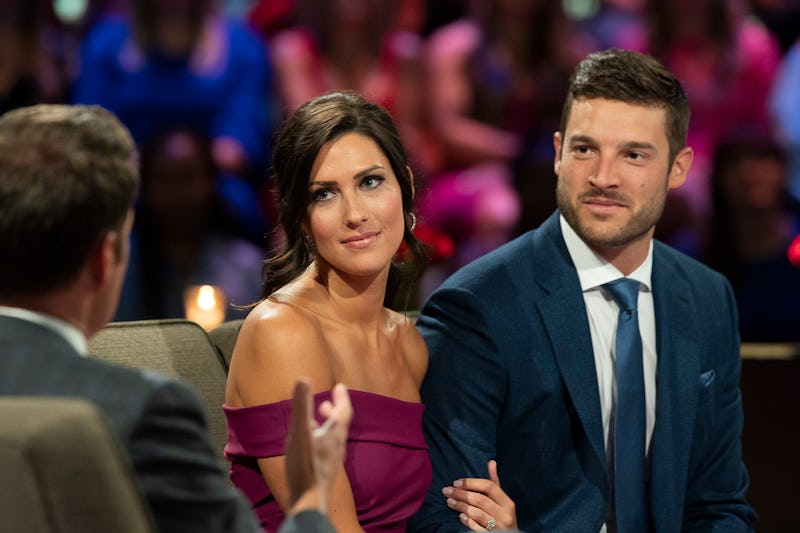 ABC/Paul Hebert
After a whole season of over-the-top dates on The Bachelorette, Becca Kufrin and Garrett Yrigoyen finally went to Costco. That doesn't sound like a huge deal to most people, but it was one of the main things the two were looking forward to after the finale aired. It makes sense that they would just want to do something "normal" as a couple after all the months they spent hiding their romance while the show was airing.
When Becca gave her final rose to Garrett, she was so happy to tell him, "There's so much that I want to do with you," according to ABC News. She declared, "I want to get a Costco membership with you, and I want to have your kids... everything!" Now that's a great love story: a family shopping together at Costco. What more could they want? They don't have those kids — yet. However, they do finally have that joint membership to Costco, which is a monumental event for this down-to-earth couple.
Becca and Garrett's dreams of domestic bliss finally came true on Friday, Aug. 31 when they acquired their Costco membership, courtesy of Bachelor/Bachelorette superfan Jimmy Kimmel. The talk show host was not around to third-wheel the shopping trip, but the couple did tag him in a bunch of their posts, so he was shopping with them in spirit. (Who knows, maybe they were filming a segment for a future episode of his show?)
Garrett posted a photo on his Instagram Story of Becca smiling in a Costco with the caption, "@jimmykimmellive @bkoof is so excited!" Aww, she really does look truly elated to have that joint Costco membership in her life. She didn't need all those lavish reality TV dates after all. Her season of The Bachelorette would've probably had a way more reasonable budget if she had a grocery shopping date or two thrown in the mix.
Now Becca's grocery shopping dreams have finally come true. She also posted a photo marking their status as Costco members and wrote, "Ready to rage thanks to @jimmykimmel." These two really love buying their groceries in bulk quantities apparently.
The former Bachelorette even shared before-and-after photos from their first Costco voyage. In the first photo, the engaged couple is holding hands walking into their favorite grocery store. Along with the photo, the Minnesota native wrote, "Coming in hot on those samples." Who needs red roses when you can get free samples of cold cuts?
After their completed shopping trip, Becca posted a photo of the pair giving each other high fives with a shopping cart full of snacks. Becca concluded the experience by declaring, "Crushed it @gy_yrigoyen." Yes, they did crush it and this Costco excursion really has been a long time coming.
The finale episode wasn't the only time that they publicly discussed a joint Costco membership. The duo stopped by Good Morning America on Aug. 7 to talk about their lives as a couple. During the interview, Becca explained, "The past two months we've had to stay in hiding." That probably meant a lot of ordering in. It definitely meant that the two of them could not be seen together in public, let alone pushing around a shopping cart as a unit.
She added,
"We'll see each other every couple of weeks and we'll cook and we'll play games and have fun but I'm just excited to like go to Costco. I'm excited to take a walk with him down the street."
That is just one of the sweetest sentiments. Most people would kill for all of the outrageous international dates they go on while filming The Bachelorette, but these two just want to enjoy the simple things as they embark on their new life together. And luckily, they're documenting it on Insta for fans to see.