Becca Kufrin Says She Doesn't Agree With Garrett's Controversial Police Post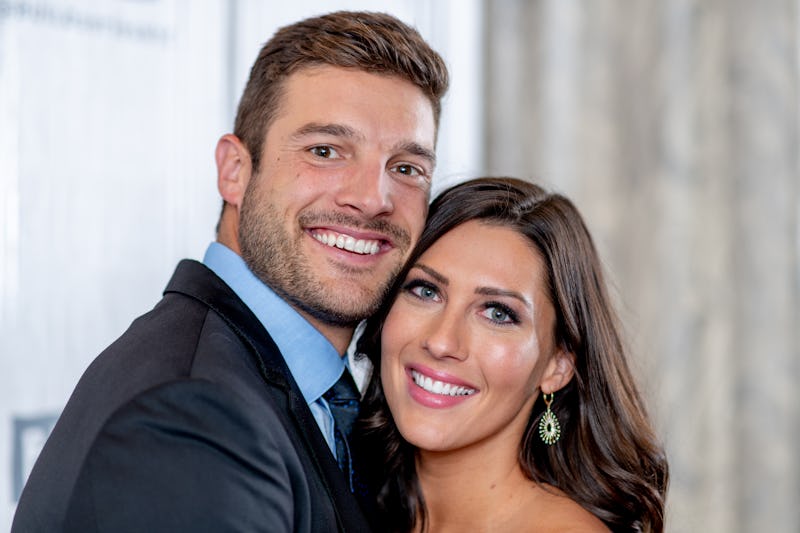 Roy Rochlin/Getty Images Entertainment/Getty Images
Last week, Garrett Yrigoyen faced significant backlash for his "Thin Blue Line" posts on social media, with many finding his remarks to be insensitive and tone deaf in the wake of all the police brutality protests taking place all over the country following the death of George Floyd. And while initially she had remained quiet on the matter, former Bachelorette Becca Kufrin has now addressed Garrett's police post during a candid conversation with Rachel Lindsay on the Tuesday, June 9, episode of their "Bachelor Happy Hour" podcast.
"Garrett is my fiancé and I love him and to his core, I believe that he is a good person. What he posted … I don't align with and I don't agree with," Becca explained, confirming that she in no way supports or condones his recent statements and actions. However, she does believe that his heart was in the right place and said she hopes to help him grow from this experience and better understand why what he did was wrong. "I don't think he meant it in a malicious way," she added. "I do think it was tone deaf and it was the wrong time and message and sentiment. … I'm trying to get him to see the bigger picture."
To help try and give added context to the situation, Becca revealed that Garrett's friend's partner got shot in the back of the head recently, so he wanted to "stand by the cops too." But when she mentioned that Garrett doesn't believe his post represented that only "cops lives matter," Rachel objected. "That is what it means," she stated. "That's 100 percent what it means. I don't care what he wrote after it."
Rachel went on to commend Becca for being brave enough address Garrett's post in such a public way, though she countered that this isn't the first social media incident that has landed Becca's fiancé in hot water. Back in 2018, Garrett came under fire for liking a series of controversial Instagram posts, which included memes mocking transgender people, immigrants, Parkland shooting survivors, and Colin Kaepernick. Garrett has since apologized and stated on his new Instagram page, "My Instagram 'likes' were not a true reflection of me and my morals."
And, since Becca had apparently told Rachel to not hold anything back prior to the podcast episode, the first Black Bachelorette broke down exactly how Garrett's latest police post made her feel. "He posted a black box. He never said 'Black Lives Matter,'" Rachel stated. "He posted fists of every color, which to me is like, 'Everybody, all lives.' And then the very next post is the thin blue line with a heartfelt, thought-out caption that he said with his chest. And to me, that is what you feel and that is what you believe. I don't think Garrett is malicious, but Garrett is what the problem is."
Rachel added that it doesn't matter what Garrett's intentions may have been because the message she got from his post is still a form of racism and detracts from what the movement is supposed to be about. "You don't think Black people have law enforcement in their family?" Rachel continued. "It's very selfish and it is your white privilege to think that that is the message that you need to put out when Black people are just suffering in such a huge way in this country."
Garrett himself has yet to address the post, which remains on his Instagram page.