Curling Siblings Becca & Matt Hamilton Are Helping Make History At The Winter Olympics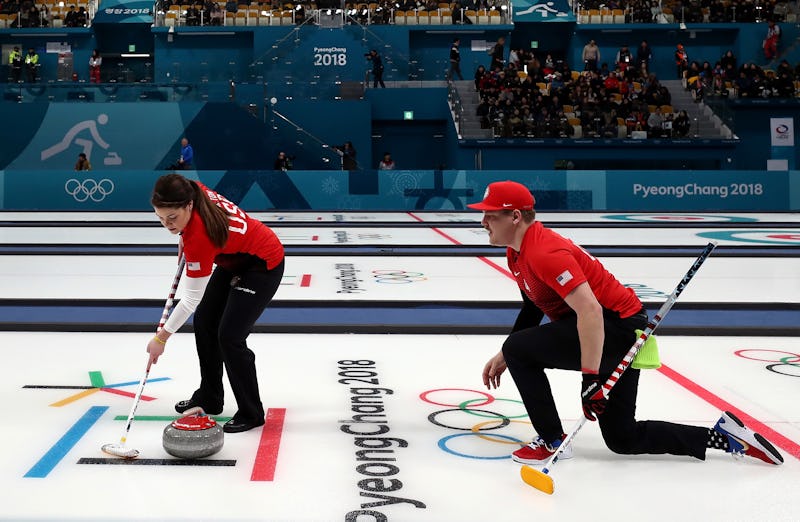 Ronald Martinez/Getty Images Sport/Getty Images
The 2018 Winter Olympics have officially begun in PyeongChang, South Korea, and there are plenty of Team USA faces worth getting to know over the next couple of weeks. For instance, siblings Becca and Matt Hamilton are already shaking things up in the curling competition, making it one winter sport you won't want to miss.
The Hamiltons are competing at this month's Winter Olympics, but regardless of the outcome, they're already making history. The two are the United States' first mixed doubles curling team, Yahoo! Sports notes, in addition to the fact that they'll be competing as individuals. Last year, the Hamilton siblings won the USA Curling Mixed Doubles National Championship, so they're definitely a force to be reckoned with.
Becca and Matt are from McFarland, Wisconsin. They've been interested in curling since they were teenagers, though Matt Hamilton, now 28, became interested in the sport before his sister did.
"I didn't want anything to do with curling when I was younger," Becca told Yahoo! Sports. "I was playing soccer and lacrosse on traveling teams." After Matt started curling at age 14, though, Becca — who is 17 months younger than her brother — eventually followed suit and became interested in the sport, too.
And while the Hamilton siblings are working together for a doubles victory now, they haven't always joined forces to compete. NBC Olympics explains that the duo only started curling together three years ago — when the Olympic Committee announced that mixed doubles curling would be an Olympic sport starting in 2018.
"Once it was an Olympic sport, we were like, 'Hey, they [The U.S. Olympic Committee] can help facilitate the prize to get there, and we can go as a team, brother-sister combo,'" Matt said in an interview, according to NBC Olympics. "That'd be a great idea and a great story and fun to be on a team with someone I helped bring up and show her the ropes. And now she's just as good as me, and we're playing at the highest level. So it'd be awesome."
The Hamilton siblings already competed in some of the mixed doubles curling events before the Winter Olympics' opening ceremony and which conclude on Feb. 13. Becca and Matt will each also compete in the individual women's and men's curling competitions, which start on Feb. 14. And if you want to follow along with the Hamiltons' Olympic journey, then just check out the hashtag #HamFam, where fans and the siblings alike are tweeting about the Olympics:
The Olympics have only been going on for a few days, but Matt has already gained attention for something that has nothing to do with his sporting ability. Fans on Twitter noticed that with his mustache and the red Team USA cap, Hamilton bore a striking resemblance to Super Mario. The athlete took it in good sport, retweeting a side-by-side photo of himself and the Nintendo character and posting another pic of himself as Mario.
Between competing together and individually, the Hamiltons have a very busy schedule ahead for the next few weeks. But it looks like Matt is still making time for some humor in between competitions. And, for the record, I doubt Mario would be able to keep up with Olympic-level curling.