The Book Sequel To 'Love Simon' Takes An Important Look At The Reality Of Social Anxiety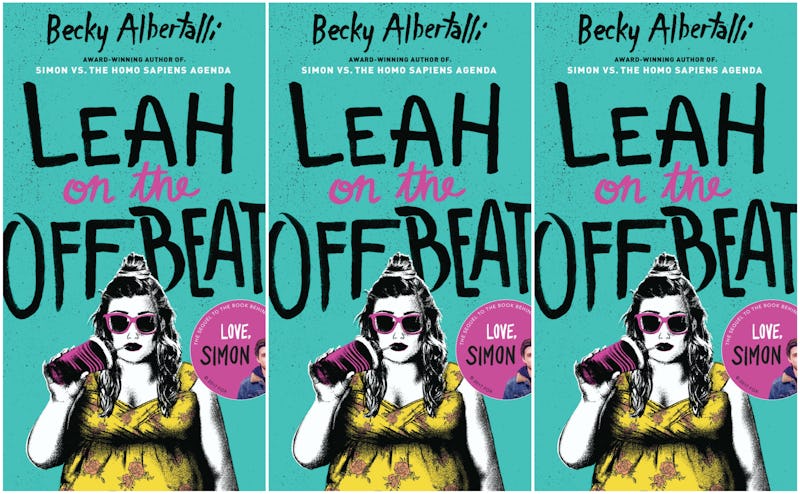 Becky Albertalli's beloved Simon vs. the Homosapiens Agenda became a veritable phenomenon when the film version, Love, Simon, was released in March. Fans of both the book and film have been rabid for more from the Simon-verse, and with the release of Leah on the Offbeat — which centers on Simon Spier's best friend Leah Burke but includes Simon and other supporting characters we know and love — the response was universal elation. And there are so many reasons why that feeling is justfied: Albertalli's latest release continues her penchant for sensitive, insightful writing that gets right to the heart of identity and growth, capturing it all with heartfelt, hilarious, emotional clarity. Her characters are so undeniably real, going through the transitions of figuring out just who exactly you are in ways that feel instantly relatable. And some of the most powerful moments in the book come from reading the subtleties of Leah's social anxiety — and watching her journey to true self-confidence.
For those unaware, here's the plot: When it comes to drumming, Leah Burke is usually on beat — but real life isn't always so rhythmic. An anomaly in her friend group, she's the only child of a young, single mom, and her life is decidedly less privileged. She loves to draw but is too self-conscious to show it. And even though her mom knows she's bisexual, she hasn't mustered the courage to tell her friends. So Leah really doesn't know what to do when her rock-solid friend group starts to fracture in unexpected ways. With prom and college on the horizon, tensions are running high. It's hard for Leah to strike the right note while the people she loves are fighting — especially when she realizes she might love one of them more than she ever intended.
Leah On the Offbeat by Becky Albertalli, $13, Amazon
Of course, if you've lived through your own senior year of high school, you won't be surprised that Leah would find herself on this journey during this time. But if you've never experienced social anxiety, this book will give you a hugely important glimpse into what the experience can be like. For Leah, it comes into play both with her friends and her mother. In both situations, she has a constant feeling that she is the unwanted third wheel.
In one scene, Leah says:
"I pull out my phone and check Snapchat. Abby's posted this epically long story from rehearsal, and it's like a montage from a rom-com. A snap of Nick and Taylor singing onstage. A mega close-up of Abby and Simon. An even closer one of Simon's face where his nostrils look so big. Abby stuck a panda graphic inside one of them. And Abby and Nick, over and over. I stick my phone back in my pocket. Simon turns onto Mount Vernon Highway. I feel antsy and strange — like I'm bothered by something, but I can't remember what. It's like a tiny pinprick in the back of my mind."
There are other instances, too. When Leah admits that she feels "left out even when life's moving along with me," or when she smiles at Abby but "my lips feel stretchy." These moments are so subtle that they might even be glossed right over, but Albertalli uses them to perfectly get to the core of everything Leah is struggling with: money, her body, her perfectionist nature. And Albertalli really delves deep into exploring Leah's reluctance to let anyone get too close or reveal her true feelings too much, and how it permeates every part of her life. The comparison between Leah's internal social struggles and her outward sass, sarcasm, certainty, and passion (all of which have been firmly on display since Simon) is important, too. Not all anxiety is created equal.
Overall, Leah on the Offbeat is a beautiful exploration of what it means to be truly human; to live through the discomfort, the nostalgia, and the struggles of finding yourself and figuring out how, and with whom, to share your deepest truths. As Simon gave a much needed voice to gay teenagers everywhere, Leah gives a voice to all of us who have ever felt lost but determined to find our way.