Why 'Love, Simon' Being An LGBTQ+ Movie With No Tragedy Is A Huge Deal, According To The Cast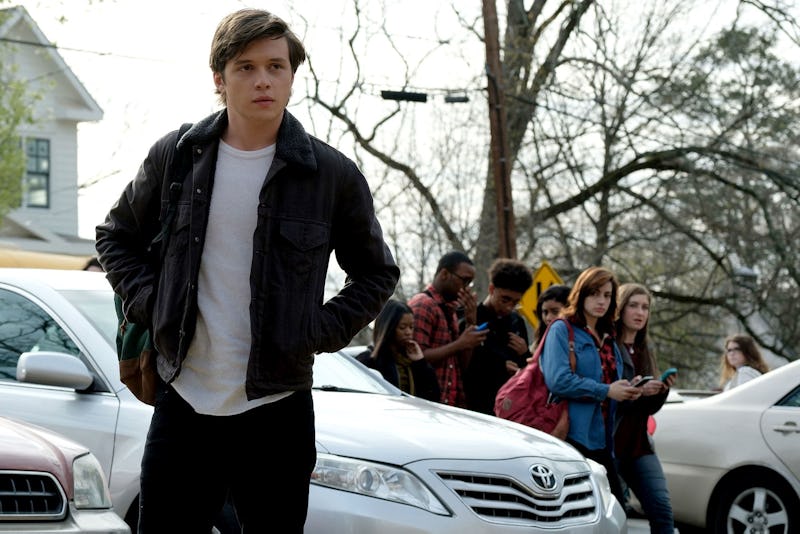 20th Century Fox
Although most romantic movies follow a general story arc — two people meet, start dating, encounter issues, break-up, reunite — the actual plot details (love triangles, competitions, long distance, etc) tend to be fairly different with each film. Well, that is if it's a movie about a straight couple. The far-too-few films about LGBTQ+ couples, on the other hand, tend to be based around one theme only: tragedy, whether it be in the form of sickness, death, or a personal crisis. It's been a part of films ranging from the tragic Brokeback Mountain to the AIDS-focused BPM, but now, one major movie, Love, Simon, is changing that up, and its star Nick Robinson couldn't be happier about it.
"Oftentimes, when you have someone at the lead of a film who is also a gay character, for some reason they have to be going through some emotional crisis, whether it's disease or a drug addiction or bad family life," says Robinson. And it's true; plenty of LGBTQ+ movies from the last few decades have centered on trauma in some form or another, like Boys Don't Cry (about a hate crime against a trans man), Milk (about the murder of California's first openly gay politician), Philadelphia (about AIDS and discrimination), Monster (about a gay serial killer), Bent (about gay men during the Holocaust), etc. The list goes on, so much so that there's even a trope called "Bury Your Gays" referencing the frequency with which LGBTQ+ characters are killed on-screen. But Love, Simon, directed by openly gay filmmaker and LGBTQ+ advocate Greg Berlanti, is different.
"What makes [Love, Simon] unique is the fact that, at least on the surface, [Simon is] a fairly well adjusted kid," Robinson explains of the movie, which follows a gay 17-year-old who only shares his secret online with an anonymous guy from his school. "And so that makes it very cool, to see a whole community represented with the most thought and care and in the best light that we could muster."
Love, Simon — based off Becky Albertalli's 2015 YA book Simon vs. the Homo Sapiens' Agenda — may not be the first LGBTQ+-focused film to not be based around tragedy (Call Me By Your Name, anyone?), but it is the biggest one to have that distinction. Released by 20th Century Fox, the movie is the first film about a LGBTQ+-teen romance to come from a major Hollywood studio — ever. For the at least 9 million LGBTQ+ Americans out there aching to see their stories represented on-screen, Love, Simon is a massive deal, something both the movie's stars and director aren't taking lightly.
"Going into it, we were definitely aware that we were making something that had the potential to be helpful," says Robinson. Adds Berlanti, "It became more important to me along the way, when I started to realize this is a kind of progress that needs to happen."
For Berlanti, the decision to helm the movie was a no-brainer. "Seeing... a gay story represented in this way was more emotional than I thought it would be," he explains. "I had a much more pronounced reaction than I probably would've were it a straight protagonist."
In many ways, Love, Simon is just like any other teen coming-of-age story you'll find in theaters, with its lead character's sexual orientation as the only major difference. "It tackles things like love and a lot of the feelings we have in high school about wanting to be true to yourself, but on the other hand, not really knowing who you are yet," explains 13 Reasons Why star Katherine Langford, who plays Simon's best friend Leah in the film. Adds Alexandra Shipp, who plays Simon's friend Abby, "Another reason why the movie is so good and so touching [is] because you're seeing friendships, you're seeing real things, you're seeing real moments."
And as the cast and crew say, that's exactly what makes Love, Simon so special. The film is smart, funny, and poignant, a romantic coming-of-age story with characters and emotions that feel achingly real, regardless of your age or sexual identity. And the fact that it actually has the power to change lives just makes it all the better. "We were trying to make a character that would be able to cross people's expectations and... preconceived notions," says Robinson, adding, "I hope that we were successful." Millions of viewers everywhere will soon be able to confirm that they were.