What It's REALLY Like To Ride In The Cash Cab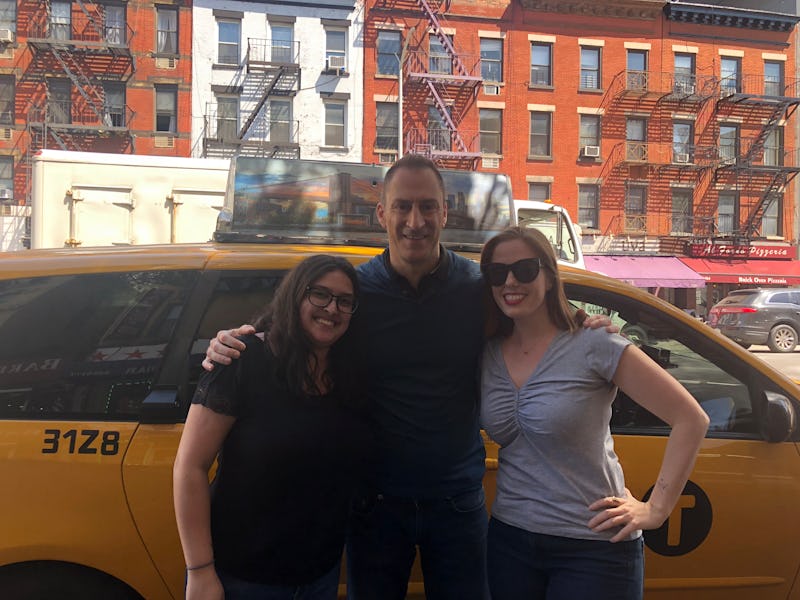 Martha Sorren/Bustle
The startling, but cheerful sound of bells and alarms rings out through the car. The ceiling lights up. I'm on the beloved Discovery Channel trivia show, finally seeing what it's really like inside the Cash Cab.
Growing up in Arizona, I always had the dream of one day going to New York City and appearing on the popular game show. Over a decade after its first episode aired in 2005, I finally made that dream a reality, and I did 14 year old Martha so proud by getting 5.5 out of six questions correct. (Don't worry, I'll explain that half a point in a minute.)
To be clear, I got to take a ride in the cab with my co-worker Sage Young as a member of the press. I didn't win actual money, and host Ben Bailey promised he wouldn't kick us out if we missed three questions. So, the stakes weren't quite as high as they are for regular contestants, but Sage and I took it very seriously anyway.
As a longtime viewer of the show, my family and I often talked about how cool it would be to be the lucky ones to hail the cab, which was no easy task. After all, as the show's tagline declared: "There are 13,000 cabs in the streets of the Big Apple, but there's only one that pays you!" I was crushed when I moved to New York for college, because Discovery cancelled the show in 2012. Fortunately, the network revived the series in 2017 with the same great host and format. It even calls the same yellow van home. Well, it has a different taxi number, but the vehicle looks and feels the same.
Hopping into the backseat really was like taking a trip inside my TV screen from all those years ago. Only this time, I had to prove myself to someone other than my brother sitting on the couch next to me. I had to hold my own with Bailey watching — and I was nervous.
Bailey says that's super common, and that once the exciting lights turn off and he explains the rules, his passengers can get a little tense. "People get nervous. I had a couple of detectives in here who you would think have nerves of steel, but they were panicking," he says. "You guys have plenty of time, you have 15 seconds. You don't have to answer me in the first two seconds."
Taking your time with each question is actually crucial because I quickly realized they're designed to be a lot harder than you'd think. This is mostly because they're filled with a lot of fluff. Take this question for example: "Consisting of over 60 feet of coiled metal, what classic toy was used as a makeshift radio antenna by enterprising soldiers during the Vietnam war?"
Now, if you aren't careful, you'll spend your time worrying about the soldier antenna part, when really you only need to know "coiled metal" and "classic toy" to determine that the answer is a slinky. Every question is like this, so you have to quickly figure out what the nuts and bolts of it is and answer that. Not doing that is how Sage and I got tripped up on an easy question about the Big Ben.
Bailey asked what the name of the bell was in the clock tower of London's palace of Westminster. I knew the clock was named Big Ben, but what was the bell's name? Sage and I couldn't figure it out so Bailey gently hinted, that it was like his name (Ben Bailey) and did we know the name of the clock? See, the bell is Big Ben, not the clock. I'd learned wrong, but I was overthinking it way too much. What other clocks have names in London that everyone knows? I should have just said Big Ben and got out of my head. Bailey generously gave us half a point on that question since he had to give us a hint.
If it makes you feel any better, Bailey doesn't know all this stuff either. He's wearing an earpiece and has the questions fed to him through that while he drives. He admits he has, "learned a lot, but [is] also cramming it in there very rapidly. If it's still in there it's not in any particular order."
But, while he may be just reciting questions, Bailey will genuinely hold a conversation with his passengers, and it will make them laugh. He's a stand up comedian who performs throughout the country, so he's quick on his feet with a pun or a joke.
Are stressed game show contestants the best audience? Probably not, but he's done like 200 episodes and returned for more last year, so he clearly likes his job. He says it would even be fun to take the Cash Cab on the road outside of NYC. He could drive around during the week and do a comedy show on the weekend. "Cross country Cash Cab," he muses, already having thought up the best title.
Bailey puts his heart into his hosting duties, and gets so used to driving the cab that he jokes he sometimes forgets he's in his own car when he's off duty. "When I'm driving my own vehicle and people are hailing for cabs, I have to keep myself from pulling over," he says.
He adds that he's also used to people on the street spotting him behind the Cash Cab wheel thanks to those colorful, illuminating overhead lights. "'Hi, I'm the Cash Cab guy, aren't I brightly lit?'" he says with a laugh. "During the day it's fine, but once it starts to get dark ... all the other cabs are totally dark."
But the lights are an essential part of the game, and it really is that exciting when they go off. Sage already knew we were going in the cab, and she was still delighted when Bailey turned them on.
During our brief ride, we answered six questions, getting 5.5 of them correct. I asked if he'd given us easier questions to make us feel better, but we were assured they were show-level. Now, had I been cast on Cash Cab's Shark Week episode, I would have gone a full six for six. (I love sharks.)
But you can bet I'll be tuning in to test my knowledge anyway when the special episode airs July 27 at 7 p.m. ET. After that, the full new season returns August 3 as Bailey tests lucky New Yorkers on their knowledge and audiences stress about whether or not they'll lose it all on the video bonus question. (No? Just me? That final question keeps me up at night.)
Want to see if you can do as well as Sage and I did? Here's what Bailey asked us. And, you're lucky because I already gave you two of the answers in this article. Consider it your Big Ben hint, courtesy of Bustle.
Consisting of over 60 feet of coiled metal, what classic toy was used as a makeshift radio antenna by enterprising soldiers during the Vietnam war?
Applied to athletes like Muhammad Ali, Michael Jordan, and Serena Williams, what honorific title is abbreviated G.O.A.T?
Taking a toll on tourists' knees, what iconic bell lies 334 steps above the ground in the clock tower of London's palace of Westminster?
Bringing the bard into the 21st century, what romantic play did the Royal Shakespeare Company adapt into a Twitter conversation called, "Such Tweet Sorrow?"
Too young to drink when they first topped the charts, what brotherly '90s boyband released a beer in 2013 called MmmHops?
According to a 2010 British survey, what body parts come in six different shapes including roman, nubian, and snub?
Answers:
Slinky.
Greatest of all time.
Big Ben.
Romeo and Juliet.
Hanson.
Noses.
Keep testing your knowledge every Friday on Discovery Channel, and maybe one day you'll be lucky enough to get in the Cash Cab for real, too.