Getting On 'Cash Cab' Is Even Harder Than You May Think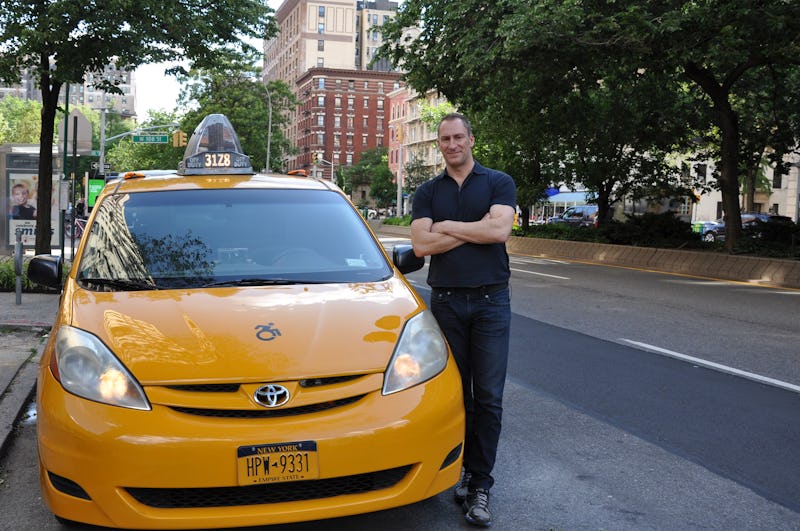 Discovery Channel
The most famous taxi of the 21st century is returning to the streets with questions to ask and cash to hand out. Cash Cab is being revived after over five years off the air, and fans of the mobile trivia show may be curious about whether they can win some cash while getting a ride across midtown. However, fans who are hoping to discover how to get on Cash Cab will surely be disappointed to learn that the most difficult part of playing Cash Cab is actually getting into the cab itself.
Some television networks, such as NBC or the Game Show Network, ask for applicants or hold casting calls to find contestants. Contestants on the king of trivia game shows, Jeopardy!, have to take an online test before they're even invited to audition. However, getting on Cash Cab seems to be entirely up to luck. Host Ben Bailey revealed to USA Today that the process for finding contestants on Cash Cab isn't nearly as rigorous as other game shows, but it's also far more random. When it comes to selecting contestants, "Pretty much I pull over and pick 'em up," he says, per USA Today. The outlet further reports that once someone sits in the cab, the contestants "sign a release form, a producer hops in the passenger seat bearing a clipboard and off they go."
While getting selected for Cash Cab is partly random, Bailey offered one tip as to who he will not pick up. As Bailey revealed to USA Today, he "won't pick up people with suitcases," as they might be in a hurry. Aside from that, hopeful fans of Cash Cab seem to have to rely on luck to land in the Cash Cab. The cab likely isn't picking up new passengers right now, as its return to television was only ordered for six episodes, according to USA Today. But, if it returns for more, it seems to only place to catch the cab is New York City. In a city like New York with cabs everywhere you look, the odds aren't exactly in one's favor if they're trying to end up in the Cash Cab.
However, while Bailey claimed that most of Cash Cab is random, a collection of first-person accounts from MentalFloss describe the contestant pool as allegedly "[half] of them are pre-screened and about [half] are actually randoms off the street." MentalFloss also reported that in the credits of original Cash Cab episodes, the text "some contestants have been pre-screened prior to their appearance on the show" appears.
Judging from personal accounts, some contestants claim to have been screened for a fake show and then were surprised to learn that they would be participating in Cash Cab. As one former contestant claimed to MentalFloss, "I was interviewed in Union Square Park for a [tourism-focused] show called Show Me New York ... I wasn't sure why that show required a trivia quiz in the interview."
Another one of Cash Cab's alleged recruiting methods involves going to bar trivia nights and seeking out trivia-inclined contestants. Similar to the show's alleged Show Me New York method, a Reddit thread on the topic has several sources claiming that trivia-night attendees are recruited for a fake show (examples range from a food show called Stim City to a scavenger hunt show called The Hunt). Once they arrive for shooting and have signed necessary paperwork, only then do they learn they were actually agreeing to be on Cash Cab all along. Throughout these accounts, it seems that the Cash Cab casting process still always had contestants surprised to be on the real show. (Discovery declined to comment on how it casts the show.)
If you're trying to get on Cash Cab, it sounds like your three best options are to hail as many cabs as possible in Manhattan, seek out fake television shows to interview for that are actually fronts for Cash Cab, or really crush it at your favorite bar trivia night. There's no easy way to end up in the backseat of the Cash Cab, but just the fact that we once again live in a world where any NYC cab could be the Cash Cab makes the prospect of getting a taxi more appealing than ever. It may not be easy to get on Cash Cab, but that will only make it all the more satisfying for the lucky few who end up getting to take a ride.