Bekah Thinks Arie Is Less Ready For Marriage Than She Is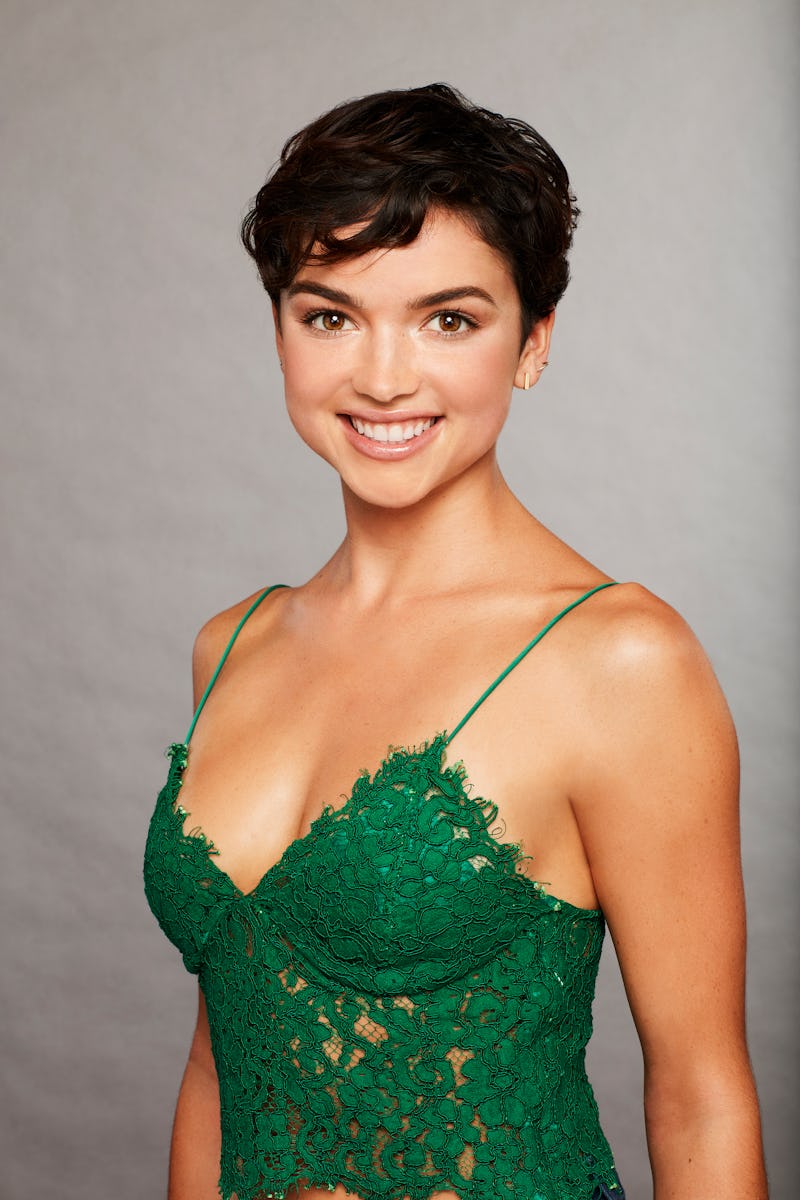 SOURCE: ABC/Craig Sjodin
After weeks of Arie questioning her about her age and whether or not she'd be ready for an engagement and marriage at the end of The Bachelor, Bekah Martinez is speaking out. Bekah told Entertainment Tonight that she thinks Arie Luyendyk Jr. isn't ready for marriage — and that she's more ready than he is, despite their age difference. She also suggested that fans should believe all the hype about next week's finale being super dramatic.
"No, [I don't think he's ready]. I think I'm more ready for marriage than Arie is, quite honestly," Bekah told ET when asked about her ex. "I don't think Arie knows what he wants, and I don't think he's serious about being with one person for the rest of his life."
Bekah mentioning Arie possibly not being ready to commit to "one person" ties into this week's Bachelor episode, too. On Monday, fans saw Arie say "I love you" to both Becca Kufrin and Lauren Burnham. He also told Becca during one of their conversations that he was worried about choosing the wrong person.
"You'll find out [why on] the rest of the season," Bekah told ET of her comments. Of course, she can't reveal much more than that, but her words are intriguing for fans of the show.
After Bekah told Arie she was 22 on The Bachelor (she's now 23), things shifted in their relationship. At one point, Arie asked Bekah if she still liked going out and said he likes going to bed early. To be fair, those things are more about personal lifestyle preferences than age, but Arie was clearly torn about the 14-year age gap between the two of them.
For her part, Bekah stayed composed during the age conversations on the show, and at one point told Arie she didn't need him, which caught him off-guard. And, during the ET interview, Bekah suggested that Arie may not have wanted to be with a "strong" woman, even though he said during the show's filming that he did.
"He talked about how he hasn't been in love with women who are strong and independent... and then all of the sudden, he's on the show [and] he's like, 'I want a strong, independent woman who I'm an equal with,'" Bekah told ET. "I don't think there's anything wrong with being like, 'Yeah, I want to be the dominant partner in the relationship.' Maybe that's not the popular thing to say, but I wish he would just be honest about that, because I don't really think that he wanted to be with a woman like me or with a woman like Sienne, women like us... who aren't going to let him get away with whatever he wants to get away with."
And as far as the age gap goes, Bekah also tweeted a reminder that a number of the other Bachelor contestants were 25 and 26 years old, which isn't really much older than 22. In fact, at the start of the show, Lauren B. was 25 and Becca K. was 27, so there's still a fair age gap between both of them and Arie, too. Plus, Maquel was 23, and she didn't face nearly as much age-based criticism as Bekah did; although her relationship with Arie also wasn't as strong.
During the "Women Tell All" special, some of the other ladies commented on Bekah's maturity, as she faced questions about her age yet again. Bekah's comments to ET, though, suggest that Arie might be the one lacking in maturity.
Bekah's age was far from the only thing discussed during the "Women Tell All" special. There's still the question of what Caroline meant when she faced off with Arie during the "Women Tell All" episode. "I know what you did, and I don't know how you could do that. And I just really don't understand, but I really hope you found what you're looking for," Caroline said to the Bachelor. Fans don't know exactly what Caroline meant — but could it tie in with Bekah's comment about Arie not being "serious about being with one person for the rest of his life"?
If these ladies' comments are any indication, next week's Bachelor finale will go down in franchise history. Fans will have to wait until Monday to know exactly what Caroline and Bekah are hinting at, but it's sure to be a wild ride.