Bella Hadid's Latest Instagram Makes So Much Sense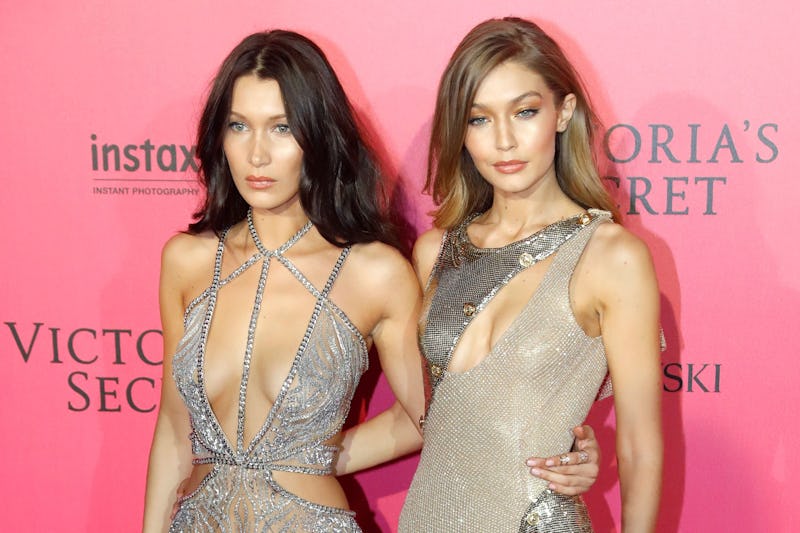 PATRICK KOVARIK/AFP/Getty Images
If you're a fan of the relaxation properties of the news genre popularly known as "celebrity gossip," you're probably already clued in to the latest from the Selena Gomez-The Weeknd-Bella Hadid saga this weekend. Hadid and her musician boyfriend agreed to separate at the end of 2016, and now, The Weeknd was recently spotted kissing Selena Gomez. As such, Hadid's Instagram photo where she's sticking up the middle finger has been interpreted as being a reaction to the news that Gomez and The Weeknd may be an item. But, not so fast.
This seems like wishful thinking. Surely, this is Hadid communicating in no uncertain terms that everyone should leave her the hell alone right now. This makes sense — did you know that the Victoria's Secret model is only 20 years old? Breakups always and forever suck, but breakups when you're crazy young and in the public eye must be the worst. Because splits can be humiliating — for every Gwyneth Paltrow out there luxuriating in a conscious uncoupling, there's a woman who writes, "Don't call [insert name here]" on her bathroom mirror in lipstick, who gets caught when her ex drops by unexpectedly to pick up stuff a day later. Nobody should have to go through this sh*t in public: It's bad enough in private.
On Twitter, Hadid retweeted the image below and subsequently shared it on her own Instagram page. No caption needed.
Meanwhile, an unnamed source (is there any other kind?) who spoke to E! News about Hadid claimed,
"She is actually not over The Weeknd. She still loves him. They are on fine terms, but she is bitter about the romance with Selena. She was not happy when all of that gossip went everywhere between The Weeknd and Selena."
Sure. In the history of all breakups ever, has anyone ever truly rejoiced to see their ex looking super cozy with someone new just two months later? I'm calling it: nope. As a writer lacking psychic powers, I have no clue whether Hadid is sad about Gomez's burgeoning romance with her ex, or if she just enjoys flipping the bird on Instagram. But if she's actually feeling down in the dumps because of the breakup, then, every headline in the land should be: "Bella Hadid Has Totally Normal And Human Response To Breakup."
So, spare a thought for Hadid this weekend — here's hoping the model can get the space she deserves.