'Below Deck Med's Lauren & Max On Hannah's Charter Guest Drama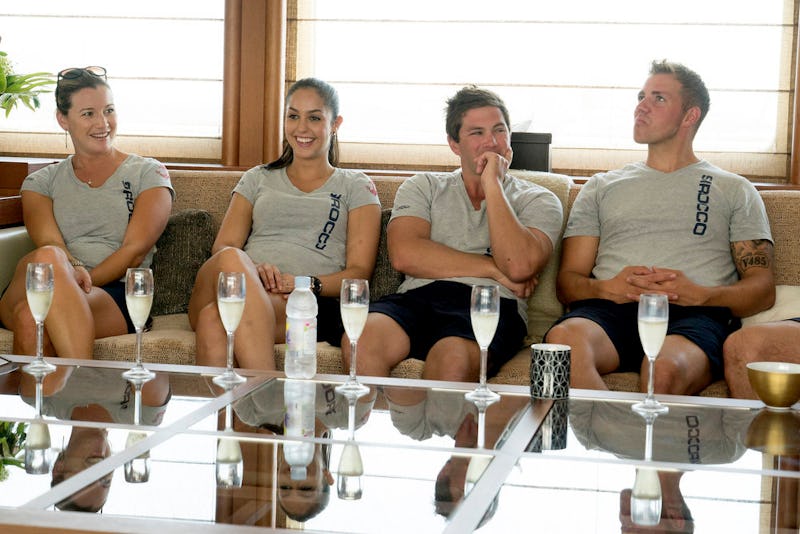 Virginia Sherwood/Bravo
When it comes to Below Deck Mediterranean, sometimes the crew can't help but be attracted to charter guests. It happened in Season 1 with Danny Zureikat, and it's a situation Hannah Ferrier found herself in during Season 2 with guest Jason Ziegler. During this season of the series, there have been many opinions about Hannah and Jason, including some strong ones from Lauren Cohen and Max Hagley. While chatting with Bustle, Below Deck Med's Max and Lauren discuss Hannah and Jason's connection, in particular their texts being read onboard by the crew.
"Um, not really, no," Max says about whether or not he regrets how he handled the situation with the texts. Not only did Hannah and Jason kiss, while he was still a paying guest, but they continued to talk after he left the boat through texting. Things became messy when their conversation was discovered by Christine "Bugsy" Drake on the master iPad in Jason's suite. Bugsy then showed it to Bobby Giancola and Max, rather than talking directly with Hannah or Captain Sandy.
To clear up any confusion fans might still have about the situation, Lauren explains that after Jason dropped his phone in the jacuzzi (which was shown in an episode), he decided to use the boat's iPad by logging in with his Apple ID, rather than buying a new phone. "The thing is, he forgot to log out before he left," Lauren says. "So, all of his messages kept coming in after he left the boat."
Hannah wasn't happy with how the crew dealt with the situation and even felt like it was an invasion of not only her privacy, but also Jason's. Max says now, "It was the boat iPad, you know? So, I feel like if it was his iPad, then, yeah, fair enough, you shouldn't be going through it." He also admits, "Plus, it was juicy and it was really entertaining." As for whether or not he feels like he violated Hannah and Jason's privacy, Max says, "No, I mean, if it's the boat iPad, then that's boat property."
Lauren doesn't feel exactly the same way as Max and is "trying to stay neutral," though she does see both sides. "It was unfortunate Jason obviously forgot to log out of the iPad, but, if he had, we wouldn't have found out that Hannah was messaging with a guest," she says. Although, Lauren gets why Hannah did what she did. "To be fair, he's hot and I probably would've done the same thing," she confesses.
Lauren does feel like it was an invasion of privacy, especially for Jason. "He also had business emails and business messages [on the iPad]," Lauren says. "If we wanted to pry and prod, we could've freaking found out what deals he's making next week. His personal life was open to the crew." And Lauren says she wouldn't have done what Bugsy did. "Honestly, if I had found the iPad, I would've went straight to Hannah or straight to Captain Sandy. I wouldn't have taken it to the crew. That's where I kind of disagree with what Bugs decided to do with that information."
Max clarifies that he isn't angry with Hannah for getting involved with a charter guest, but he finds fault with her mentioning the crew in her texts to Jason. Like Max, some of the crew felt like Hannah was wrong in discussing how they felt about the tip Jason left for them. "Hannah can do pretty much what she wants," he admits. "If she wants to hook up with Jason or any other charter guest or anyone on the boat, then fine, but the fact is when she brings the crew up in the messages that's where the issue is."
Despite the hot water Hannah found herself in (to be fair, she did tell Captain Sandy about her involvement with a charter guest), she is still in communication with Jason. "We are still in touch!" she told Bravotv.com in June. "We message daily (except now it's just the two of us reading them) and whenever we are in the same city we catch up for dinner, shoot pool, or chill with movies." The same can be said for Max and Lauren, who, based on this Instagram, caught up with Jason in New York City on Monday.
It's unclear so far how Jason feels about everything that went down, but Max says laughing, "I don't think he would be best pleased," and adds, "Hannah must have mentioned it to him, surely."
The Hannah and Jason drama is going to continue on the show. As Lauren teases, "You're going to see the tension between Bugsy and Hannah build up and how the iPad debacle sort of comes to a head and how the crew starts to divide because of it." Max adds, "We're progressing in our roles on the boat, but the crew dynamic is falling to pieces."
Below Deck Med airs Tuesdays at 9 p.m. ET on Bravo.