Ben Affleck's Not Directing 'The Batman' Anymore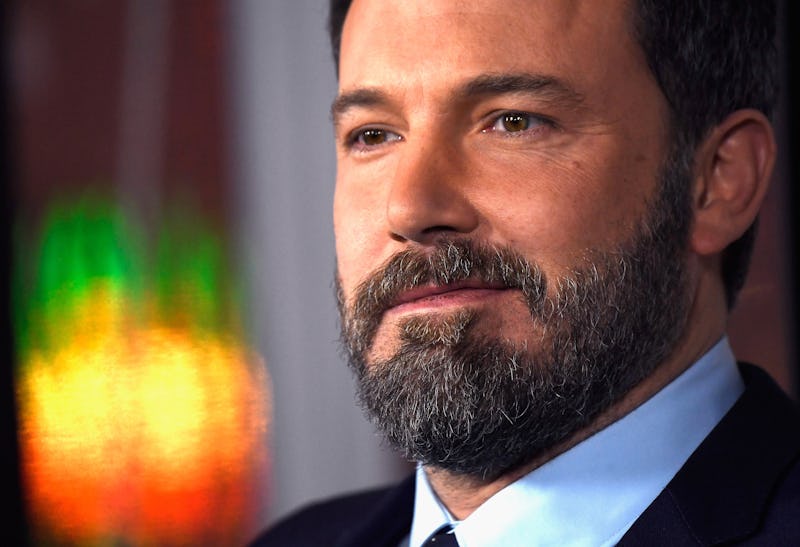 Frazer Harrison/Getty Images Entertainment/Getty Images
Stop what you're doing, and cue the sad Ben Affleck face. Cue the Simon & Garfunkel song. Darkness, our old friend, has come to talk with us again. This time, it comes in the form of news about the mystified Batman v. Superman sequel. Variety has confirmed that Affleck will no longer direct The Batman. Everyone hoping that his directorial touch would take the new Batman franchise from something of a meme inspiration to something much more serious and revered, my deepest apologies. As you mourn the latest development, let's back up and consider why Ben Affleck isn't directing The Batman in the first place — and, yes, how we should have seen it coming.
Here's what Affleck had to say about the decision in an official statement:
There are certain characters who hold a special place in the hearts of millions. Performing this role demands focus, passion and the very best performance I can give. It has become clear that I cannot do both jobs to the level they require. Together with the studio, I have decided to find a partner in a director who will collaborate with me on this massive film. I am still in this, and we are making it, but we are currently looking for a director. I remain extremely committed to this project, and look forward to bringing this to life for fans around the world.
According to this statement, the answer's pretty simple. The pressure of playing a practically deified superhero and directing the film about the deified superhero — all while doing both justice — wasn't feasible for him at this time. Affleck couldn't wear both masks, so to speak.
There's also a mountain of added pressure when you consider that Batman v. Superman was a critical letdown. On the review aggregator site Rotten Tomatoes, the film rests at a 27 percent. Compared to the superhero movies Marvel puts out, this is staggeringly low. Though the sad Affleck face has become a running joke, there's truth behind the grimace. Plus, and not to kick a man when he's down, but the actor's most recent film (which he stars in and directed) Live By Night isn't doing so well either.
Affleck's been hinting at the stress of it all for a while now, which you'll know if you've been paying attention to the subtext in interviews regarding the film. When asked how he feels about questions surrounding The Batman, he told Entertainment Tonight, Canada,
Oh my God, it's such a pain in the ass. It's, like, every time I mention Batman it gets this huge click bait. And when I was doing this movie [Live by Night], it took me two years to get it together, but no one ever asked me 'Where is Live by Night?'
He also shared similar sentiments Jimmy Kimmel Live! The actor said,
I'm gonna direct the next Batman. We're working on it. It's one of those things that's really frustrating because, like with Live by Night, it took me a year and a half to write it and get it ready, and I worked really hard. It's just nobody gave a sh*t. No one was like 'Where's Live by Night'? But with 'Batman,' I keep getting the, like, 'Where's the f*cking Batman?!' and I'm, like, 'Bro, I'm working give me a second!
Doesn't seem like it was necessarily The Batman he was frustrated with, just that, man, he couldn't find a second to work on it the way he wanted to. Though fans of Affleck's directing will surely be disappointed by this, in the end, we have to thank the guy for having the foresight to know he wouldn't be able to give the project the time it needed.
That being said, here's to a less stressed Affleck.