Ben Higgins Responds To Haters After Lauren Bushnell Break-Up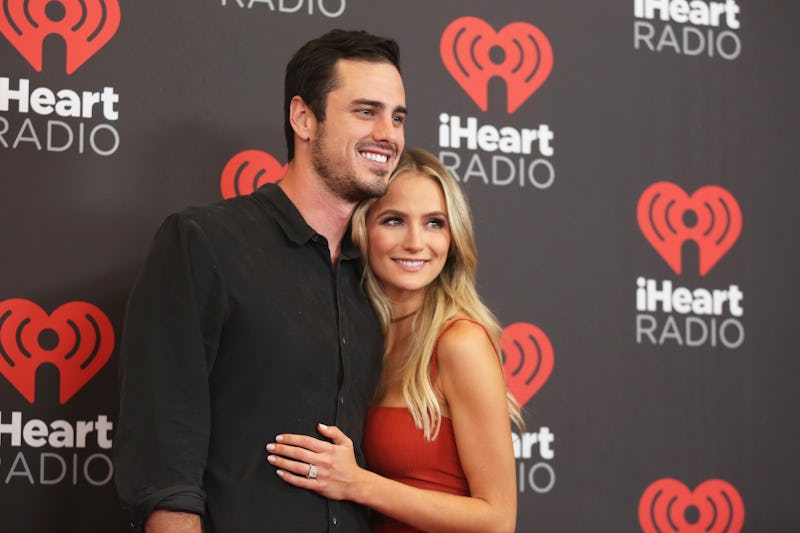 Isaac Brekken/Getty Images Entertainment/Getty Images
Well, two more lovebirds who met on The Bachelor, Ben Higgins Lauren Bushnell, have unfortunately parted ways. After announcing their mutual split two weeks ago, it looks like Higgins has received a concerning amount of unwarranted hate on the internet. What else would explain his lengthy and heartfelt Instagram post addressing the haters on Tuesday?
This is the first time Higgins has spoke about Bushnell on his Instagram — the last post about her was three weeks ago, in which he was gushing over his ex-fiancé. The 29-year-old proposed to Bushnell on Season 20 of The Bachelor last year, leading to their Freeform show Ben & Lauren: Happily Ever After?. But the split doesn't come as too much of a surprise, considering Higgins was always publicly reluctant to jump into making wedding plans.
Bushnell hasn't addressed the breakup on social media either, just posted an excerpt from F. Scott Fitzergerald's The Beautiful and Damned about being a beautiful woman on the inside. Not by coincidence, she turned the ability to comment off. Higgins, however, obviously didn't take this page from her book.
On Tuesday, the former Bachelor star addressed the negative, hurtful comments he's been receiving, defending his need to move forward. His post, although clear and thoughtful, does raise some questions.
The first part of the post reads:
You are going to hurt somebody, you are going to hurt somebody deeply. But, I will not be one of those people. I cannot focus on the negative comments or indecently hateful words being said about me or my relationship even though they do sting. I do know great people that I care about deeply that comments and criticisms have affected and as a result I wanted to share my words.
He later explains that he's moving forward with dignity, to best "represent Christ," and admit his imperfections. Keep in mind, the two seemed to end on amicable terms after coming to the decision together, and Higgins even said his ex would still be one of his dear friends. So he must've received some pretty intense hate to want to put this message out there.
Next, he explains why he's moving forward in life and his career, namely by joining fellow former Bachelor star Ashley Iaconetti on her iHeartRadio podcast I Don't Get It:
To be clear, not that this should be a surprise, but this podcast is a professional decision I have made to enhance my life and career. I still have a full time job. I am still running Generous Coffee company. I still have a blog... And now, because I was given the opportunity, I have added a podcast with a friend and a great company to talk about life (and I love to talk).
Perhaps Higgins is addressing rumors that he and Iaconetti are dating. This is where some questions come up. Immediately looking at the photo he posted, I assumed he was breaking the news that the two are dating, considering it shows Iaconetti gazing at him and Higgins looking down with a smile. Peculiar photo choice given the purpose of the post, but OK.
He continues and ends with a message about pursuing the podcast, regardless of the rumors and it being too soon since his break-up:
It is sad, but it is nothing you should feel sorry for me about, life happens both the good and bad... Ask yourself what life is about and pursue your conclusion with passion. When a good opportunity comes your way that fits your desires take it, because life is short but a lot more fun when you are doing something you enjoy.
Here's the photo:
I understand why Higgins would choose that photo, as he probably had intentions to address the dating rumors head-on and really get the haters to sit down. But at first glance, it does look like something else. If the post is truly about him and his happiness, why would that be the one he picked to give such a significant message? I can't help but think his level of defensiveness seems a little suspect. But then again, he's clearly going through an emotional break-up, and it's up to him to determine how best to grieve and move forward.