Ben & Jerry's Has A "Flavor Graveyard" For All Your Old Favorite Discontinued Pints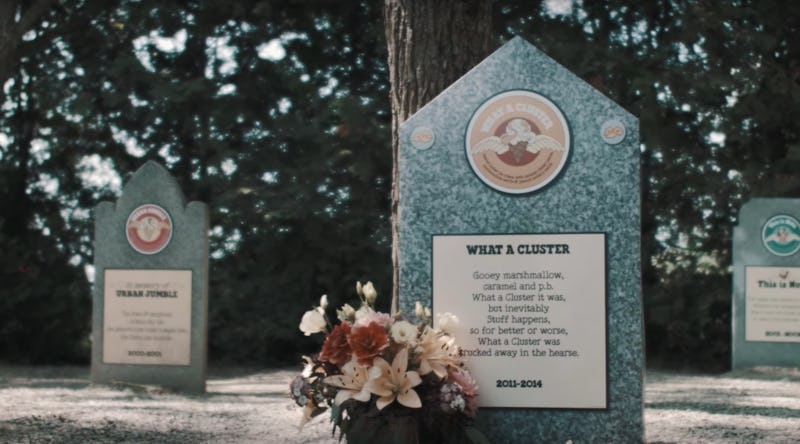 Ben & Jerry's/YouTube
There's an old superstition that you should hold your breath when you pass a graveyard, but in this case, maybe you ought to hold your tongue. It turns out that Ben & Jerry's has a graveyard for all the flavors of pints that are no longer in rotation. From Schweddy Balls to Sugar Plum, Tuskeegee Chunk to Economic Crunch, there are literal headstones honoring these "dearly de-pinted" flavors — mourners are welcome to gather and pay their respects on Ben & Jerry's website, where the digital graves live, as well as at the factory in Vermont, where they are actually, physically laid to rest.
If you're a true Ben & Jerry's stan, then you may have already heard tell of his sacred place of rest; the pint graveyard has existed since 1997, according to a Ben & Jerry's press release. Back then it only housed four flavors: Dastardly Mash, Economic Crunch, Ethan Almond, and Tuskegee Chunk. Now it houses 40, and is a popular stop on the Ben & Jerry's factory tour; in 2015 Ben & Jerry's even released a deliciously ominous video depicting ice cream mourners visiting the pints' graves.
"Ben & Jerry's is known for outrageous, chunky, funky flavors," said Flavor Guru Eric Fredette in a press release. "But experimentation comes with risk, and not everybody likes our edgier ideas. Like everything else, ice cream flavors have a beginning and an end."
If one of your faves is among the flavors that have passed onto a less delicious realm, the good news is, you do have an act of recourse. Ben & Jerry's is open to customers' requests to bring flavors back year-round, but the company is specifically allowing customers to "resurrect" one flavor from the graveyard, depending on which one gets the most requests. And some of these are old, at least in ice cream years — Rainforest Crunch lived and died in 1988, and Peanut Butter and Jelly only made it from 1989 to 1990. It seems that the fault of some of these flavors was merely that they were created ahead of their time. Now it's up to us, the ice cream eaters of the future, to give them the chance they deserve.
And should we fail to bring back the flavor of our choosing, Ben & Jerry's has helpfully provided customers with the Five Flavors of Grief to guide us through our pain. (But arguably, buying yourself the Ben & Jerry's cookie dough chunks would be just as effective of a healing tool. And they said I'd never use my undergraduate psychology degree in real life!)
The company announced on Oct. 9 that, in the spirit of the spookiest season, visitors who visit the graveyard on factory tours on Oct. 29 through Oct. 31 will also be able to sample a special pumpkin pie ice cream, exclusive to the tour. I don't know whether it will be able to fully absorb the sadness of flavors gone by, but hey, it's worth a shot. Visit the graveyard and bid to resurrect your favorite flavor here.