Benedict Cumberbatch's New Policy For Taking Roles Shows How Men Really Can Be Allies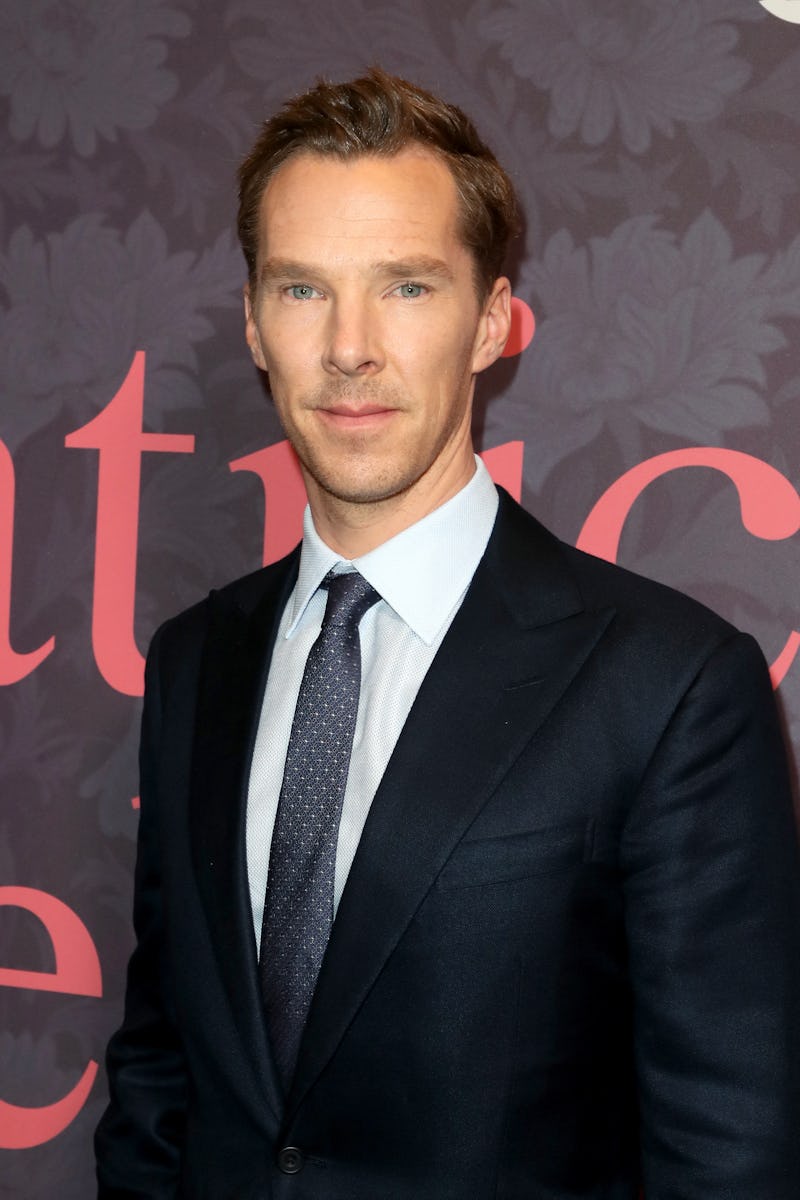 David Livingston/Getty Images Entertainment/Getty Images
It's a sad reality that, in 2018, women in Hollywood still aren't paid as much as their male counterparts, but there's an actor actively working to stop that from happening. In a new interview with Radio Times, Benedict Cumberbatch said he's only taking new roles if his female costars are paid equally. He's making a difference by making this his policy, and now, more men in Hollywood need to follow suit.
Although Radio Times hasn't released the full interview, the preview they did release online is all about Cumberbatch opening up about how he is trying to be an ally for women who are struggling with not only a disparity in pay, but a disparity in substantial roles as well. In light of the Time's Up movement and more and more female actors speaking out about being paid unfairly, it's become more obvious than ever that change needs to happen, and it sounds like Cumberbatch wants to set an example. He called his fellow actors to action, telling them they should do the same.
"Equal pay and a place at the table are the central tenets of feminism," Cumberbatch said. "Look at your quotas. Ask what women are being paid, and say: 'If she's not paid the same as the men, I'm not doing it.'"
Considering the fact that so many actors, like Jennifer Lawrence and Amy Adams, have spoken up in recent years about the wage gap between them and their male costars, it's clear that this is still an issue many women who work in Hollywood are facing. If that wage gap is ever going to close, it's going to require action, and women demanding the pay they deserve may not be enough to make a change. But if the men who are offered a bigger check for the same or lesser roles than women working on the same project boycott those offers, Hollywood might actually get the message.
And considering the kind of roles Cumberbatch has taken in the past, like Doctor Strange, Star Trek, and The Imitation Game, he could have a lot of influence over major projects like these in the future. His committing to only participate in films where women are paid equally could make major studios step up in order to have him as part of their films, so good for him for joining the fight in such a big way.
Cumberbatch also talked about his efforts to create more roles of substance for women through the production company, SunnyMarch, that he shares with producer and director Adam Ackland. He said:
"I'm proud that Adam and I are the only men in our production company; our next project is a female story with a female lens about motherhood, in a time of environmental disaster. If it's centered around my name, to get investors, then we can use that attention for a raft of female projects. Half the audience is female!"
Just as Cumberbatch has pointed out, half of the audience is female, so isn't it about time for them to play more substantial roles in Hollywood — not just on screen, but in production as well? Women are sorely underrepresented in Hollywood, so anytime someone else can use their privilege and influence to help change that, it's incredibly important that they take that opportunity.
As ridiculous as it is that the Hollywood pay gap is still alive and well, it's good to know that people like Cumberbatch want to work towards changing that. We still have a long way to go before there's gender equality in the entertainment industry, but hopefully, Cumberbatch setting this positive example will lead to others doing the same.