Mood Girls Hair Dye Is Perfect For Pastel Pantone Lovers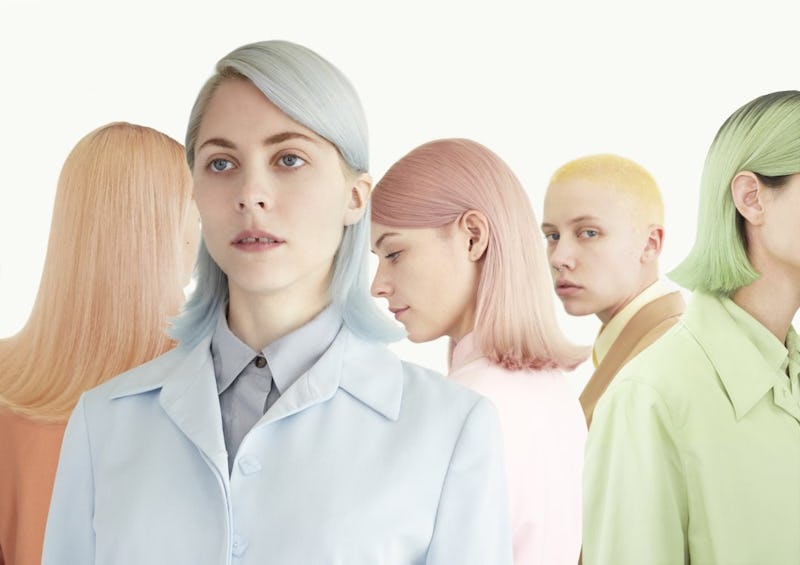 As someone with a lavender head of hair, let me be the first to tell you that there's nothing better than experimenting with pastel hair dyes. While I've gone through a plethora of different colors, there's nothing that nails #fashion like The BENJAMIN team's Moody Girls line, a temporary hair color collection featuring pastel pantone shades that is even easier to use than box dye.
Mohapi, the owner of the Benjamin salons in Los Angeles, and his team created this pastel collection of colors to provide those who love changing their hair on a regular basis with an easy-to-use product. Once you've grown tired of the color, all you have to do is wash it out three to six times and then try something new! There are no strings attached with Moody Girls.
The application is simple. First, shampoo your hair and towel dry until it stops dripping. Then, thoroughly apply Moody Girls from root to end, and leave in for 15 minutes. If you want more intense, longer lasting color, you're advised to keep the color in for 30 minutes. Once you're done, you're supposed to use cool water to rinse your hair until the entire mask is washed out. Then, you're good to go!
Moody Girls is available for $28 in five colors: Lovey Dovey (Pink), Cry Baby (Blue), Mellow (Yellow), Peachy Keen (Peach) and Peppy (Green).
Love Pantone's Greenery? This color is for you.
#MilllennialPink.
Feeling blue? Let your hair speak for you.
What colors are you going to try? The possibilities are endless! To shop the entire line, head over to moodygirls.com.