Bernie Sanders' Advice For Alexandria Ocasio-Cortez Shows Why They're Teaming Up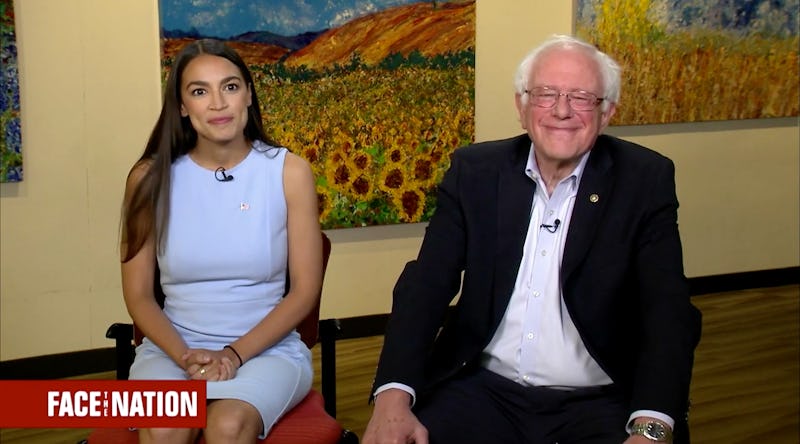 Face The Nation/CBS
On CBS' Face The Nation program on Sunday, Sen. Bernie Sanders' gave advice to Alexandria Ocasio-Cortez that is relatively simple: Keep on keeping on. Sanders and Ocasio-Cortez were appearing jointly on the program to talk about their campaigning for progressive candidates in Kansas last week. Face The Nation host Margaret Brennan asked Sanders how he would advise Ocasio-Cortez, the political newcomer who recently unseated a 10-term incumbent.
"[I would advise her] to keep doing what she has done. She ran a extraordinary campaign," Sanders said. "And the reason that she won is she ran on ideas that were relevant to the working people in her district. She put together a strong grass roots campaign and she worked her tail off."
Sanders said her hard work was evident in her victory. Ocasio-Cortez won 57.5 percent of the vote, according to The New York Times. "And any candidate in America who is prepared to do that, I think, has an excellent chance of winning," Sanders told Brennan as Ocasio-Cortez sat next to him.
Her opponent outspent her campaign by an 18-1 margin, NBC News reported. She acknowledged the stark difference in a campaign video released just before the primary election. "This race is about people versus money. We've got people, they've got money. It's time we acknowledge that not all Democrats are the same," Ocasio-Cortez said in the video's voiceover.
Sanders and Ocasio-Cortez were together to leverage their popularity and campaign for progressive Democrats in Kansas. The pair campaigned for James Thompson, who is seeking the 4th Congressional District in Wichita, as well as Brent Welder, who is in the primary for the 3rd Congressional District in Kansas. Thompson's race had received attention because he previously ran for the seat in a 2017 special election but lost by six points.
The pair went to Kansas because the candidates were running on progressive platforms. "I happen to believe passionately, that there really is not a blue-state, red-state division in this country," Sanders said on CBS' Face the Nation. "People believe that health care is a right. People believe we should raise the minimum wage to a living wage."
Progressive politics are not location-based, he added. "So, whether you're in Kansas or the Bronx or in Vermont we have common interests and common aspirations and we have got to fight for an America that works for all of us, not just the 1 percent," Sanders said.
Ocasio-Cortez said the progressive candidates should inspire voters. She agreed that these policies are not location-based. "This is about inspiring people to the polls, giving them something to vote for, creating hope for this nation, and knowing that so long as there are working class Americans who believe in a prosperous and just future we will have hope no matter how red the district," Ocasio-Cortez said.
The two campaigns that Ocasio-Cortez and Sanders supported in Kansas do not accept corporate donations. Ocasio-Cortez described Thompson's campaign as "a boldly progressive agenda."
"Bold" is a characterization that has been used for Ocasio-Cortez's own campaign. She told Face the Nation host Margaret Brennan that her agenda included policy positions like Medicare for all. "I think that the factors that ultimately created our win was the fact that we had bold commitments and I campaigned on hard commitments of Medicare for all, tuition free public college, ensuring a Green New Deal for our future and championing those issues were the reason that we won," Ocasio-Cortez said.