Sanders Comes Out Swinging After Comey's Damning Testimony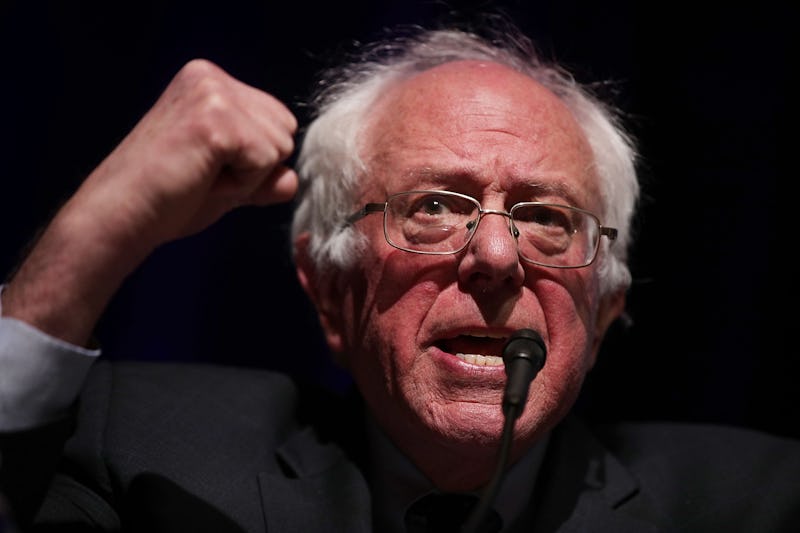 Alex Wong/Getty Images News/Getty Images
Former FBI Director James Comey's Senate hearing has served only to intensify Sen. Bernie Sanders' concerns that President Donald Trump attempted to "derail" the agency's Russia probe. In a statement released after the hearing, Sanders said Comey's testimony revealed "deeply troubling" information and had made him "more concerned than ever" about the administration's potential obstruction of justice.
"What we learned today was deeply troubling and makes me more concerned than ever about President Trump's attempts to derail an investigation of Russian meddling in our democracy," Sanders said in his statement.
The Vermont senator and onetime presidential hopeful seemed particularly concerned by Comey's claim that the administration lied to the American public. "Remarkably, Mr. Comey said President Trump is a liar," Sanders said. "He said his concern that Trump would lie about their meetings was why he detailed their encounters in writing. He also accused the president of spreading 'lies, plain and simple' about the FBI that 'defamed' Comey and the agency."
In his testimony before the Senate Intelligence Committee on Thursday, Comey said he and Trump had interacted nine times since Trump took office in late January. Comey also revealed that he'd begun keeping detailed notes about his interactions and conversations with Trump after their first meeting as he feared the president might later lie about those meetings. "I was honestly concerned he might lie about the nature of our meeting," Comey told the 15-member Senate Intelligence Committee.
Comey also refuted claims President Trump made in May during an interview with NBC News regarding supposed "turmoil" at the agency from which he was fired. "The FBI has been in turmoil," Trump had told NBC News' Lester Holt in an interview on May 11. "You know that, I know that. Everybody knows that. You take a look at the FBI a year ago, it was in virtual turmoil, less than a year ago. It hasn't recovered from that."
Comey characterized Trump's claim as "lies, plain and simple." He said, "The administration chose to defame me and, more importantly, the F.B.I. by saying that the organization was in disarray, that it was poorly run."
The White House has since refuted Comey's allegations. "I can definitely say the president is not a liar," White House spokesperson Sarah Huckabee Sanders said Thursday, before calling the question "insulting."
Sanders, however, appears unconvinced of Trump's credibility. "Most people would agree with Mr. Comey," Sanders said in his statement, adding that he felt the president's dishonesty "dangerously... diminished the office of the president" as well as America's "standing in the world."