What Bernie Sanders Has Said About The 2020 Election Shows He's Not Ruling Anything Out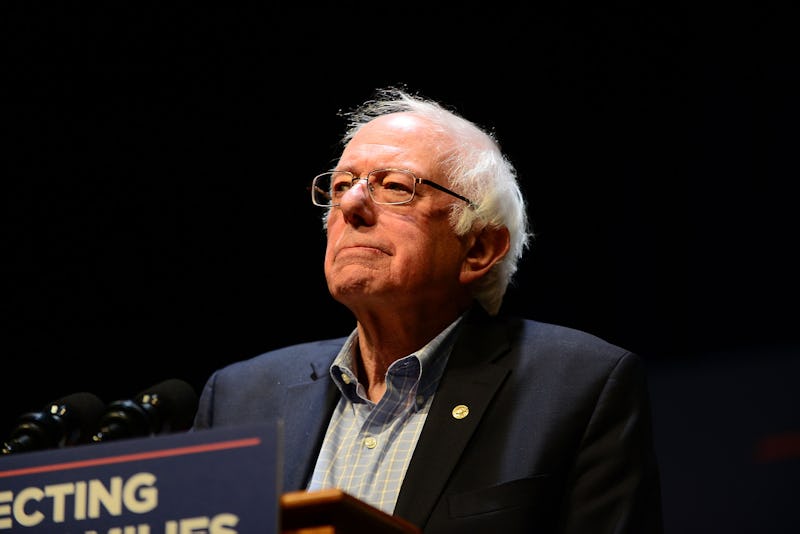 Lisa Lake/Getty Images Entertainment/Getty Images
Will he or will he not? That is the question. When it comes to what Bernie Sanders has said about the 2020 presidential election, the progressive lawmaker has yet to give a clear idea about his future plans. But if you look closer at his remarks, he's not exactly ruling out the possibility.
In August, the Vermont senator told comedian Stephen Colbert that his eyes were on the midterm elections. "What I have said time and time again: my focus is on 2018 and to do everything that I can to end one party rule of the House and the Senate. It is too early to be talking about 2020," Sanders said. So, it's not exactly a "yes" or "no" but quite the cliffhanger.
While speaking to The Washington Post in June, Sanders similarly joked that he was "shocked" that the publication wanted to know whether he would run in the 2020 presidential election race. On a more serious note, Sanders said that he was focused on bringing more progressive candidates into the political arena and working on better policies, like affordable health care.
"I'm focusing on the important issues that need to be discussed," Sanders told The Post that month. "The media being on focused on this and that and some dumb thing I may have said rather than why are we the only major country not to guarantee health care at all to all people ... Those are the issues that we have to start debating ... At the appropriate time, I will make that decision as to whether I [run in 2020] or not."
And while Sanders hasn't announced a firm decision on running in 2020, he has been unmistakably vocal about taking on President Donald Trump and his policies. While speaking on MSNBC in August, Sanders said, "Donald Trump has got to be defeated and I intend to do everything that I can, with every other progressive in America, in making sure that that happens."
In May, Sanders' senior adviser and 2016 presidential campaign manager, Jeff Weaver, told C-SPAN's Washington Journal that Sanders was "considering" running in 2020. "He is considering another run for the presidency. When the time comes I think we'll have an answer to that. But right now he's still considering it," Weaver said.
The campaign manager told USA Today, "What motivates [Sanders] is the desire to have a new president in the White House and a heavy consideration is, who is the best person to beat Trump in 2020."
Some people may think it's too soon to talk about 2020 right now. But a few Democrats are already exploring the possibility of running in the 2020 presidential election race. Sanders is just one of the people whose name gets mentioned frequently.
Considering the thousands of people who came to see Sanders at a Bloomington rally in October, and the huge crowds he pulls in in other parts of the country, it's clear that the Vermont senator has a solid national following. And these people may just want to see him run again.