Bernie Sanders Might Actually Turn Down His Sweeping Primary Victory — Here's Why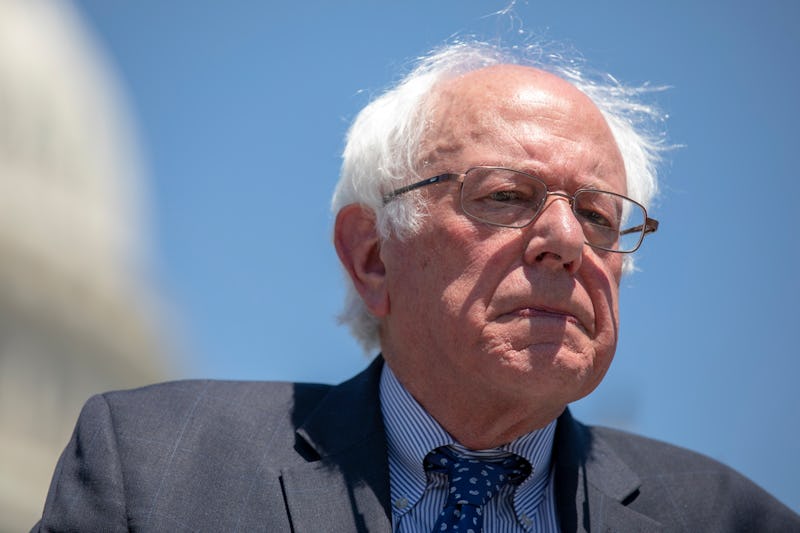 Alex Edelman/Getty Images News/Getty Images
On Tuesday, voters in several states headed to the ballot box to participate in various primary races. In one of these elections, Bernie Sanders easily won Vermont's Democratic primary, taking almost 95 percent of the vote. As it turns out, Sanders may reject his Democratic nomination — and it's something he's actually done before.
Sanders handily defeated Folasade Adeluola in the primary race, securing 94.5 percent of the vote with 94 percent of the precincts reporting. But Sanders has turned down the Democratic party's nomination in previous campaigns in 2006 and 2012. Typically, he does it so he can run as an independent in the general election.
Indeed, Sanders currently serves as an independent in the U.S. Senate and will likely run as an independent again. As Time explained, legally the senator cannot appear on Vermont's ballot as both an independent and a Democrat, so he must choose one party affiliation. As Sanders' campaign spokeswoman Arianna Jones told Time, the Senator plans to decline the Democratic nomination, saying, "That is what he has done in the past, and that is what he looks forward to happening in 2018."
Time also reported that, in past races, Sanders has accepted the endorsement of Vermont's Democratic Party, despite rejecting the nomination. He looks to be on track to similarly coordinate with the Democrats in 2018, with Jones telling the outlet, "As he has for many campaigns, Bernie will contribute to and participate in the Vermont Democratic coordinated campaign." Moreover, Sanders' political advisor, Jeff Weaver, also told Time that Sanders' campaign will donate $150,000 to the state's Democratic party.
Even though he still typically works with the state's Democratic party post-primary, you may be wondering why exactly Sanders chooses to run in the primary in the first place, considering his usual plan to decline the nomination. As Politico explained in a May 2018 article, the move is likely strategic.
As the outlet noted, Sanders running in the Democratic primary means that it is highly unlikely that Vermont's Democratic party would give the nomination to someone else for the general election. Thus, Sanders running in the Democratic primary seemingly protects him from having more competition in the general election. Moreover, Politico also implied that running in the Democratic primary allows Sanders to gain electoral momentum and popular support, but then still maintain political independence when he declines the nomination.
Ahead of this year's primary, Vermont's Democratic party made it pretty clear that they approved of Sanders' plan. According to Politico, the organization passed a resolution back in May to indicate that Sanders was still considered a member of the Democratic party with all the "rights and privileges that come with such membership." As Vermont state chairman Terje Anderson explained to the outlet, the state's Democratic party has accepted the complex relationship it has with Sanders. "It's hard to explain to people from out of state how we've made peace with it as a party, how Bernie's made peace with it. We're on board," Anderson said.
Sanders' reported plan to decline his Democratic nomination may seem surprising to some. However, many Vermonters are likely unfazed by the move, considering the Senator's penchant for doing the same in previous races.